It should come as no surprise that Hua Hin is well-know for its beach. After all, Hua Hin is Thailand's original beach resort town. Sadly, the beaches here don't really feel like a "tropical paradise" as do some of southern Thailand's island resorts. But nevertheless, they are warm, clean and an excellent way to spend a lazy, sunny day. Or even a night.
In Hua Hin, the beach is never far - most of the town is built along the beach after all. Unfortunately, large parts of the beach are blocked by private houses, condos and other buildings, so the entire length of the beach is not accessible, at least not easily or freely. During high tide, some parts of it may disappear entirely.
But there's still plenty of places to get some sun and play in the warm waters of Gulf of Thailand. You might have noticed that the title of this post says Hua Hin Beaches, not just beach. The reason is that I will guide you through the best beach spots reachable from Hua Hin, not just limited to the famous, titular one.
Things you should know
Before you head out with your beach towel, swimsuit and sunglasses, there are a few things you should keep in mind.
Tides
Like many bodies of water in the world, Hua Hin and other coastal cities on the shores of Gulf of Thailand see the effects of tidal waves. In Hua Hin, high tide occurs in the early morning, around 5-6 am, turning into low tide in the evening at around 5-7 pm. Exact tidal times and heights vary throughout the year - use Tideschart for up-to-date info, if you really need all this detail.
Warm waters
On average, the water temperature is 28°C, and doesn't vary much throughout the year. No matter when you come, you can count on the sea being warm. If you want to know how warm exactly, check out seatemperature.info.
Protect yourself from the sun!
Sunlight can quickly burn your skin in Thailand, especially if you are white. UV index hovers around 7-8 most of the time, and can reach 10+ in sunny days. Always remember to use sunscreen with at least 50 SPF, or wear clothing that gives you enough protection. Take special care of protecting your children from the sun! The sun isn't as merciless as it is in Southern Thailand or other places closer to the equator, but can still burn unsuspecting tourists surprisingly quickly. Sunburns are a nasty way to ruin your vacation, so take care!
It's interesting to note that only the Western tourists seem to spend time in the open and sunbathing. The Thai way of enjoying the beach is to avoid the sun and stay in the shade, while sipping a refreshing drink and occasionally going into the water almost fully clothed.
For current and forecasted UV index, see meteovista.com.
Sea and beach critters
Jellyfish may sometimes be a problem. I haven't heard of anyone getting stung by one here, but I've no doubt it may happen. If you see dead jellyfish on the shore, it might be a good idea to not step in the water, as common sense dictates. Keep a bottle of vinegar with you and familiarize yourself with jellyfish sting treatment.
Some snakes are good swimmers, and there are some venomous sea snakes living in the tropical waters too. Both land and sea snakes are of little concern to beachgoers - it's very unusual to encounter either in the crowded beaches, and very unlikely to actually get bitten by one.
---
Hua Hin Beach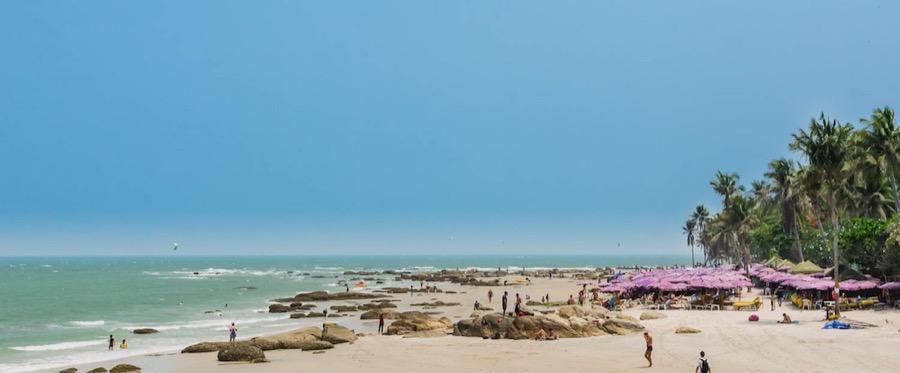 The most famous, and also the most popular, of the beaches is located right in the heart of Hua Hin. This is where the seeds of Thailand's tourism industry were sowed, more than 80 years ago. The beach is clean and well taken care of, and even though it doesn't have the crystal clear water and pure, white sand like in the southern Andaman islands, it is still a beautiful beach.
The sand is very soft and fine, feeling pleasant under your bare feet. Be aware of the seashells and other small, sharp stuff like that - especially for children, it is a good idea to wear slippers. Water is warm and quite clean, although cloudy, and safe for swimming.
It's very easy to get to the beach - just follow the signs on Naresdamri Road, and you'll eventually find your way to the Chinese Temple. From here, you can already see the sand and sea.
Walking past the temple, you'll reach stairs that will lead you down to the beach. At this point, it's a good idea to apply sunscreen and bring out your sunglasses, if you haven't already. Then, either find a cozy place to sit somewhere in the sand or head to the purple-colored sunshades, which are there to provide cover to the beach restaurants. They offer some well-needed refreshing cold drinks as well as various Thai dishes for beach dining.
You will see many horses, along with their handlers on the beach. The horses are available for rent, with prices somewhere around 500 baht per hour, with shorter times available as well. This sometimes results in horse poop on the beach - it's a good idea to watch where you step.
The Hua Hin Beach can get quite crowded, and all the food/drink/beachtowel/whatever vendors may get a little bothersome. If you're looking for a place to spend some relaxing, quiet quality time, this beach may not be the best choice.
---
Khao Takiab Beach
This smaller stretch of beach is located near Khao Takiab the temple known for its large, wild monkey population. To get here, just follow the main road south, following the road signs to Khao Takiab, until you are at the end of the road. From here, you should already see the Golden Buddha statue and the beach itself. The green songthaew runs between Khao Takiab and the airport, which makes it a convenien and cheap way to get to the beach.
Khao Takiab beach is also clean and well maintained, but not as crowded as Hua Hin beach. This may change in the future, though - there are some construction projects going on near the beach, and Khao Takiab area overall is increasing its popularity.
When you get hungry or thirsty, food and drink is available on the restaurants and cafés near the beach, along the road leading to Wat Khao Takiab and also from the smaller vendors on the beach. Beach chairs, fully equipped with shades, are also available for rent.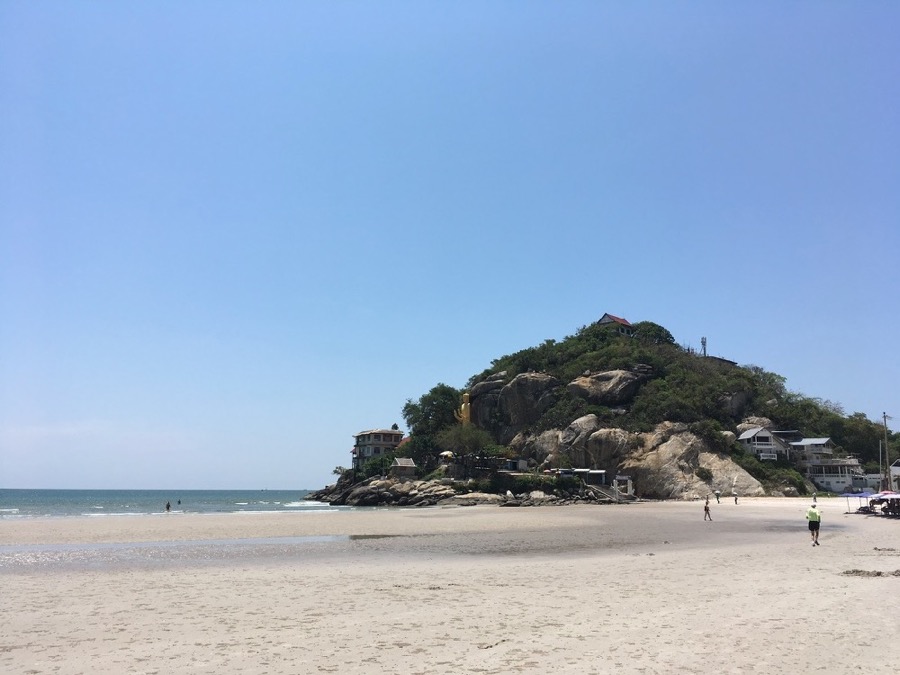 Just like in Hua Hin beach, horse rides are availabe here too, although in lesser numbers.
Monkeys from the temple may sometimes find their way here, looking for food. Keep your snacks, small items and anything that might look interesting to a monkey somewhere they cannot reach - if they grab some of your things, you are not getting them back easily! They seem especially fascinated by shiny things like sunglasses and jewelry.
Overall, this beach is great for those looking for a bit more peaceful day at the beach. It is also the natural choice for cooling down after spending the day walking around Wat Khao Takiab. I personally much prefer this beach to the Hua Hin Beach.
---
Cha-am Beach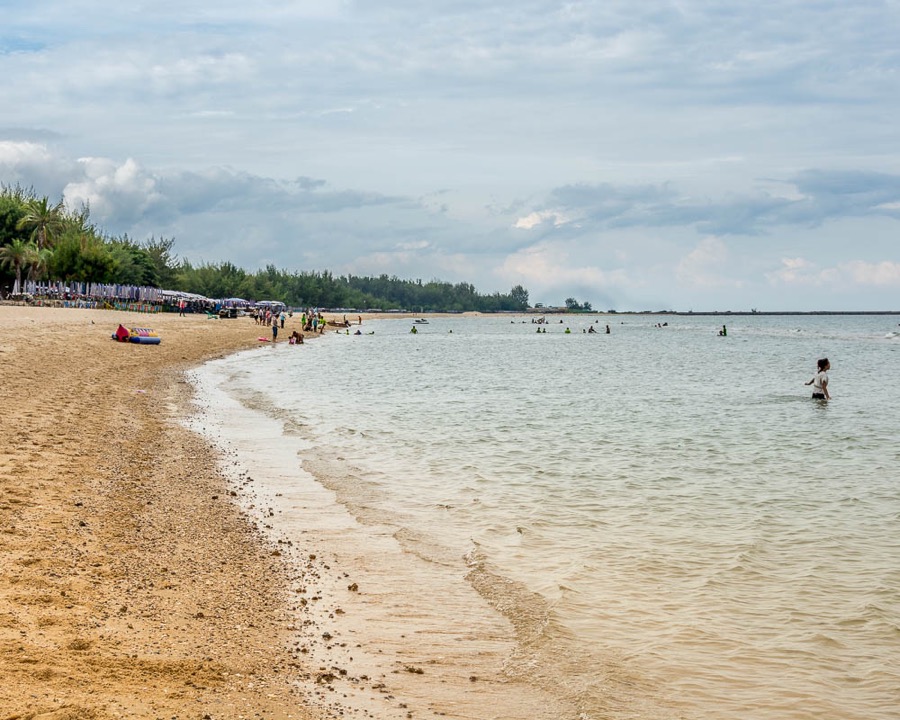 Hua Hin's northern neighbour, Cha-am, also has a beach. It is easiest to get here by driving yourself - just drive north along Phetkasem Road until you see the sign pointing to Cha-am beach, then turn left. At the end of the road you'll find the beach.
If you're not driving yourself, you need to take the bus, minivan or the train, or you could hire a taxi. See the post about public transportation.
The beach in Cha-am is long, lined with many colorful shops, restaurants and hotels. And as is the standard practice on beaches, beach chairs, picnic blankets and other beach essentials are available for rent. Many food and drink vendors run their stalls either on the beach or very close to it, so refreshment is never far.
If you feel like doing something a bit more exciting than swimming and sunbathing, jetskis are available for rent. And if that's not enough of high-speed water fun, you can hop into one of these funny banana-shaped rubber boats tugged behind a jetski: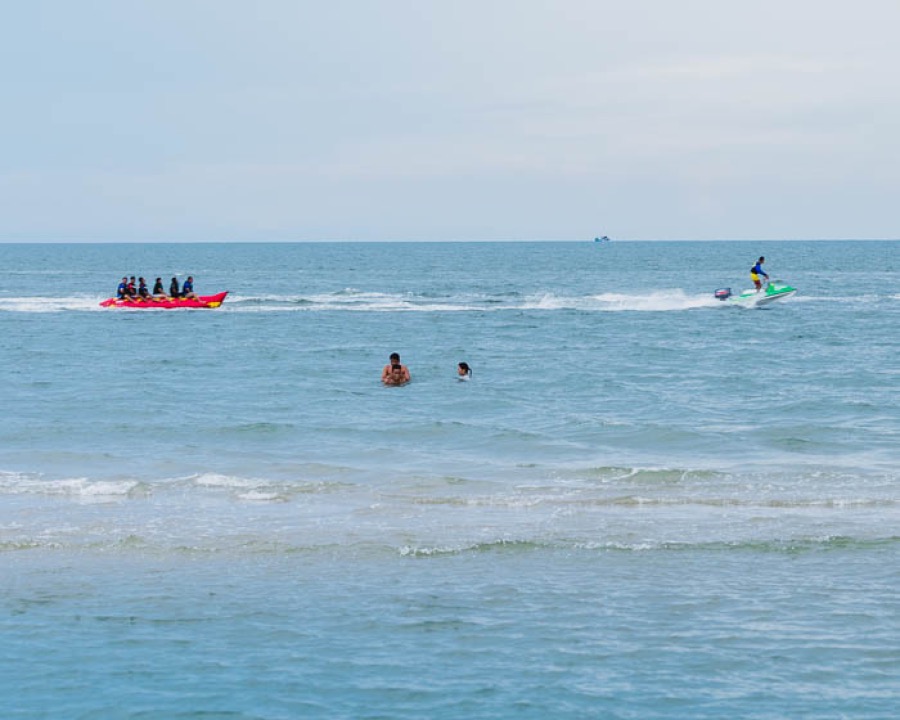 For some less thrilling but arguably more adorable activity, you can also rent a pony for a ride along the beach. You can ride by yourself, if you know how, or have the pony's handler walk along and guide you.
Unsurprisingly, this beach is also clean and well maintained - you will find the occasional piece of driftwood or other trash here, but that's about it. And make sure to throw your thrash into the bins near the street.
---
Other beaches
Since Hua Hin is mostly built along the beach, there are many places around town where you can reach the warm sand and water.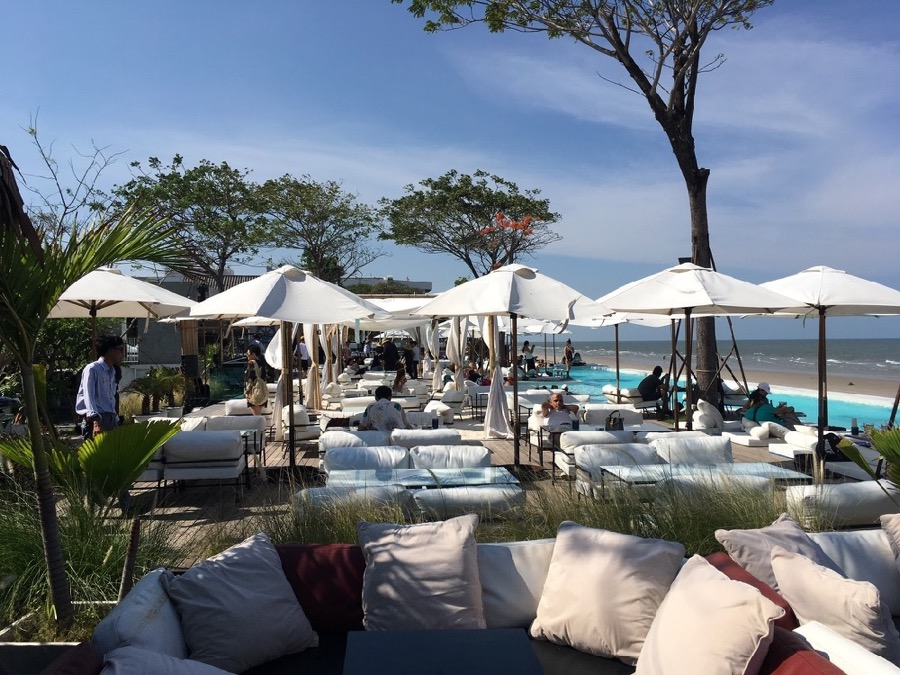 One such place is Seenspace, the hipstery mall. While this place doesn't really feel that much like a real beach, it's a nice place to spend an afternoon or evening. Plenty of comfortable beanbag chairs and shades are available, but you will need to buy at least a drink (soft drink is enough) to get access to them.
Another beach nearby is within the Queen's park, just a bit north from Seenspace. It's a small beach, but equipped with a small outdoors gym, which I've not seen in any other beach in Hua Hin.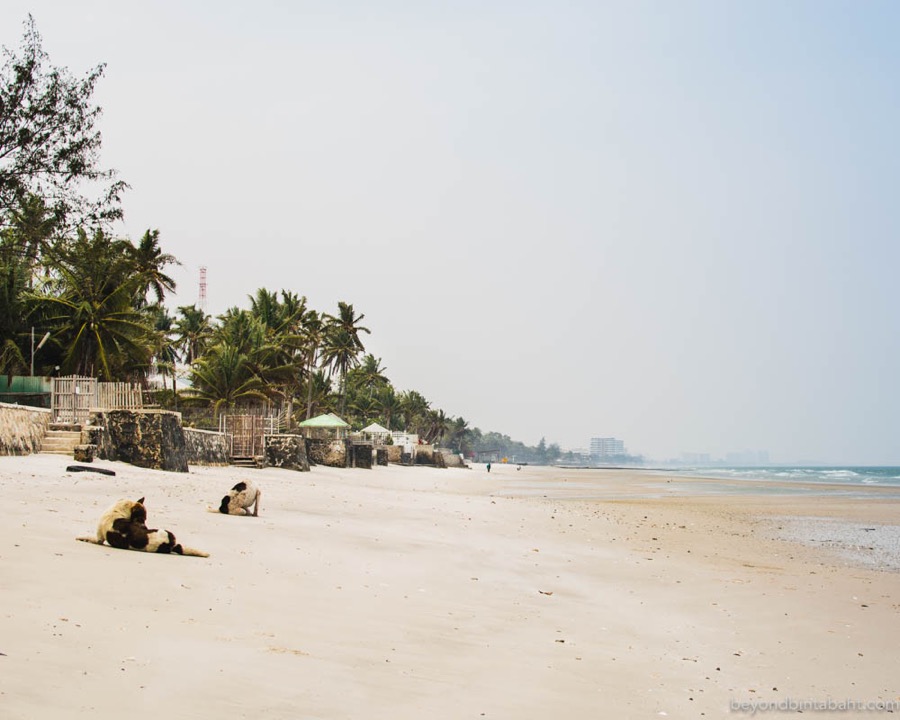 Soi 51, the popular restaurant streets, terminates at the waterfront. The beach right next to Coco 51, a sleek beach club, is easily accessible from here. The beach here is not very crowded - in fact, most of the time you won't find much people here at all.
Consequently, you won't find food and drink vendors, beach chair rentals or much else on the beach either. So, remember to bring your own beach equipment. When you get hungry or thirsty, simply step inside Coco 51 or any eatery in Soi 51.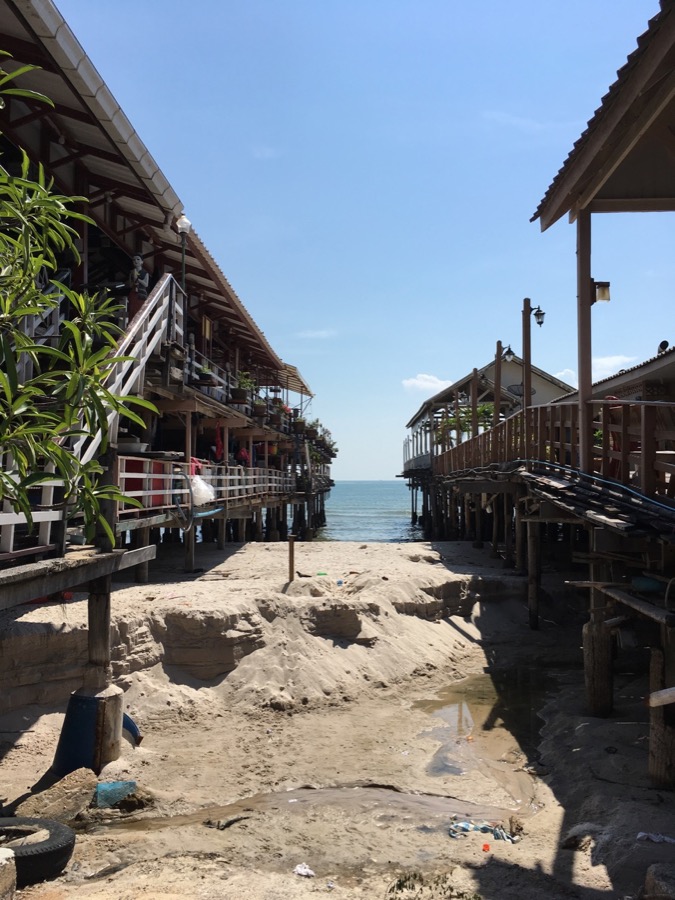 If you're willing to explore a bit more, you may find many other places where you can access the beach. As you can see from the picture above (taken between two seafood restaurants in central Hua Hin), they are not very carefully maintained since they're not official public beaches. All sorts of thrash, glass shards and other nasty surprises may be found in these spots, so beware!
---
Ao Manao
I saved my favorite beach as the last one. Ao Manao is located in Prachuap Khiri Khan, a town 100 km south from Hua Hin. Visiting here is easiest by driving yourself, like I always recommend. You could get to Prachuap easily with train or bus, but finding a taxi to take you to the beach there is often too difficult.
The beach is inside the Wing 5 base of Royal Thai Air Force. Despite this, it is open to public. You will have to pass some military checkpoints, which are usually not an issue - just follow the instructions given by the guards (if any), and you'll be on your way inside in no time.
Once you find the beach, I'm sure you will be pleasantly surprised. Ao Manao is a lagoon, with clean, bright sands on the beach, clear water and beautiful rocky hills around it. On top of this all, there's several shops close to the beach, and the area is overall better taken care of than the more touristy beaches. This place gets closer to the "tropical paradise" feel than the other beaches above.
Another plus is that not many foreign tourists have found this place yet - the perfect getaway from the busy Hua Hin.
Downside is that Ao Manao is quite far from Hua Hin, and there's not that much else to do in Prachuap, even though it is the provincial capital. You can check out the historic downtown area for its fascinating, but a little run-down, old teak house -lined streets.
---
Best hotels for beach lovers
If you intend to spend lots of time on the beaches, you may want to consider staying in one of these hotels. Note that these are all affiliate links.
Hilton Hua Hin Resort & Spa
We'll start with the obvious. The famous Hilton chain has had a branch in Hua Hin's best spot for years now. Central location, easy access to the beach and all other Hua Hin attractions, combined with reasonable rates for a five-star hotel makes Hilton a great choice for all but the most budget-conscious travelers.
Dune Hua Hin
A four-star boutique hotel in north-central Hua Hin offers large, modern rooms and features a popular rooftop bar & restaurant. The location is a little bit off from the most crowded tourist hot-spots, and just a walking distance from the popular restaurant street Soi 51.
Hyatt Regency Hua Hin
Luxurious five-star beach resort in the Khao Takiab area, with similar rates to Hilton above. Staying in Khao Takiab also gives you an easy access to the night markets, along with all the restaurants and bars in this modern part of town.
If you're more of the budget traveler type, you may be interested in checking out my article on Hua Hin's best low-cost guesthouses for some high-quality living without breaking the bank.
---
Conclusion
Going to the beach to spend a day in the sun, dipping into the warm water occasionally, and enjoying total relaxation with warm, tropical winds gently blowing while you sip your ice-cold drink of choice, is something most travelers to Thailand are looking forward to doing.
Surely, you can do that in Hua Hin and in the areas around it, but if beaches with crystal clear water, white sands and overall feeling of "tropical paradise" is what you're looking for - it may be better if you go to the islands of Southern Thailand, like Koh Phi Phi or Koh Lipe.
The beaches of Hua Hin are a nice addition, but not the number one reason to visit.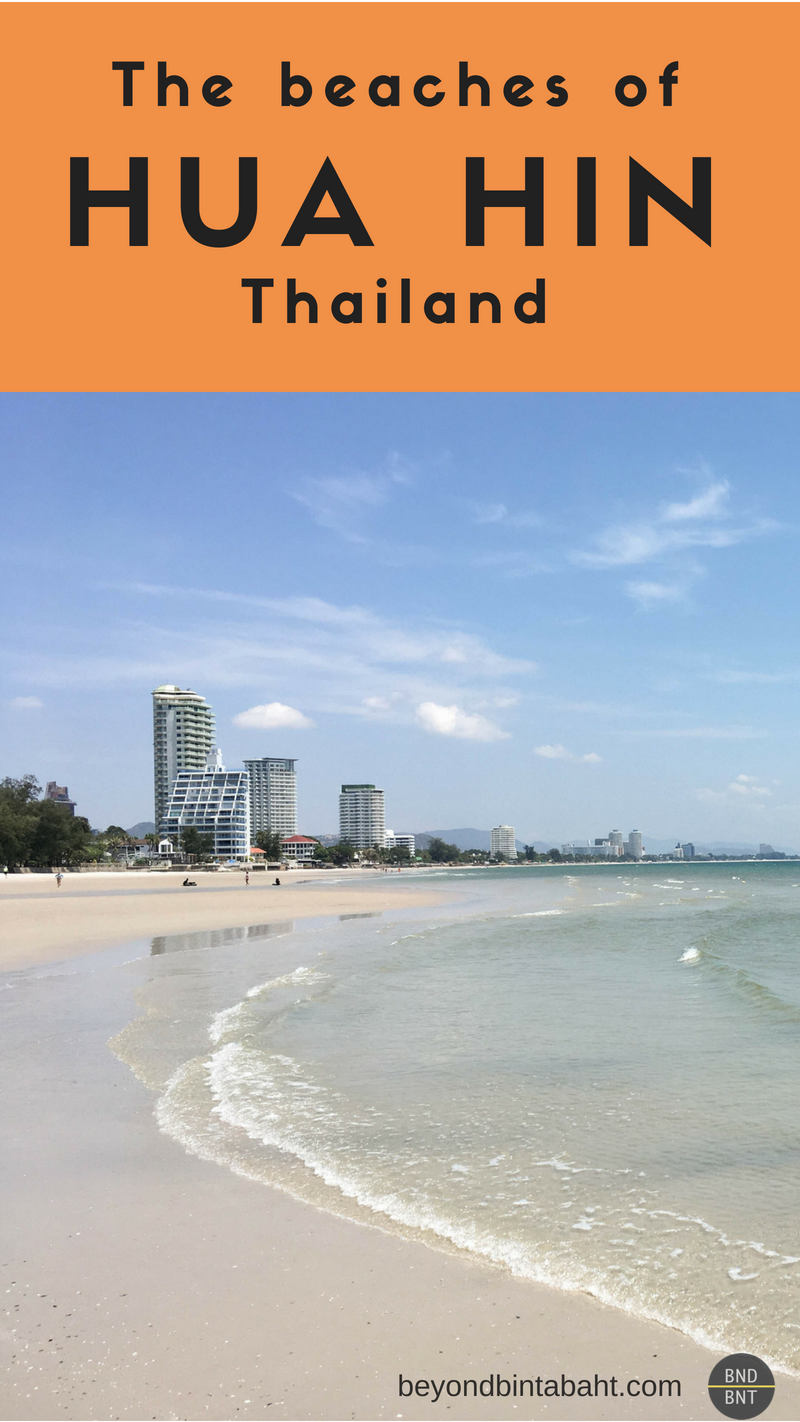 ---
See also