It may always be sunny in Philadelphia, but in Hua Hin, you have to prepare for different seasons. It's important to know what kind of weather to expect on the time you're planning your visit. Except if you're planning to stay inside your hotel room all vacation.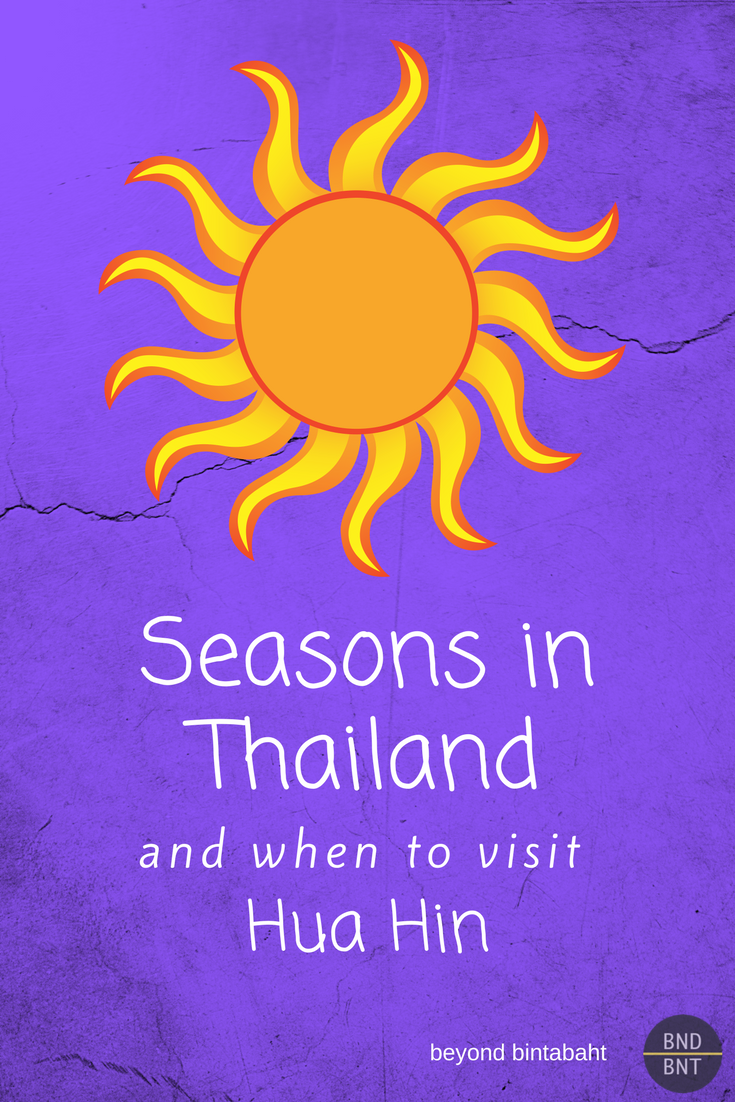 While Hua Hin (and everywhere else in Thailand, except maybe the highest mountain regions up north) is warm all year around, the amount of rain and hottest temperatures vary by season. No season is intolerable, but require a little different preparation and planning.
Cool, dry: November to February
As its name implies, this season is "cool" and doesn't get much rain. I put "cool" in quotes because I refuse to count 26°C average daily temperatures as cool. But maybe that's because I'm from Scandinavia, where 15°C is drop-everything-hit-the-beach weather.
You can expect daytime highs of about 30°C, and nighttime lows of around 22°C at this time of the year. Sunshine is not as strong as in the hot season.
This is perhaps the most popular season to visit, and for a good reason. Temperatures are not too high, rain is very unlikely to ruin your day on the beach, and there's very little mosquitoes. Downside is that because of high season, you'll likely need to pay higher prices for hotels and flights.
Why visit during cool season? Pleasant weather, practically no rain, plenty of other tourists.
Why not? Weather might feel bit too cool if you like tropical heat, slightly higher prices for accommodation, plenty of other tourists.
How to prepare: Nothing special, just bring your typical warm-country travel gear; sunscreen, t-shirts, etc.
Hot: March to June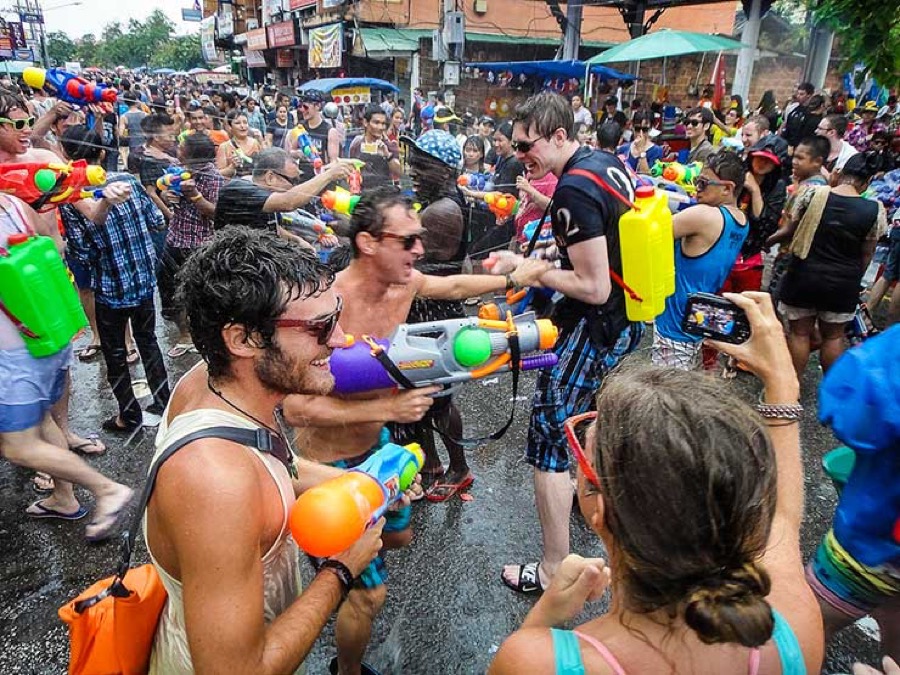 Yep, it gets hot during this time - daytime temperatures routinely reach 35°C and above, with evenings and nights being, thankfully, slightly cooler. Earlier part of this season is dry, but gets more rainy near the end. Sunshine is strong throughout the season.
Daytime highs reach around 35°C, nighttime lows 26°C. Be sure to get a room with air conditioning.
A welcome relief to the heat comes in the form of Songkran, the Thai New Year festival celebrated from 13th to 15th April. If you don't know what that is, it's basically a festival where you're supposed to throw as much water on people as possible. If this doesn't make any sense, stay tuned for a future post where I'll explain this awesome festival in more detail.
Why visit during hot season? True tropical heat, not much rain, Songkran!!
Why not? Heat might be too much for some.
How to prepare: Along with your typical warm-weather clothing, bring some light-colored long-sleeve t-shirts or button-down shirts, or anything light and long-sleeved. This is very useful for protecting yourself from the sun, and looks stylish. Also stock up on sunscreen and water on your first day here.
Wet: July to October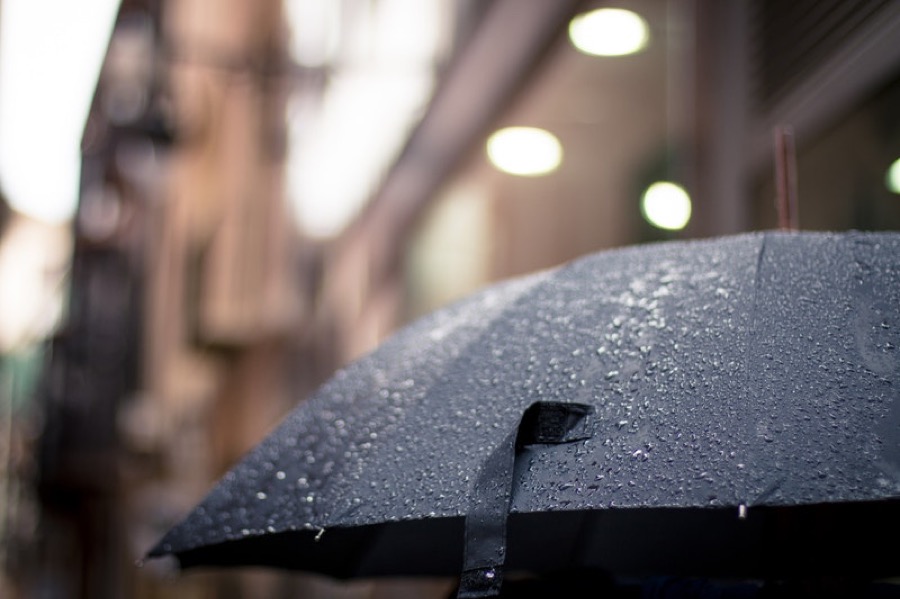 And finally, the time of the year when the water comes down. Sometimes too much - it's not that unusual to see flooding here during this time. It's still warm, of course.
During this season, daytime highs get to around 33°C, with nighttime lows about 25°C. Rainfall is usually highest during October and early November. Sunshine is almost as strong as during hot season, but often gets blocked by the clouds.
Unlike in some other places, wet season here doesn't mean it's monsoon rain 24⁄7. Days are often sunny, with rain coming in the evening. But it's still the rainy season, with sometimes unpredictable, fast-changing weather - not the optimal time to visit if you wish to enjoy the beaches, play golf or do other such things. Plus, the mosquitoes are numerous and hungry for blood at this time. On the upside, you can often get better prices at hotels, guesthouses and such, this being the low season.
Why visit during wet season? Less tourists, easier to find accommodation and flights for lower prices. Might be surprisingly sunny and dry.
Why not? Mosquitoes. Weather might be unpredictable. Rain might come down pouring hard, leading to floods in worst case.
How to prepare: Prepare to drive a car, unless you like to get soaking wet or stay indoors whenever it rains. Umbrella and a few disposable raincoats should be amongst the first things you buy here, both available from 7-11 and Family Mart. Also get some mosquito repellant.
So, what's the best time to visit?
…is a question without a clear answer. I've visited during all seasons, and the weather has never ruined my trip. The differences in seasons are not that dramatic, after all. I mostly prefer to visit during hot season (Songkran!!), after that during the cool season, with my least preferred season being the wet season.
For first-time visitors, the cool season is the one I recommend. Weather is nice, stable and not unbearably hot, giving a pleasant introduction to Hua Hin. Try the other seasons on your later trips.
---