There's something fascinating about night-time markets; carving your way throught the dense crowds, stopping at every vendor to marvel at their wares, grabbing a cold drink and a quick bite to eat from street chef's cart… If you haven't ever had a chance to visit a night market, you should try it in Hua Hin - there's many to choose from.
The most famous one, of course, is the appropriately named Night Market, located conveniently in the town center. This market is the market that started the Thai tradition of night-time markets, all those years ago.
Little bit south from the previous, you'll find the Grand Night Market. I'm not convinced it's actually larger than the others as its name implies, but it certainly offers more than enough things to buy and do.
Two popular weekend markets are found in Khao Takiab area in southern Hua Hin: Cicada and Tamarind. The first is a hip, trendy handicrafts market and the latter is a more traditional market. Both feature live music and other shows, plus large and delicious food courts.
For those willing to venture outside Hua Hin, there are night markets in Cha-am and Pranburi too. Especially the latter is well worth visiting for those wanting to venture a bit off the beaten track.
So, how are they like?
Hua Hin Night Market
The first, most famous, most popular and most centrally located, is what most people refer to when they say "let's go to the night market today!"
This night market covers several streets in central Hua Hin. It's easy to find - just head down along the main road, and you can't miss it. The green songthaew is an easy, cheap way of getting here.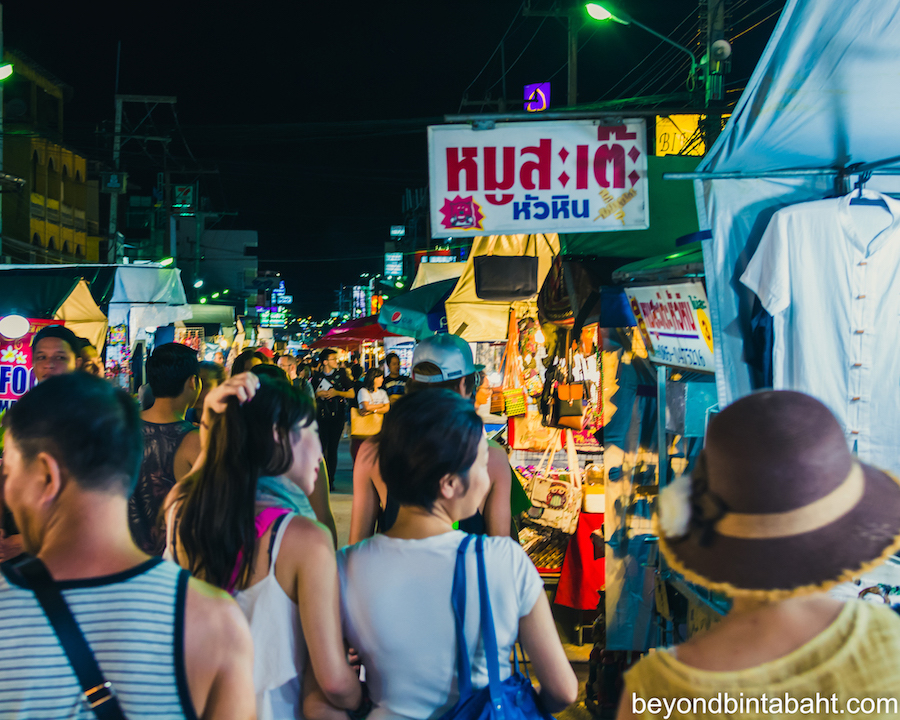 At daytime, the market area looks very unremarkable, almost empty. After the sun sets, the difference is like… well, night and day. Seemingly out of nowhere, countless tents and stalls have popped up, each selling everything imaginable, but weighting towards the cheap stuff: clothes, watches, jewelry, phone covers… If you're looking for cheap souvenirs or gifts to friends back home, you'll probably find something suitable here. And yes, those beer-branded wifebeater shirts and loose, elephant-decorated pants you see worn by at least 50% of Western tourists are also available here!
Entering the market area from Phetkasem Road, the aforementioned trinket stalls are the first things you see. Continue further past them, and you'll start seeing foot massage parlors, street bars and snack vendors. It's pleasant to note that despite the amount of market stalls, the vendors aren't too pushy with their sales.
When you come across the Sa Song Road intersection, many indoor restaurants. These restaurants are popular with market-goers, and most of them specialize in seafood. My favorite is the imaginatively named Hua Hin Seafood Restaurant - they have tables in the large second floor balcony, offering a nice view over the market. Try their sweet-and-sour fried fish.
A word of warning - the market gets crowded! If you don't like walking slowly in a large mass of people, or just feel uncomfortable in crowds, stay away.
Hua Hin Night Market is open from 6pm to 11pm daily.
---
Grand Night Market
The other famous night market is located a few sois north from the popular mall Market Village, and forms a part of Hua Hin Grand Hotel & Plaza's plaza. Despite its name, I'm not actually convinced it's any bigger than the other night market.
Just like in the other night market, you'll find plenty of small stalls selling clothes, shoes, accessories etc here too. Most of the stalls are standard market tents, but some are built in more permanent structures - mostly repurposed old, traditional-style houses and small warehouses. This gives the Grand Night Market a bit more "up-market", or "open-air mall" feel, even though prices of the goods are pretty much the same as in the other markets.
But the Chang t-shirts and 100 baht jewelry are not, in my opinion, the prime reason to visit Grand Night Market. The reason why you should come here are the many small restaurants and bars scattered around the area. They're all located very close to each other, making bar-hopping and feasting on different international cuisines easy and convenient.
Grand Night Market is open from 3pm to midnight, although it doesn't really get going before sundown.
---
Cha-am Night Market
When the first night market was founded in Hua Hin, and turned out to be a success, someone in the smaller, northern neighbor town of Cha-am must have thought "we must have piece of that, too!"
And thus the Cha-am Night Market was born. Or, that's how my interpretation goes.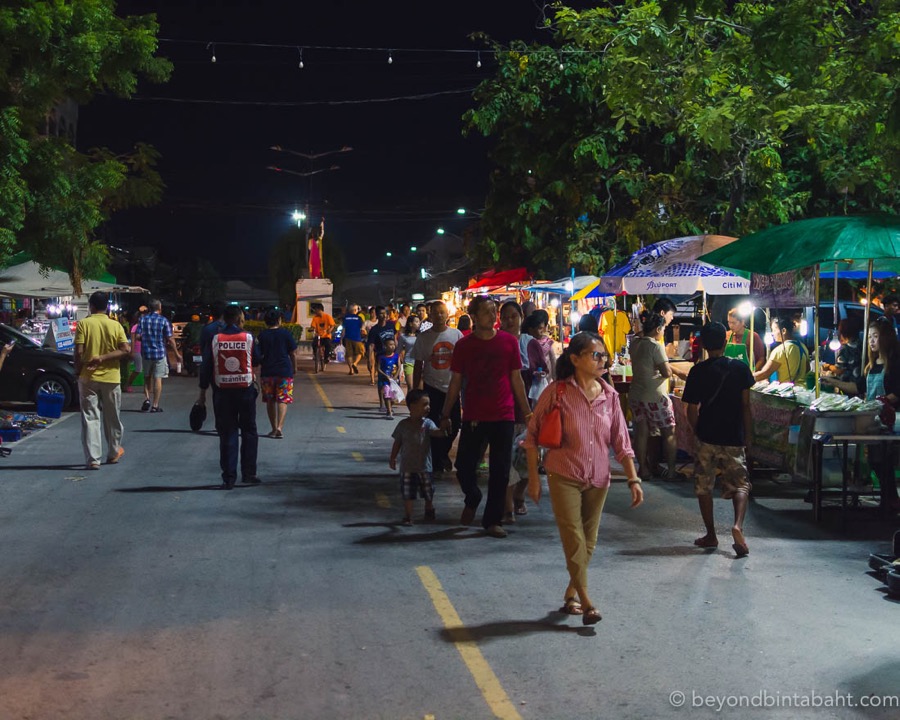 To get here, you'll need to get to Cha-am first, which you can do by bus, train or taxi. Or driving yourself, which is what I like to do. The night market is very close to Cha-am Railway Station.
The market area is quite large, and has lots of different things on sale: besides the clothes, accessories and pad thai you can find in any market, there are also vendors selling toys, knives, and power tools to name a few. A part of the market functions as a farmer's market of sorts: you can buy fresh meat, veggies and fruit here too.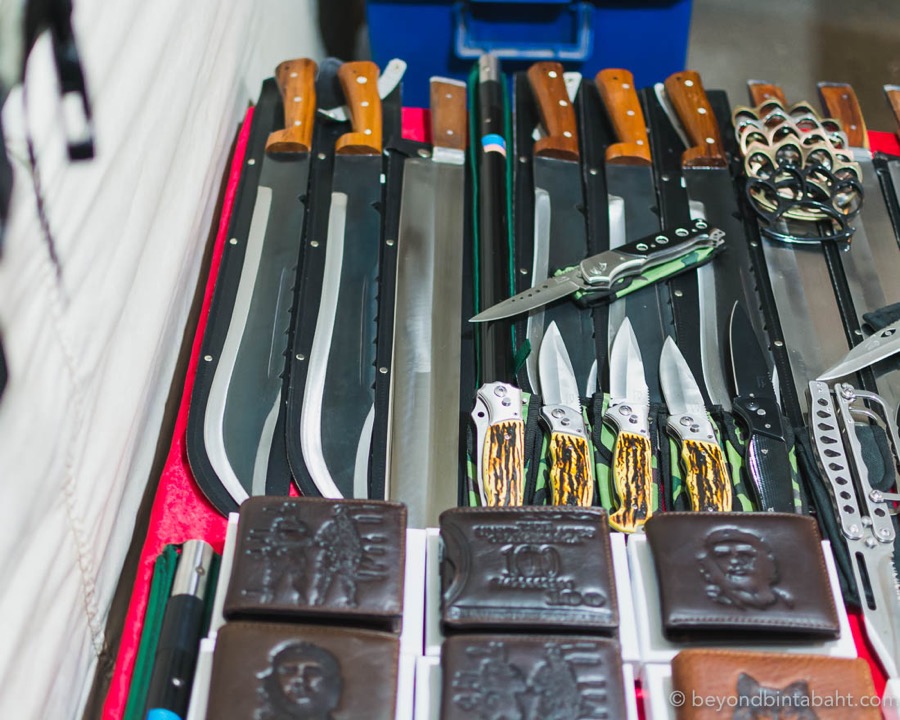 Night markets tend to have places to eat and drink, and Cha-am Night Market is no exception. Most of the food offerings are sold from small street food stalls, with few indoor restaurants thrown into the mix. The food is what you would expect - cheap and tasty.
---
Pranburi Night Market
The Cha-am Night Market above gets quite a lot of Western visitors, due to Cha-am being another popular resort town. That's not the case with Pranburi, the southern neighbor of Hua Hin. The last time I visited, I felt like I'm the only farang in the crowd. For those of you looking for an authentic, Thai night market experience largely unspoiled by tourists, take the short trip south to Pranburi!
Pranburi does have several markets - the one I'm talking about is called Pranburi Walking Street or Walking Pranburi (ถนนคนเดินปรานบุรี in Thai). Pranburi is about 20-minute drive from Hua Hin, and the streets are narrow and difficult to navigate. Keep that in mind if you're coming here with your own car. The market is very close to Pranburi Railway Station, so you could get here by train, too.
To find the market, you'll first need to find the aforementioned railway station. Once there, simply cross the tracks (be careful, there's just one ground-level crossing), and you'll find yourself inside the market area.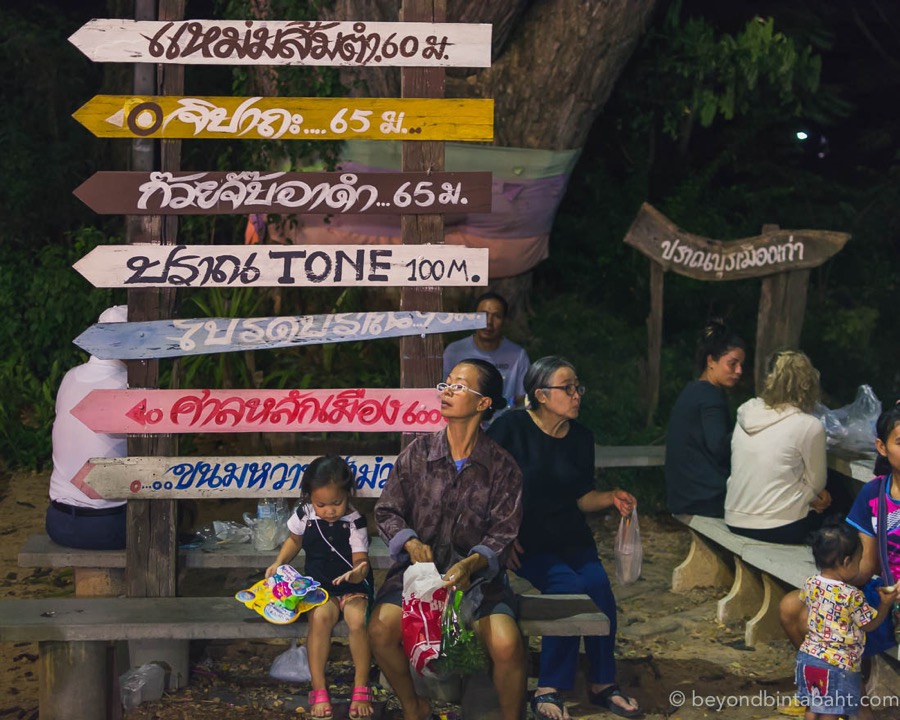 One of the first things you'll notice is that this market is clearly targeted for Thais - not much English text is to be seen anywhere. This shouldn't prove to be too much of a problem, most vendors speak at least a little English. And, as always, you can turn to Google Translate and it's voice recognition capabilities in a pinch. Or communicate by pointing, gesturing, nodding and smiling.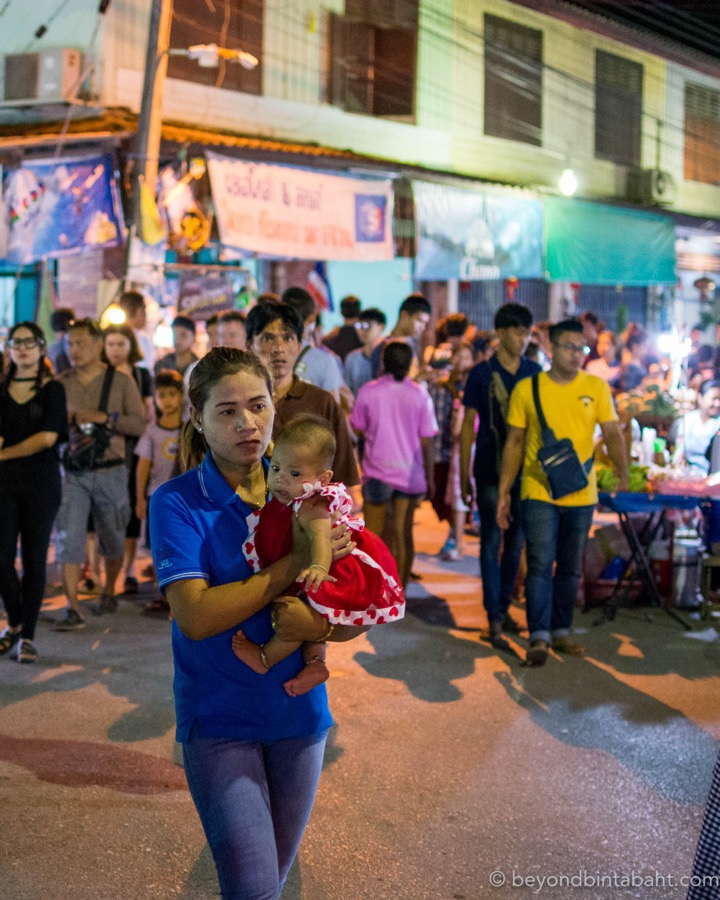 Walking Pranburi is also known as the Old Market. This is evident from the many old, traditional wooden Thai houses lining up the streets, creating an unique atmosphere. Excellent place to get a feel for how shopping was in the olden days, before air-conditioned malls. Or to take some cool Instagram selfies.
As for the goods sold, there are the things you can expect with any market - clothes, plastic toys, accessories and so on - and then some more unusual stuff. For example, on my last visit I found fancy-colored, living shrimp, either for aquariums or cooking, I'm not really sure. Another interesting find was a selection of fresh roots, like ginger and turmeric.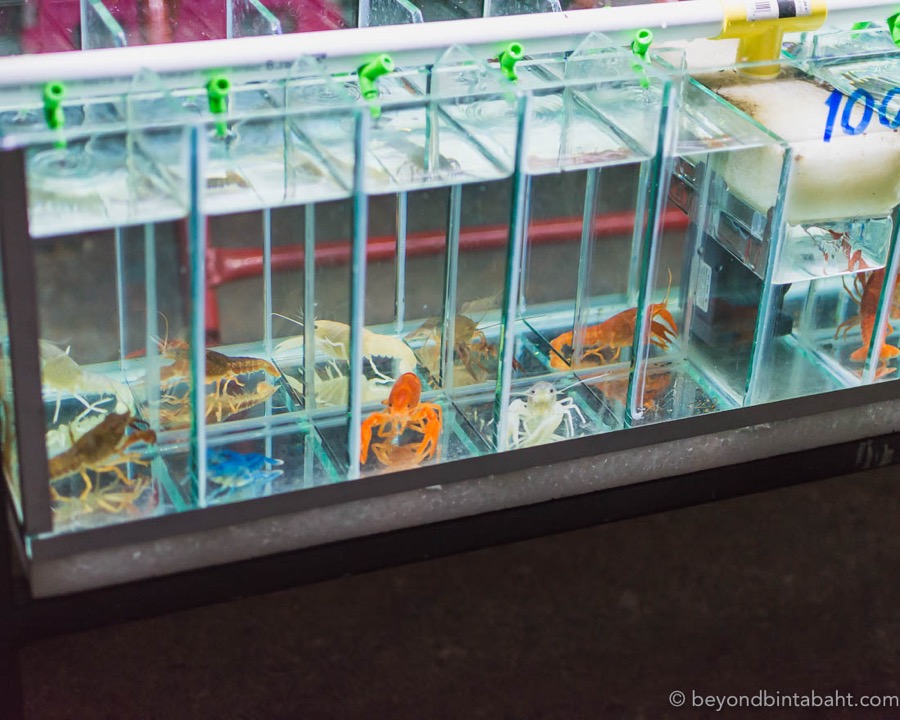 And of course, plenty of food vendors and some small restaurants operate here too. Unsurprisingly, Thai cuisine is what most of the stalls are offering. But you're here for the authentic, Thai market experience, right? Walking Pranburi is a must-visit.
---
Pae Mai (Tuesday market)
Another market that tourists usually ignore, but is popular with locals, is called Pae Mai or Tuesday Market, located behind the railroad along the canal road. Both red songthaews begin and end their route here, and all tuk-tuk drivers know where Pae Mai is.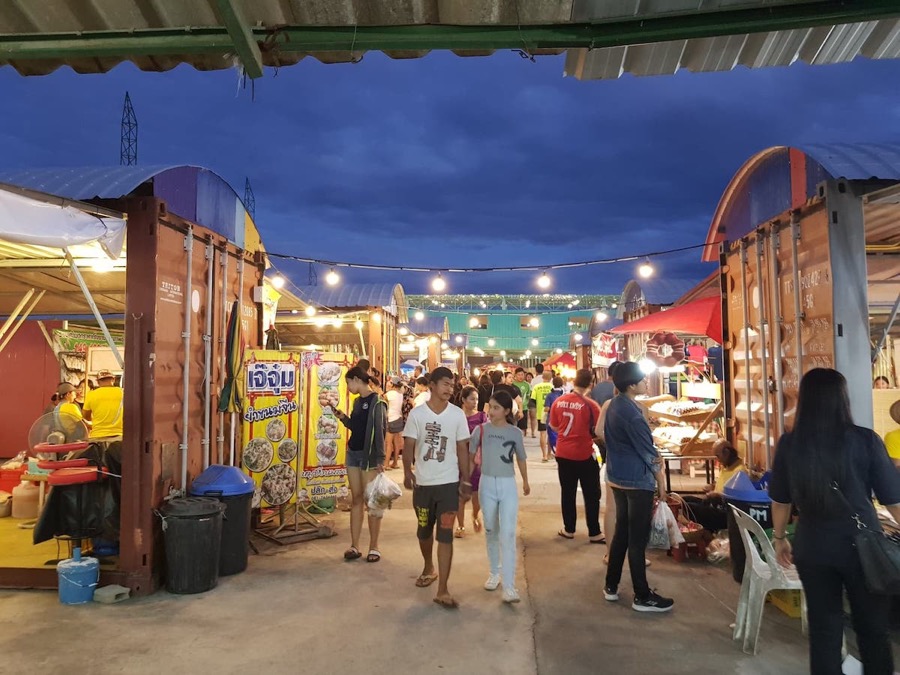 Many stalls in Pae Mai are built from old freight containers, giving the market an unique feel. The trendy glitter of the upscale Cicada Market or Bangkok's Asiatique is nowhere to be found - this is a market for regular people to do their shopping, plain and simple. The general price level also reflects this.
The market is open on Sundays, Tuesdays and Wednesdays, with Tuesday being the main day with largest amount of vendors and market-goers around. On Wednesdays, only fresh produce is sold, and many stalls are closed on Sundays. So now you know why it's called the Tuesday Market.
Everything imaginable is on sale here, and this is where many locals come to do their shopping: clothes, electronic appliances, fruit and vegetables, pets, tools, and many other things can be bought for bargain prices.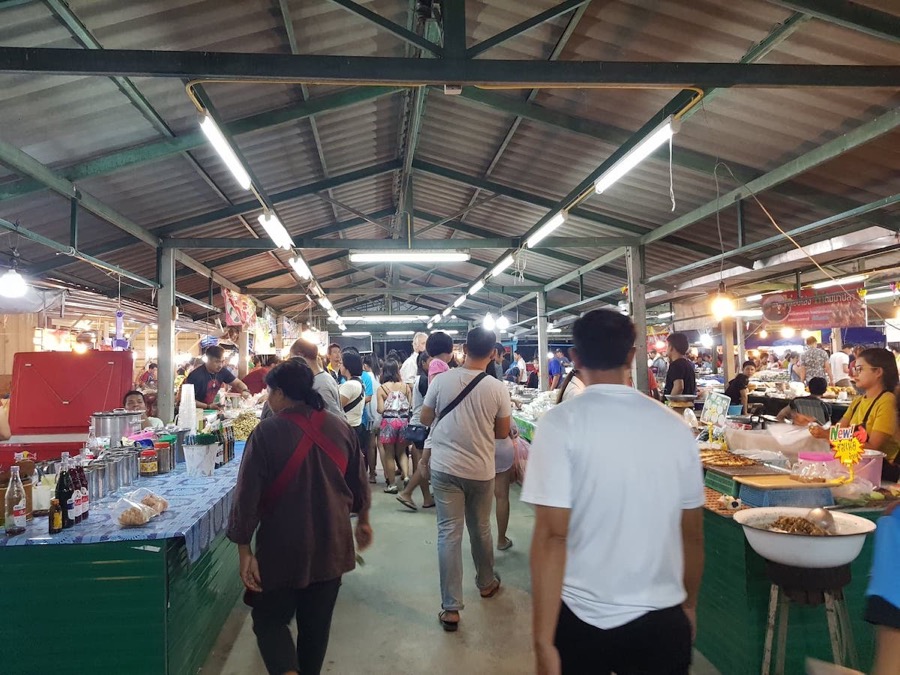 The market opens on the days mentioned around 5 pm, and many stalls stay open until midnight.
---
Cicada and Tamarind
After our little detour to un-touristy Pranburi and Pae Mai markets, we'll return to the beaten path and take a look at two popular weekend markets in Hua Hin's Khao Takiab area - Cicada Market and Tamarind Market. They are located right next to each other, and one feels like an extension of the other, so it's easy to visit both in the same night.
Cicada Market
Cicada is an arts and handicrafts market, where local artisans gather every weekend to sell their carefully-crafted wares. Don't expect to find counterfeit Rolexes or anything like that here - instead, you'll find hand-made wooden phone covers, leather camera cases, vintage-style framed posters and much more.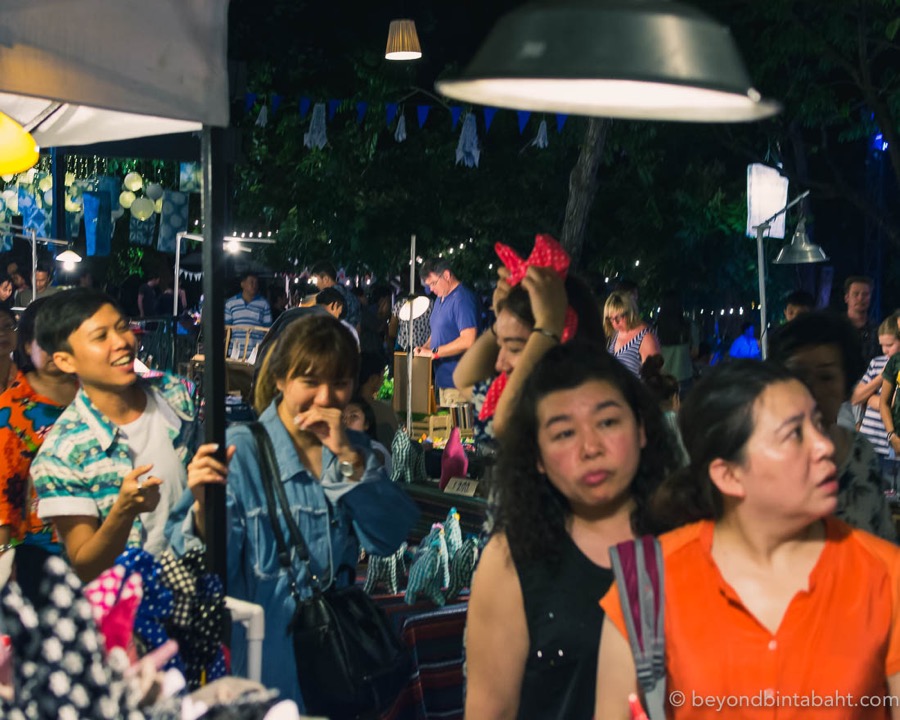 Near the center of Cicada, a large open-air auditorium is found, where theatrical productions or live music is played almost every weekend. They're usually in Thai language, and you'll need to buy a separate ticket to enter, so keep that in mind. Various other performers, like a kid building impossible-looking structures out of empty beer bottles, are found in a few other places around the market.
Large part of the market's area is dedicated to the food court. It works much like the food courts you can find at the malls: first, buy some food tickets at the counter near the entrance; then, walk around and check out the different stalls, deciding on what you'll eat; and finally, pay your chosen dish(es) with the tickets and find a place to sit. There's plenty of seating, but finding a free table might still be somewhat difficult on peak times. The food court prices are a bit higher than in the malls, but still very affordable. Everything available is delicious, and has too much variety to list here.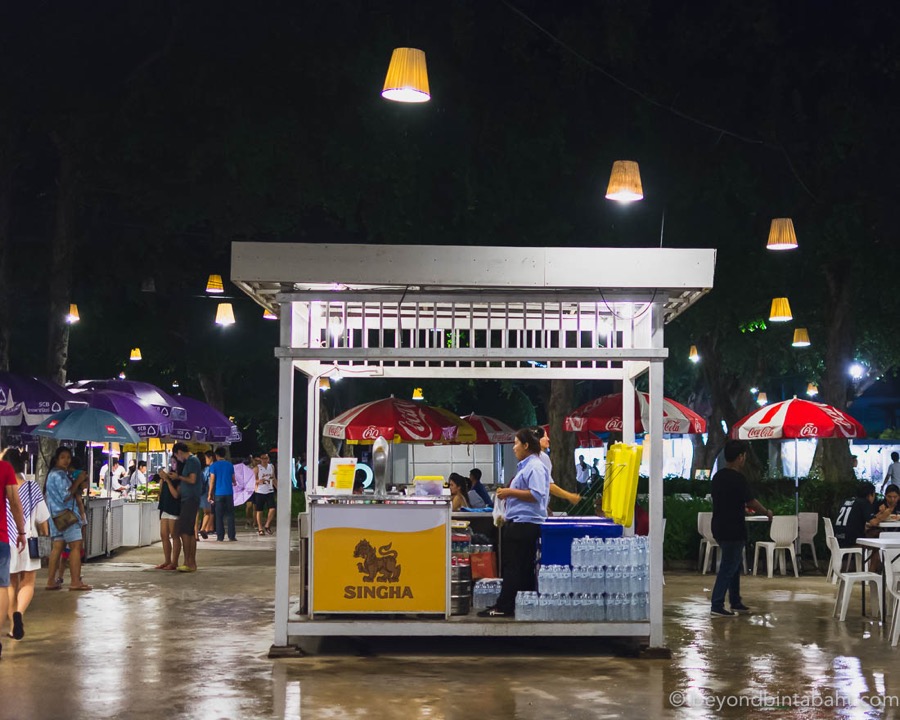 Cicada is a beautiful, well laid-out market - clearly targeted for the more affluent local young professionals and tourists. The stone-paved paths criss-crossing the market area are wide enough to not feel too crowded or claustrophobic even during peak times, the stalls are neatly laid out along the paths, and everything is topped with warm-colored lighting and decorations.
Everything for sale at Cicada is, generally, more expensive than in the other markets. This is, of course, because the items sold are unique, hand-made ones that you're not going to find elsewhere.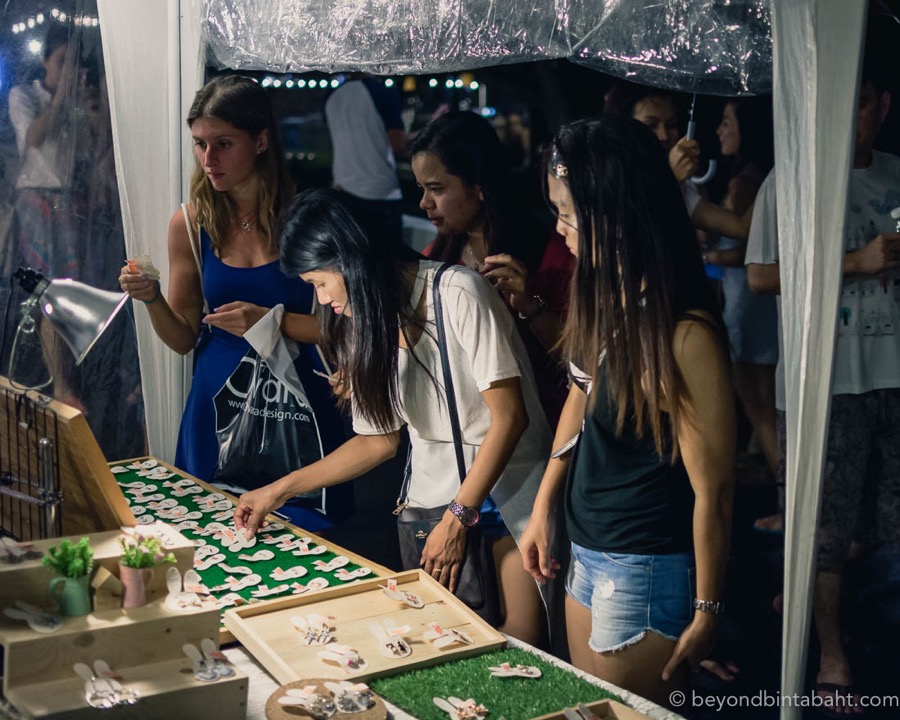 Cicada Market is definitely one of Hua Hin's "must visit" places. It's easy to get to, either using the green songthaew or by tuk-tuk (many of them even display Cicada ads). If you're driving yourself, you may find it difficult to find a place to park. I recommend using Tamarind Market's parking lot (see below).
Cicada is open on Fridays, Saturdays and Sundays from 4 pm to 11 pm.
Tamarind Market
Tamarind, another popular weekend market right next to Cicada, is much more like another regular night market, only more clearly laid out and a bit cleaner.
Much like Cicada, Tamarind features live music stage, a large food court, and many vendors selling wide variety of goods.
The goods sold here are, largely, not the vendor's own hand-crafted items, but much more like what you find in other markets: clothes, trinkets, jewelry and whatnot. The stalls are laid out in a clear grid-like pattern, with wide enough paths between them to make the market not feel too crowded.
More prominent part of Tamarind is the food court, situated next to the road. A large dining area with numerous stone tables and seats is in the middle, with food vendor's stalls lined up in the three sides. Unlike Cicada, vendors here accept straight cash instead of tickets. Food offered is mostly Thai cuisine, but you can also find pizzas, sandwiches and other Western goodies here, too.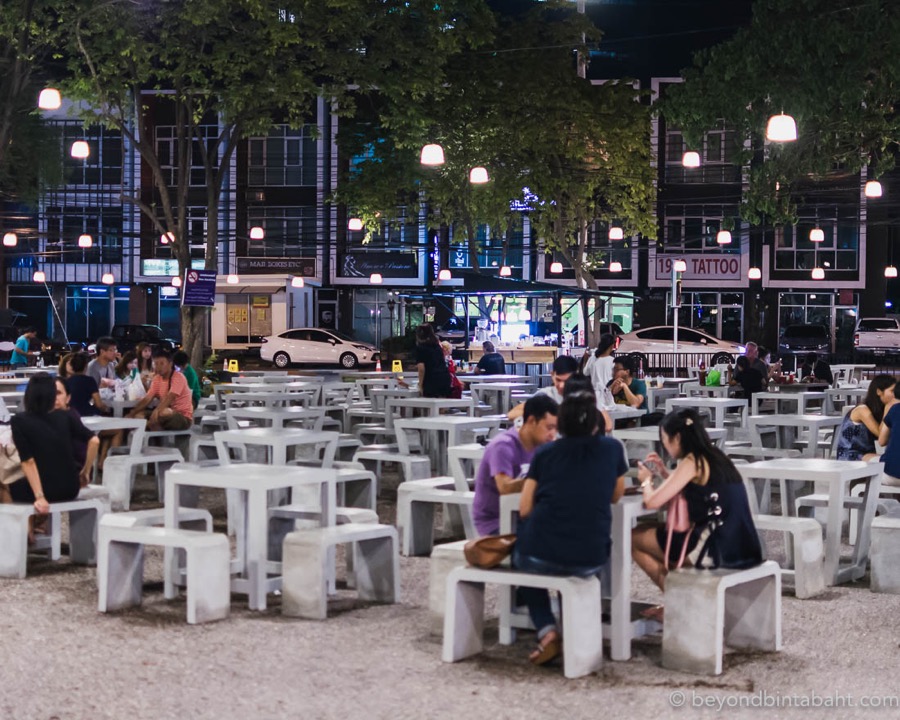 A stage is set up in the dining area, where local bands play classic Thai songs and popular pop covers every weekend. This gives a nice touch to Tamarind, making it a wonderful place to chill and dine in the early evening.
Overall, I would describe Tamarind as a "lower-budget Cicada". It's a bit of apples-to-oranges comparison due to the different type of goods sold, but hard to avoid when they're otherwise so similar. If you're visiting one, you might as well visit the other, too.
Tamarind is open from Thursdays to Sundays (they start the weekend early), 5:30 pm to 11 pm.
Just like Cicada next door, Tamarind is easy to get to with the green songthaew or tuk-tuk. And if you're driving, there's a sizable parking lot available - just follow the signs that say "Parking". The parking lot looks a bit crude (no asphalt here, just the bare ground), but it's not too tightly packed and the parking spots are marked clearly enough. Parking costs 50 baht, no matter how long you stayed, and you pay in cash when you exit.
---
And that concludes our little tour of the many night markets in Hua Hin and beyond. Did I leave out any amazing ones from the list? If you think so, let us know in the comments.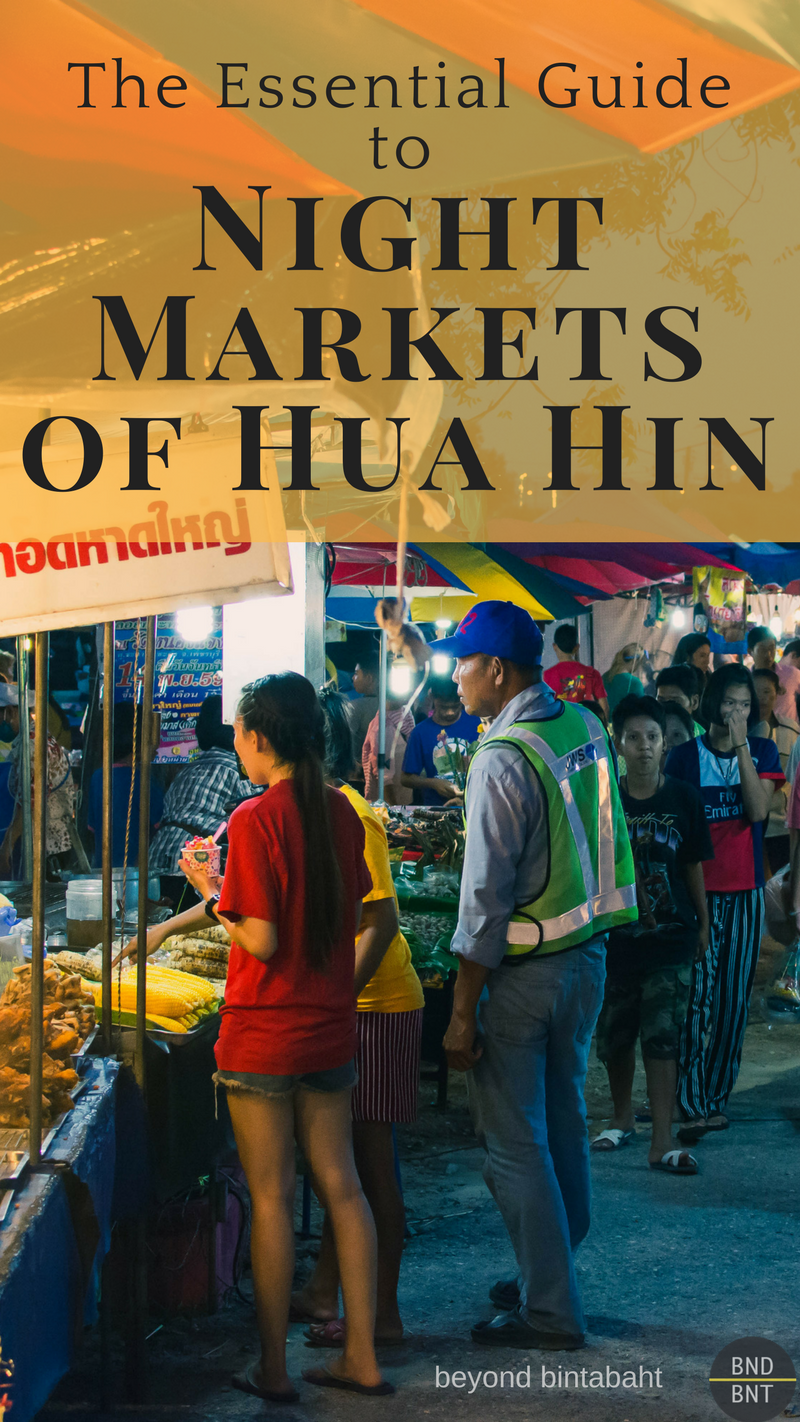 ---
See also