The small town of Hua Hin, being one of Thailand's classic beach resorts, has an airport of its own. And not just a puny little domestic airport, but a proper international one. This post tells you all you need to know about Hua Hin Airport.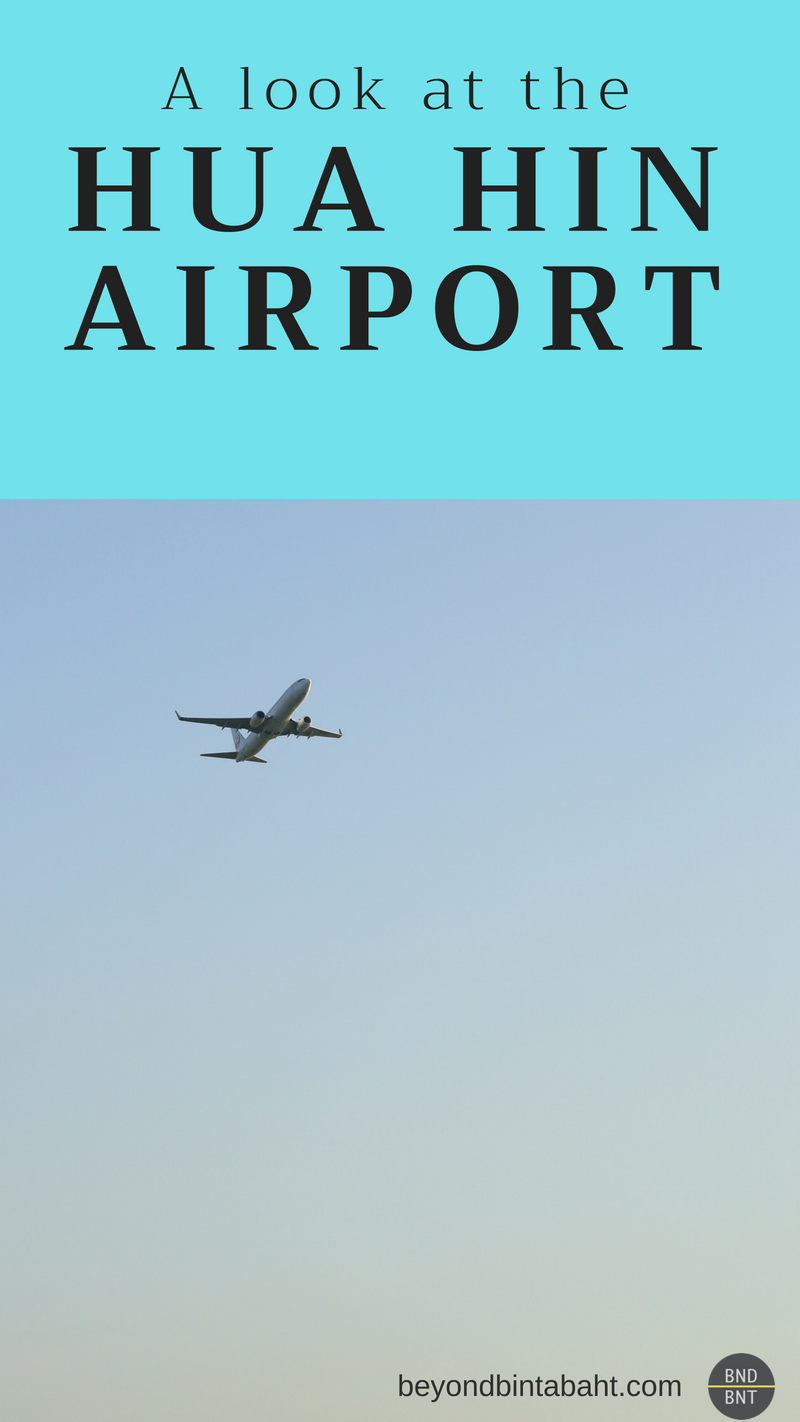 Hua Hin International Airport (IATA: HHQ) is a small airport in northern Hua Hin, serving mostly the needs of the local aviation school, with only one scheduled passenger route: Hua Hin - Kuala Lumpur, operated by Air Asia. Other routes have been operated in the past by airlines such as Lion Air and Nok Air, but those services have since been suspended. Consequently, there's not many things to do at the airport - you'll probably want to get in and out as quickly as possible.
As such, the airport is not a very common way of getting to Hua Hin, and many casual visitors might not even realize that it exists. With the recent opening of Air Asia's Hua Hin - Kuala Lumpur route, the airport is looking to get more busy.
Overview
Hua Hin International Airport is located in northern Hua Hin, right in the Cha-am border. In fact, the lone airstrip stretches far into Cha-am. It's close to the Roong Reuang Bus Station, and directly opposite of Suan Dusit University's Hua Hin campus. The latter cannot be a coincidence, since the school trains flight attendants and other aviation professionals.
The airport is very small, even when compared to other Thai airports, like in Chiang Mai or Phuket. This should come as no surprise, since Hua Hin is a small town not too far from Bangkok.
Facilities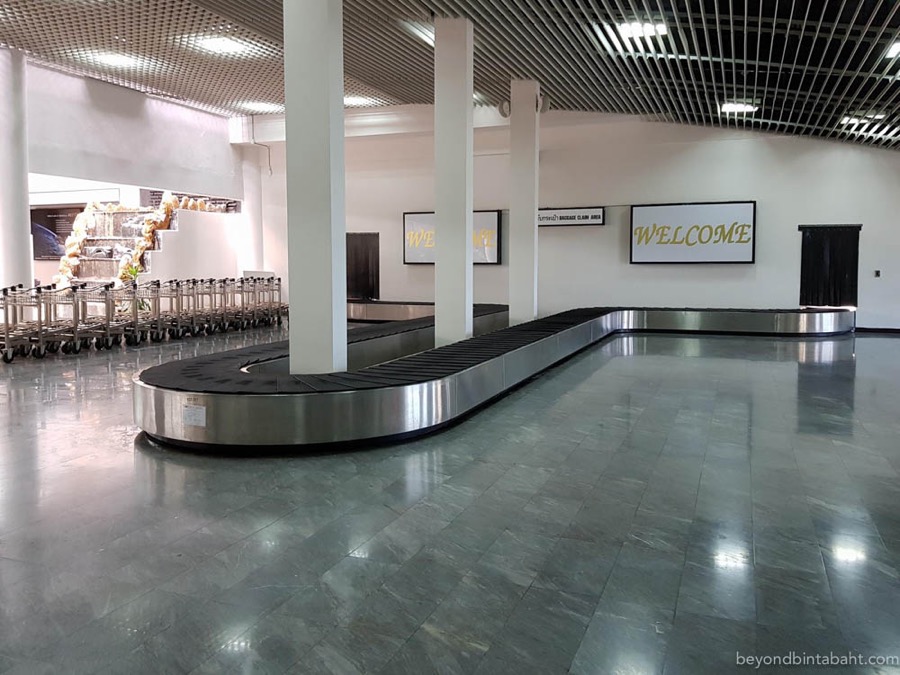 Upon hearing the word International in the airport's name, one may assume that the facilities would include things like convenience stores, restaurants, and whatnot. If that's your expectation, Hua Hin International Airport will sorely disappoint you.
The things you can do at the airport are
Buy flight tickets
Sit down and wait
Use the toilets
Rent a car from Hertz
Book a taxi via the information counter
Grab a tea, coffee or small snack
Purchase a pre-paid SIM card, also from the information counter
And that's pretty much it. Take note that there's no currency exchange available. Make sure to get at least a small amount of Thai baht before you fly to Hua Hin.
Keep in mind that until very recently, no scheduled passenger flights were operated from this airport, which explains the lack of available services. If the airport ever gets busier, I'm sure the situation will change.
At the time of writing, VAT refund is not available at Hua Hin Airport. If you've been shopping heavily, it's wise take this into account.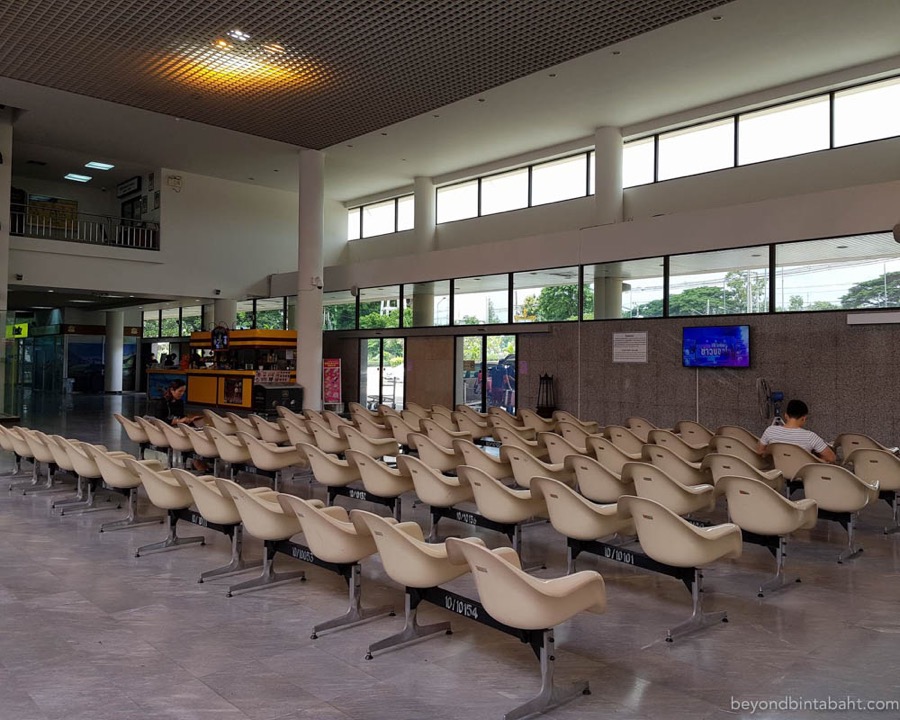 Fortunately, the airport is small and you don't need to spend much time here. Check-in, security and boarding can be completed quickly (due to the low passenger volume), and the gate is always near. Same goes for arrivals - after disembarking from the plane, you'll get through the immigration and into the arrivals hall quickly.
Outside the airport, you can find a few small restaurants and a Family Mart within a walking distance - just turn left from the airport's entryway to the Phetkasem Road. The restaurants may have somewhat unpredictable opening times, but the Family Mart will serve you the finest industrially-produced snacks 24⁄7.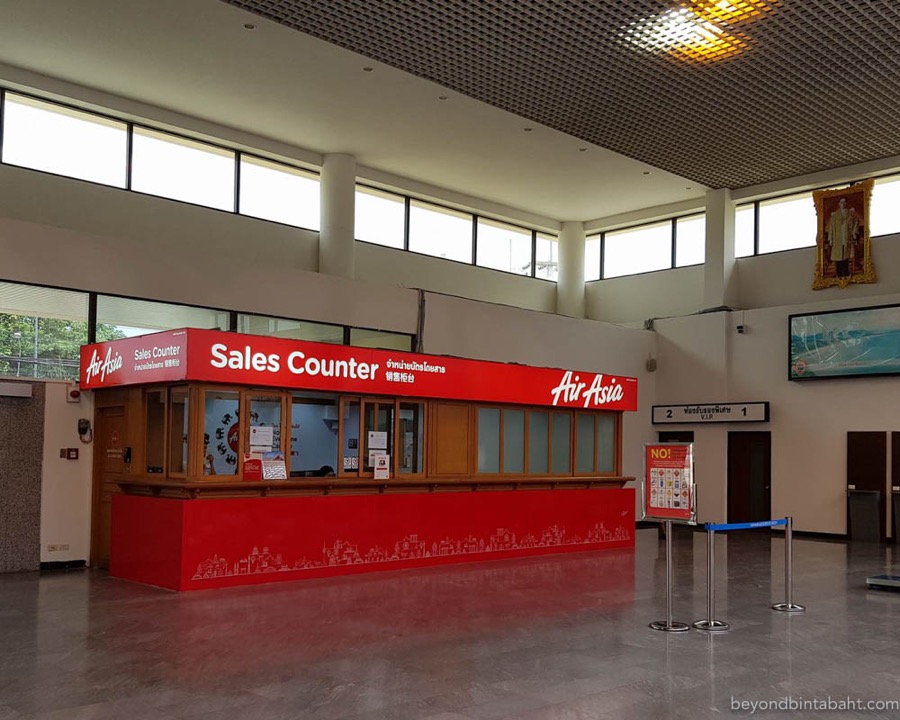 Air Asia operates a ticket sales counter in the airport. The counter is open from 8 am to 1 pm on Mondays, Wednesdays, Fridays and Sundays, and from 8 am to 12 pm on other days of the week.
Check-in and Boarding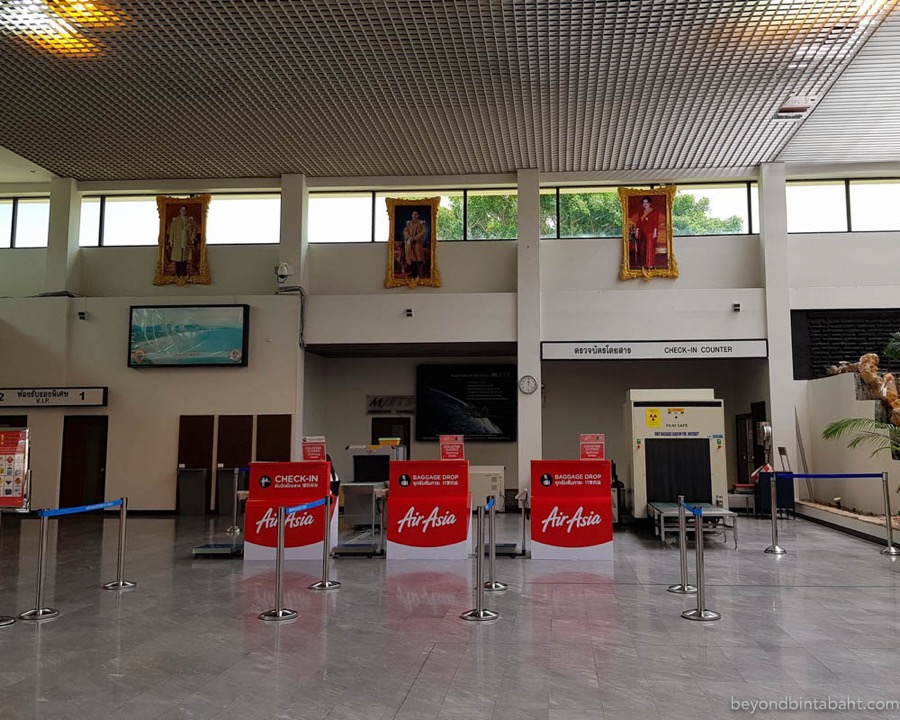 At the time of writing, only Air Asia is operating a scheduled route from Hua Hin. Their check-in counter is open from 8:30 am to 10:30 am on the flight days (Monday, Wednesday, Friday and Sunday).
While the counter is open until 10:30 am, make sure that you arrive 10:15 am the latest! This will ensure that your check-in will go as smoothly as possible.
Boarding is scheduled to 10:50 am, but is often slightly delayed to 11:00 am. Don't expect to find any amenities in the departures lounge besides chairs and toilets. There is also no fancy, movable boarding bridges you find in bigger airports, so you'll need to walk to the plane. Fortunately, the distance isn't too long.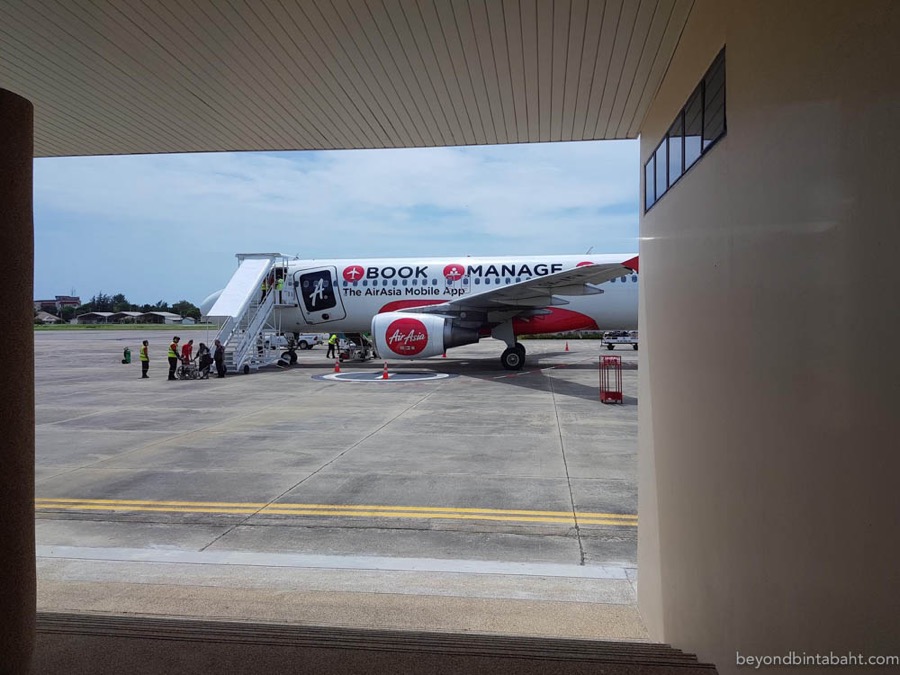 Immigration
Since you're arriving from a foreign country, there's no way around the immigration formalities.
As is usual with Thai immigration officials, the process may take some time - be prepared for standing in a queue. Fortunately, the building is at least air conditioned. And due to the lower passenger volume, it still takes less time than the process at Suvarnabhumi airport in Bangkok.
Transportation
Actually getting to and from the airport might be the biggest hurdle faced by travelers. As I've written before, taxis and other public transportation are quite lacking in Hua Hin, and the airport makes no exception.
Using public transportation
The green songthaew route goes right outside the airport entrance, but that's about it. Especially if you're traveling with heavy luggage, this option is quite inconvenient. On the other hand, songthaew is a very cheap option - ride to the town center will cost about 10 baht per person.
If you've never used songthaews before, be sure to read my post about them. The page also includes a handy map showing the routes of all Hua Hin songthaews. Note that while cheap, they can be quite an uncomfortable ride, especially if you're carrying lots of luggage and happen to board on the peak time.
If you'd rather not endure a songthaew ride, you can also contact the information counter, near the escalators on the arrivals hall, to arrange a taxi for you. The taxi will be a normal, air-conditioned car you see everywhere in Thailand, and makes for a rather comfortable ride to anywhere you want to go. Prepare for long waiting times if you decide to go this route!
Alternatively, you should check with your hotel beforehand if they arrange pick-up or shuttle buses from the airport.
Rental car
Previously, I've written about the joys of renting a car and driving yourself. This is the option that gives you the most freedom throughout your vacation, but is not without its downsides - it's more expensive, and there's always the risk of getting into an accident.
Once you've pondered the ups and downs enough, and came to the conclusion that driving a rented car is the way to go, you have a few options.
For starters, there is a Hertz branch right in the airport arrival lounge. They are a well-known, giant international car rental chain - a reliable and convenient choice.
Other options, such as EasyCar Rental exist. They're listed in more detail in my renting a car post, but to cut it short, easy way to check different options is by using a car rental search site such as economybookings.com or AutoEurope.
Pre-booking, whether you choose a taxi or a rental car, is always a good idea to make sure there's actually a car waiting for you when you land.
Conclusion
Hua Hin Airport, while somewhat international, is a small regional airport. It's never been as busy as other regional Thai airports, such as Phuket in the south or Chiang Mai in the north, and gets comparatively very little passenger traffic. Thus, there's a lack of services you may expect from airports, like restaurants or cafés.
This means it makes sense not to get to the airport too early before your departure, but not too late either - 2 hours before departure should be enough for check-in, security and other formalities. It may also be a good idea to stop by at a 7-11 or Family Mart on your way to the airport to get some snacks and drinks - food and drink selection is somewhat… limited at the airport.
If you're arriving to Hua Hin Airport, most likely from Kuala Lumpur, you'd be wise to pre-book your airport transfer (see above). You don't want to get stuck in the airport waiting for an available taxi.
And after you land, you're gonna need a place to stay, right? Check out my recommendations for some great guesthouses for low budgets or, if you prefer a bit more luxury and less backpackery feel, my seven top picks for hotels.
---
See also