This post contains affiliate links.
Hua Hin is a small town, especially compared to the likes of Bangkok or Pattaya, but spread across a relatively large area. Being a popular and well-known resort town, there's an awful lot of hotels, guesthouses and other accommodation spread all around town. Selecting the place to stay can make or break your vacation - pay attention to where your hotel is!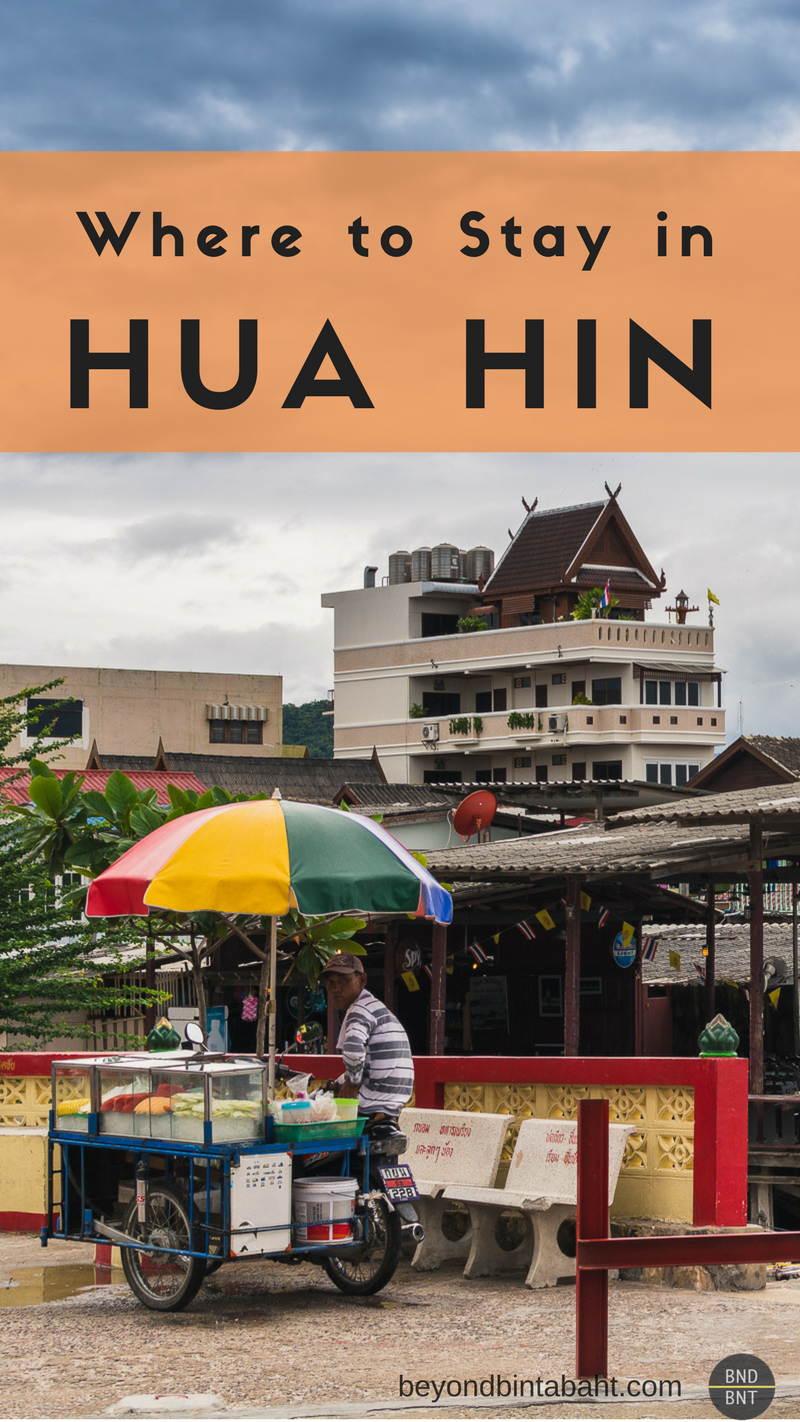 In this post, we'll divide Hua Hin into three distinct areas, and take a look at each of them in more detail. After all, location is the most important thing when choosing where you'll stay.
Central Hua Hin
We'll start with the most popular and most densely built part of town. This area is centered on the Clock Tower, and stretches up to the edges of Klai Klangwon Palace in the north, and down to Soi 76 in the south. The area is small, only three kilometers in length, but it makes sense to split it into northern and southern parts - you'll see why in a second.
South-central
The more popular and touristy of the two, the area around the Clock Tower contains many of Hua Hin's most famous attractions: the beach, the tourist-friendly Bintabaht nightlife area, the original night market and narrow, picturesque streets lined with old, traditional Thai-style wooden houses. This part of town is also known as the "Old Town" - the fishermen of the past are long gone, but their houses still stand, converted into restaurants, guesthouses, bars and whatnot.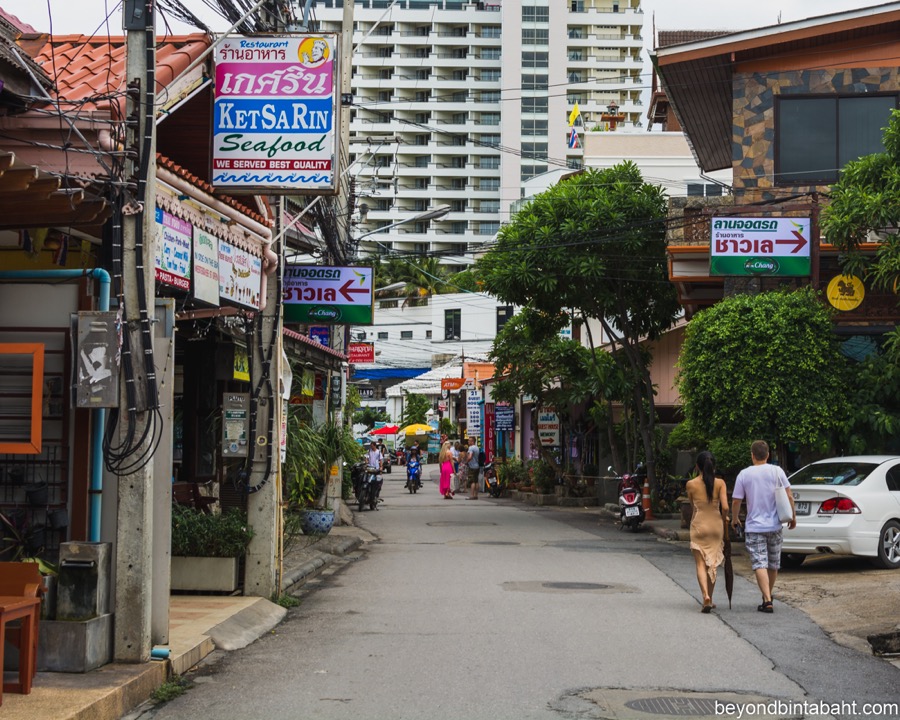 No matter where you'll decide to stay, you'll probably end up at least visiting the south-central area at some point during your vacation. There's plenty of choice in hotels and other types of accommodation in this area, and you can easily reach the most popular tourist spots by foot. Recommended for first-time visitors.
Getting here is easy - the railway station and the old bus station are not far from the center. Every tuk-tuk and taxi driver knows where the Clock Tower is, and most songthaew pass right through the center.
This area contains two of my three favorite guesthouses: the Victor Guesthouse and Victor Residence. Both are great choices for travelers on a budget - clean rooms, air conditioning, WiFi and rental motorcycles are all available, and that's all a budget traveler needs.
For those of you looking for a more luxurious stay, the five-star Hilton is located right in the center, next to the Bintabaht square. The Hilton is a well-established hotel in Hua Hin, and the default choice for many travelers. For a five-star hotel, their prices are often quite reasonable - if you're visiting off-season, you can find a room for less than 100€ per night. Check the link for latest prices.
North-central
If you simply walk around central Hua Hin for a bit, you might notice something interesting: once you go north past Soi 53, you'll see noticeably less Western tourists around. It's up to you whether this is a good or a bad thing.
The area is popular with Thais, both locals and tourists from Bangkok, and is well-equipped with coffee shops, restaurants, and even some budding nightlife. Most of these are concentrated in the popular restaurant street Soi 51, and along the Naebkehardt Road.
Compared to the southern central, and especially the Bintabaht area, this part of town feels much more quiet. No doubt this is due to the fact that there's a lot less nightlife and, consequently, a lot less drunken tourists around here. This combined with the fact that the busy town center is within a walking distance makes this an excellent area to stay.
If you want to get right in the action, book your hotel from Soi 51 or close to it - for example, the reasonably-priced Asira Boutique.
If you appreciate a quiet environment, look a bit further afield - in the far end of Naebkehardt, you'll find the cheap guesthouse Maria Room for Rent. It's my favorite guesthouse in Hua Hin, as is evident by my earlier review. If that's too low-end for you, you might be interested in the four-star Dune a bit further along the road.
In a Nutshell
Somewhat arbitrarily, we've split central Hua Hin into two, and took a brief look at both halves. We can conclude that:
If you want to have convenient access to the many bars, restaurants and other touristy things, book your hotel from the southern half.
If you want some more peace and quiet, and feel a bit less like a tourist, book your hotel from the northern half.
If neither of these sound like your kind of place, keep reading!
Khao Takiab area
The famous Khao Takiab, also known as the Monkey Mountain, has given its name to the surrounding village. Aside from the mountain and the temple on top of it, the main attractions of this area are the two popular weekend markets, Cicada and Tamarind, which I've covered previously.
As you can see from the map above, the area is quite narrow. Everything is built along its main road, making the area simple to navigate. Note that the area is three kilometers long, end-to-end - take enough water with you if you intend to walk around in the hot afternoon sun.
A number of restaurants, mostly Thai but also a few Western ones, are found along the road. Lots of massage parlors and even a tattoo shop can also be found here. Most of these touristy things are packed in the northern side of the area - the further south you go, the more you'll see regular residential buildings and small shops and street food stalls.
At the end of Khao Takiab road lies the beach. It's smaller and less crowded than the "main" beach in central Hua Hin, making it an excellent place for sun worshippers. It's also right next to the temple, so you can hit two attractions at once - conveniently.
Programmers, bloggers and other digital nomads take note! One unique feature of Khao Takiab area is Hua Hin's first, and only, co-working space. Consider staying nearby if that sounds like your kind of thing.
The hotels here lean towards the higher-end, resort-type accommodation. Most of them are on the left side of the road, with access to the beach. Examples of beach hotels include the five-star Hyatt Regency, the four-star Let's Sea Al Fresco, and the reasonably-priced four-star The Rock a bit further down the road. If you don't care about the beach, or those three just sound too expensive to you, take a look at the Ibis Hotel or NICE Residence Hotel, both near the weekend markets.
If you'd like to stay in a modern, peaceful area that is more low-key than the busy center, Khao Takiab is your choice. If you decide to stay here, I do recommend that you rent a car or motorcycle and prepare to drive yourself. The area is served by the green songthaew, but other than that, the transportation options are quite limited.
Bo Fai (Northern Hua Hin)
Now we're getting quite far from the touristy zones. Bo Fai, located in northern Hua Hin, bordering the neighboring town of Cha-am, is a district often overlooked by Western tourists.
The district is not very tourist-oriented overall, and mostly contains residential areas for the more affluent locals - lots of detached houses and modern condos can be found here, homes to both Thais and expats.
In the center of Bo Fai lies its namesake, Soi Bo Fai, shown on the maps as Soi 6. It's easily recognized by its decorative gate facing the Phetkasem Road. The soi contains a few bars popular with the locals: Rasta and Seven Something. Some restaurants, such as Hua Hin's premier sushi place Aroi Sushi and the night buffet Kraw Kuk Tho are also found in this soi.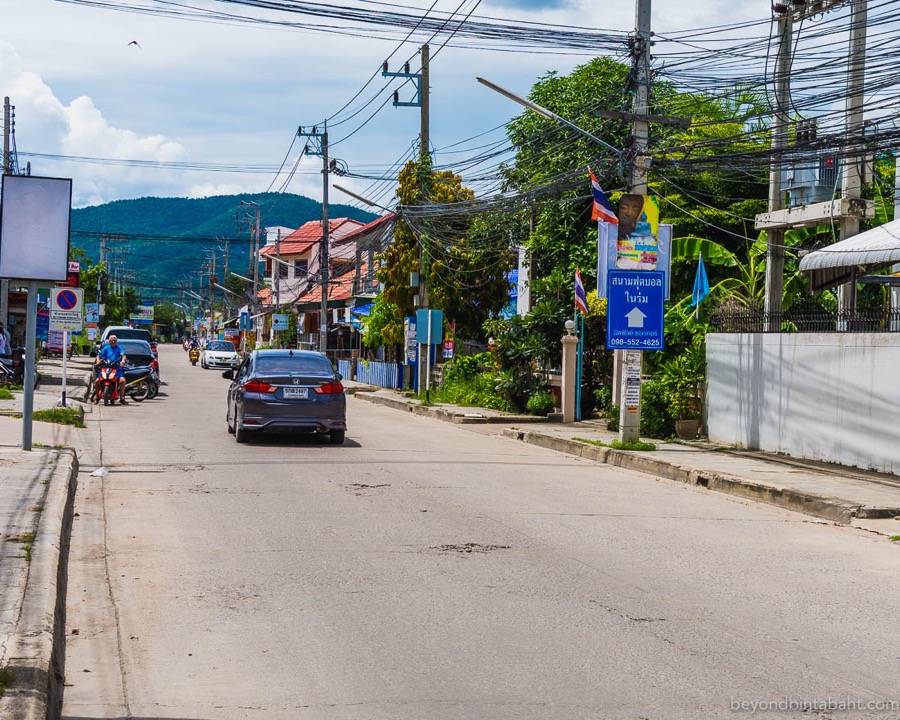 Not far from Soi 6 one can find the major nightclubs, like the well-established Hi4 Pub & Restaurant, popular with both locals and expats. If you're the type who enjoys nightclubs, it's definitely worth a visit, whether you stay in Bo Fai or not.
Note that the nightclubs and bars often feature live music which can be heard quite far, due to the places being largely of the open-air type. It'll usually shut down after 2 AM, but if too much noise is a problem for you, try to select your hotel far enough away from the clubs.
One such place is the five-star Anantara Resort, tucked away in a small side soi, facing the beach. The Crest Santora is another choice. For those who don't mind the nightclub noises, Hinn Namm Hotel is reasonably priced and located right next to Hi4.
Not much other hotels are located in the area. Instead, many condos are available for short-term and long-term rentals. My favorite is Gracetown, located in Soi 6⁄1 (not to be confused with Soi 6 mentioned above). The rooms are clean, modern and reasonably priced, especially if you book for one month or longer. The landlady is friendly, helpful and speaks good English.
Remember that renting a condo is a bit different than renting a hotel - you'll have to fill some paperwork for the rental contract, pay for water and electricity separately, take care of cleaning your room and washing your clothes yourself etc. The rooms are furnished, but bare-bones compared to typical hotel room - you'll find a bed, a TV, desk, fridge and nightstands in every room, but not much else. Gracetown will also charge a few hundred baht for bed linen rental. If you can live with that, Gracetown is a good choice - especially if you're staying longer than a few days.
If you decide to stay in Bo Fai, you're going to need a car, or at least a motorcycle. I recommend a car, since you'll probably end up driving along the main road quite a lot. At daytime, you can use the green and/or orange songthaew too, but driving yourself is always going to be more convenient.
Conclusion
So, where should you stay?
If you've never visited Hua Hin before, I recommend you to stay in the central area. It's up to you whether you stay in the northern or southern half - you cannot really go wrong with either. Personally, I lean towards the northern half.
Another easy choice, especially if you're willing to drive yourself, is the Khao Takiab area. It offers less entertainment, restaurants and nightlife than the town center, but balances this out with being less noisy and crowded. The modern feel is also a bonus for some.
And finally, those who are willing to venture more into the Thai/expat side of Hua Hin, may feel at home in Bo Fai district. Not recommended if you're a first-timer, though, unless you really know what you're doing.
There's plenty of areas in Hua Hin this post didn't cover, like the vast space behind the railroad, or the long stretch of Phetkasem Road going southwards from Khao Takiab intersection. These districts are probably not very interesting for the average visitor - I've never found much reason to stay in those places. If this changes in the future, I'll make sure to whip out a post about it.
And if you didn't find anything to your liking in the post above, check out the hotels map. Keep all you've learnt about different parts of Hua Hin from this post in mind, and make an educated choice.
Do you have your very own favorite place in Hua Hin where you always stay? Disagree with something in the post above? Please let us know in the comments below.
---
See also