Hua Hin, being one of Thailand's favorite destinations, and just a 3-4 hour drive from Bangkok, is easy to get to. Buses, minivans and trains depart from Bangkok many times per day, and some taxis may also take you all the way there. This post tells you all you need to know about how to get to Hua Hin from Bangkok, in the most convenient and hassle-free way as possible.
Option 1: Private pre-booked transfer
Let's start with the most expensive, the fastes, and most convenient option: pre-booking a taxi from airport to Hua Hin.
Although I said expensive, don't let it scare you too much: while the prices vary, you can get away with around 60-70€ 99% of the time. Not bad, considering the comfort and convenience this brings!
Especially if you're traveling with children and/or lots of luggage, just take this option and avoid a lot of headaches. You'll get your own professional driver, climate-controlled modern car and, depending on your choice of the car type, plenty of room for luggage. And on top of that, if you feel like you need to take a break for toilet, a snack or simply to stretch your feet, you can always ask your driver to do a quick "pit stop".
The best way to pre-book your transfer is via KiwiTaxi.com - simply enter "BKK" to "Hua Hin" and let the service do its magic and give you all the options, which are plentiful for this route.
Option 2: Bus from Suvarnabhumi Airport
This option is actually the one I use the most: taking the bus directly from Suvarnabhumi Airport.
Taking the bus from BKK straight after you land is certainly the most convenient option for getting to Hua Hin. And in the case that you are spending a day or two in Bangkok after landing, it is still very convenient, unless your hotel is right next to the Southern or Northern (Mo Chit) bus terminal.
The buses are comfortable with their air conditioning, reasonable legroom and luggage space, and are not expensive at all. And they're also equipped with a lavatory, so the 3-4 hour ride should not prove to be unbearable.
To find the buses, you'll first have to go to the ground floor (Floor 1) in the arrivals hall. From there, goto gate 8 find the counter that prominently displays "Hua Hin" signs, and line up to buy the ticket. Along with the ticket, you will receive a sticker, which you should place somewhere visible, like your chest or hat. The ticket will cost 250 - 300 baht.
Alternatively, (and this is my recommended option), pre-book your bus tickets unless you really enjoy standing in the queue. You can do this easily by clicking here and booking your bus via 12goasia. Make sure to select correct dates and reserve enough time after your scheduled landing to make sure you make it to the bus. I suggest at least 1 hour, preferably 2 for immigration/baggage claim/making your way to the bus terminal.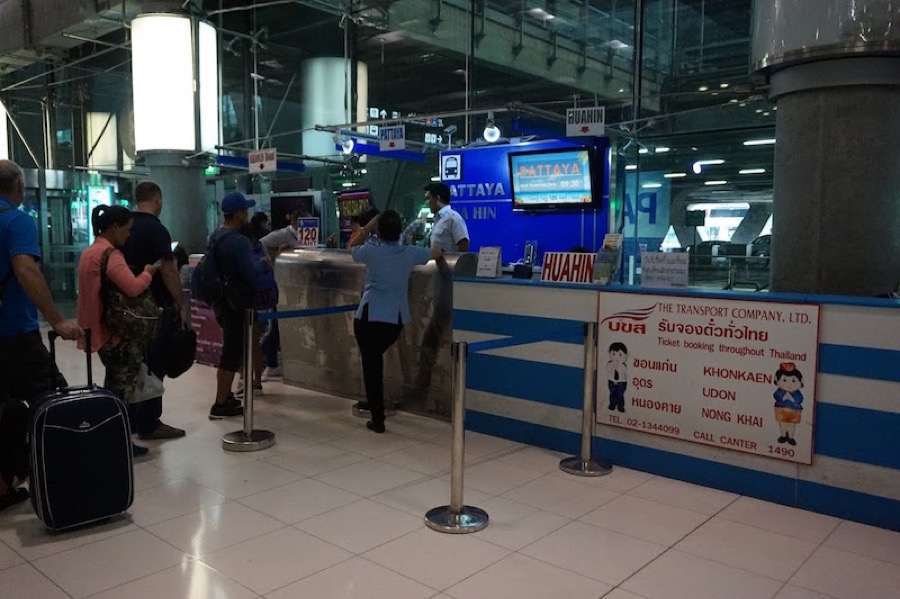 When the bus is ready to depart, the driver will round up all passengers (identified by the aforementioned sticker), mark all checked-in luggage and guide you to the bus. Place your checked-in luggage to the hold, board the bus and sit down on your seat.
I suggest to keep your seatbelt fastened during the ride. It's not going to be smooth sailing all the way, but not unbearably bouncy either.
After 3 or 4 hours, you'll arrive to Roong Reuang Bus Station, also known as the "New Bus Station" in northern Hua Hin. It is likely to be quite far from your hotel or guesthouse, so you'll need to take a taxi, shuttle bus or minivan from here. The shuttle bus costs 100 baht/person and goes all the way south to Khao Takiab. The minivan costs 30 baht/person and goes directly to the Clock Tower in the town center. For taxi, contact the staff at counter 3 (Transportation Service) if you don't see any free taxis waiting at the station.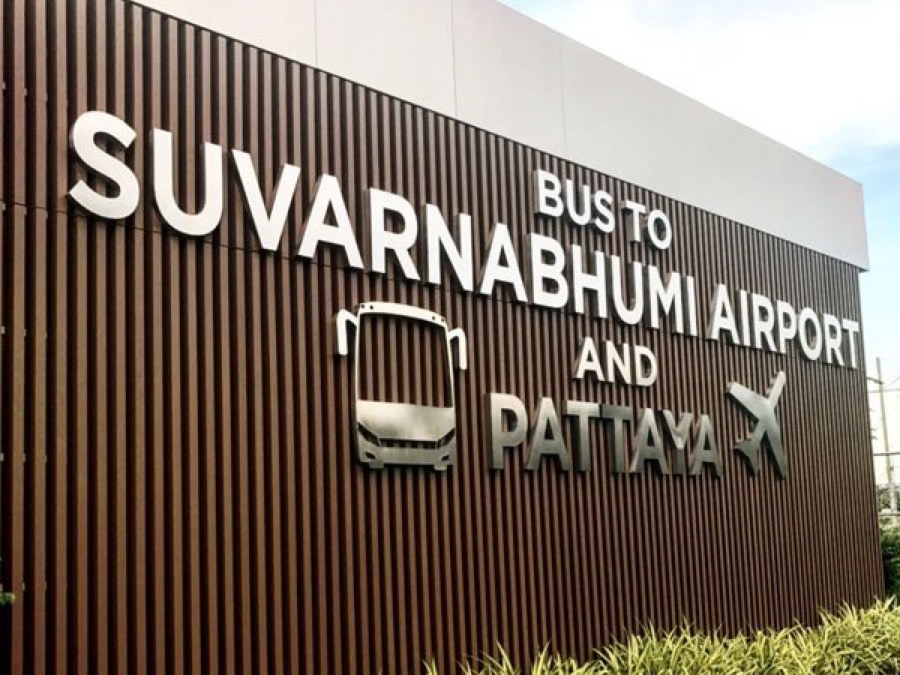 Option 3: Minivan from Victory Monument Square
Recently, there has been some news about deadly minivan crashes around Thailand. While the chance of getting into an accident like this are quite low - only a small number of road accidents in Thailand involve minivans - they do feel like claustrophobic death traps.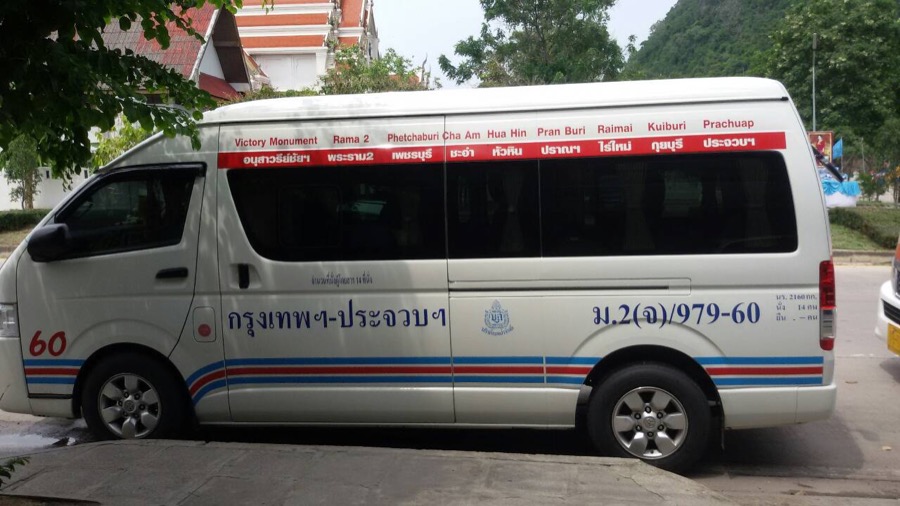 So why would anyone use minivans? I can see two reasons for this: 1) price and 2) flexibility. Unsurprisingly, a minivan journey costs less than the same journey in a bus. They also make many stops along their route, unlike the larger buses.
The drawbacks, apart from the aforementioned safety issues, all come down to size. When boarding a minivan, don't expect much legroom or space for your luggage. If you're unlucky, you might need to hold all your luggage on your lap. This means quite an uncomfortable ride, especially if you're in the taller side.
The minivans are at least equipped with air conditioning, which makes the ride a bit more bearable. Obviously lavatory is not included, but the driver will likely make a gas-station stop somewhere along the road.
If a minivan is what you'll choose, they can be easily found from the Victory Monument Square or Mo Chit Van Station, both of which you can easily reach by BTS. The former is a bit easier to reach (less walking), but the latter is much larger, making it easier to get a van without waiting too much.
To get to Victory Monument, you simply need to take the BTS to, you guessed it, Victory Monument Station. From there, take the Exit 4, and continue towards the monument, where you'll find a large open-air market area.
At the market, you will find several stalls where minivan tickets are sold. They can be easily recognized by the fact that there's either someone loudly yelling "HUA HIN, HUA HIN!", they're clearly marked with "Hua Hin" signs, or both. Simply buy the ticket and await for the departure - when the van is full, the driver will call everyone aboard and help with their luggage.
If you rather take the van from Mo Chit, take the BTS to Mo Chit Station and then find your way to Mo Chit Bus Terminal, which is behind the Chatuchak Park:
If you don't feel like walking, there should be some taxis or tuk-tuks near the BTS available to help you.
At the bus terminal, find the counter selling minivan tickets, pay the price and sit down to wait for departure.
No matter where you took the van from, the journey to Hua Hin will take 3 to 4 hours. Don't expect too much comfort during the ride. The van will take you to Hua Hin Minivan Station, which is actually a small advantage for the minivan option - the station is quite close to the town center, in Soi 51. From here, you can easily take a tuk-tuk to your hotel, or in some cases, simply walk.
Option 4: Train
The train is probably the most traditional option to reach the beach - development of Hua Hin accelerated heavily after the construction of the southern railway.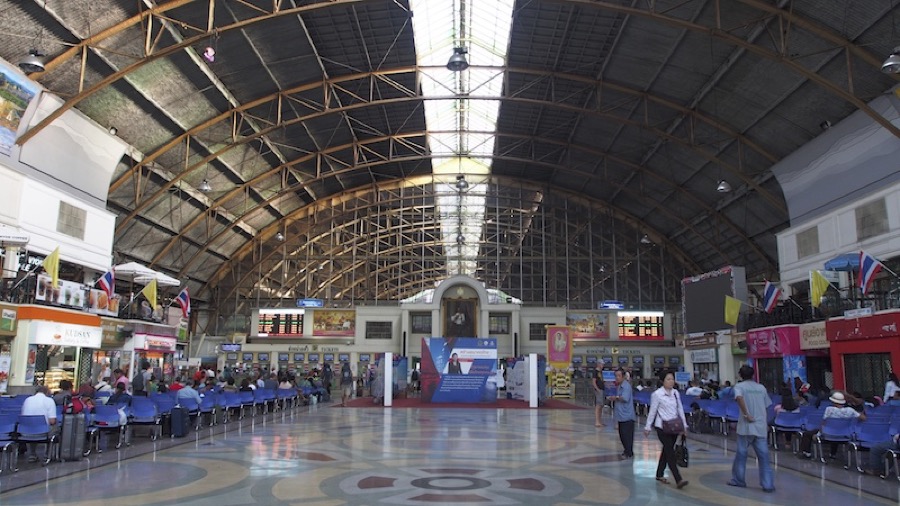 The most convenient place to get to the train is Hua Lamphong Railway Station, adjacent to the Hua Lamphong MRT station. The station is the terminus for the southern railway, and an excellent place to admire early 20th century colonial-style architecture.
If a trip through historical railways and stations sounds like right up your alley, I stronly advise you to book your tickets in advance to save yourself from all sorts of hassle with long queues, ticket booth clerk with less-than-stellar English, and so on. 12go.asia, the popular train/bus/ferry/anything ticket search service, is your best bet for doing just that.
Other means of transportation
Walking along the streets of Bangkok, you will eventually notice taxis to Hua Hin, Pattaya etc. being advertised. Unlike KiwiTaxi described above, prepare for haggling and other minor hassles if you take this route.
And if you're feeling adventurous and ready to tackle Thai traffic, you can rent a car and drive to Hua Hin yourself.
---
See also