Like in all Thailand's major cities, several malls have been popping up in Hua Hin in the recent years. Some may see this as a sad example of Western cultural imperialism. The rest of us will enjoy the convenient, air conditioned shopping and dining options provided by these modern marketplaces.
Hua Hin has two major shopping malls, and a handful of smaller, more specialized ones. The big players are Market Village and Blúport. Both of these offer everything you could expect from a mall - fashion shops, electronics, food court and restaurants, etc. Both also have large supermarkets included for all your grocery shopping needs.
The "original" shopping malls are found in central Hua Hin: The East Square and the creatively named Hua Hin Shopping Mall. Going further north, you'll find the hipstery Seenspace by the beach and fashion mecca FN Outlet in Cha-am.
This post is an overview of the notable malls. They are not presented in any particular order - I'm sure all the shopping enthusiasts reading this will visit all of them anyway. Finally, I'll also give you some tips on which hotel to stay in, if easy access to shopping malls is vital to you.
Blúport Resort Mall
The latest and greatest, Blúport opened in October 2016, in conjunction with the five-star Intercontinental hotel, located right next to the mall. The hotel is connected to the mall through a stylish, teak-colored pedestrian overpass.

The mall consists of five floors. Basement floor features miscellaneous small shops, the ground floor is all restaurants and cafés, plus the Gourmet Market grocery store, first floor is dedicated to fashion and beauty shops, second floor includes more fashion shops, electronics, miscellaneous services and the Cineplex, and finally the third floor is for kid's stuff and home technology.

Blúport is run by the same company that runs Bangkok's luxurious Emporium mall, and it shows. The interior is decorated in a clean, modern style, with predominantly white color. A nice touch is the large pond with a mini-waterfall in the lower floors. The floorplan is clear and easily navigable.

The shop selection is skewed towards fashion, and especially the pricier brands. Not as pricy and exclusive you could find in the aforementioned Emporium, though; instead of Louis Vuitton and Rolex, it's easier to find Jaspal and TAG Heuer here.

The department store and the restaurants are the top highlights of Blúport. The department store features really good selection of fashion, watches, jewelry, electronics and sports equipment, with helpful and knowledgeable staff to assist you in your purchases.

There's a lot of choice in the restaurants: Thai, Western, Korean, Japanese and Chinese cuisines can all be found here. They are, of course, branches of large restaurant chains, but the food is still tasty. My favorite is Sukishi, a Korean - style barbecue restaurant.

The food court is my favorite of all mall food courts in Hua Hin - cheap, tasty and simple Thai food served fresh. This is where I usually come for a quick lunch. Try the ข้าวขาหมู (khao ka moo), slow-cooked pork leg over rice with eggs and pickled veggies, it's delicious and only 50 baht.

And finally, the Cineplex shows the latest Thai and foreign blockbusters in six cinemas. Check out the current movies and showtimes.
Where is it?
Blúport is located between Phetkasem Road sois 100 and 102, and is very difficult to miss. It's easy to get here by a tuk-tuk, all the drivers know where Blúport is.
The green, red and blue songthaews pass right next to Blúport.
Opening hours & other info
Open from 10 am to 9 pm on Sundays through Thursdays, 10 am to 10 pm on Fridays, Saturdays and holidays. Restaurants open from 10 am to 10 pm every day. Cineplex open until the end of last movie.
See Blúport's official website and Facebook page for more details.
Market Village
Long before Blúport, Market Village reigned supreme in Hua Hin's shopping mall market. It stays popular to this day, even if the newer, bigger and shinier mall almost next door has overshadowed it a bit.

One striking feature of Market Village is its large courtyard, that is often used for various events. In the past, these have included a farmers market, kid's football matches, music shows and more.

Entering through the front doors, you'll find a rather typical mall, with three floors above ground level and one floor below. In the center, there's a large atrium where on most days you can find discount clothes vendors and small beauty and accessory shops.

The first floor (ground level) consists mostly of fashion shops, Tesco Lotus supermarket and a smaller food court, with some smaller shops sprinkled around. On the second floor, you'll find Home Pro hardware and furniture store and many restaurants. The usual chain restaurants have a branch here too - The Pizza Company, Fuji and Yayoi to name a few. And finally, the third floor is home to banks, electronics stores and beauty parlors. The "entertainment plaza" takes a large part of third floor - here you'll find Major Cineplex movie theater, a bowling alley and various games oriented towards children.

The basement floor is kind of a special floor - there's numerous small shops selling anything from plastic trinkets to low-price clothes and services such as watch repair and foot massage. Moshi Moshi, a store selling various cute trinkets and thingamajics, was opened here quite recently. At one point, there was also a tattoo parlor here, which is somewhat unusual sight at malls.

The most popular part of the basement floor is undoubtedly the food court, serving tasty and cheap Thai dishes from many different vendors. Almost as good as Blúport's food court, but smaller, so at peak hours you may have some trouble finding a seat. As is usual in food courts around Thailand, most dishes will cost 50 - 100 baht.

The obvious highlight of Market Village are its frequent special events held in the front yard and visibly advertised in the large screens along Hua Hin's main road. Check out their Facebook page or official website for details on upcoming events.
Where is it?
Market Village is located along Phetkasem Road, next to Soi 88⁄1. It's very difficult to miss.
Like Blúport, Market Village is also very easy to get to: all the tuk-tuk drivers know where it is, and all songthaews pass right next to it.
Opening hours & other info
Open from 10:30 am to 9 pm on Sundays through Thursdays, 10:30 am to 10 pm on Fridays and Saturdays. Starbucks, McDonald's and KFC open from 7:00 am daily.
See the official website and Facebook page for more details.
Seenspace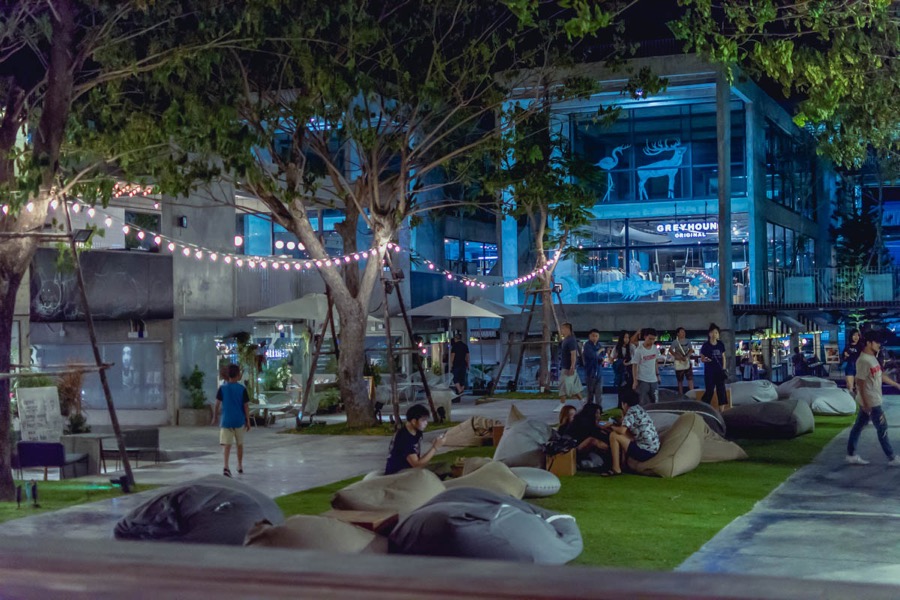 And now, for something completely different… Seenspace, Hua Hin's hipsteriest mall.
Seenspace is a beachfront mall, built from brutal, unpainted concrete. Behind the rather unpleasant, industrial-like facade you'll find a large courtyard, opening to the sea, with restaurants and shops placed around it. Comfortable beanbag chairs are placed all around the mall.
This place isn't really for shopping, like other malls. It's a place for chilling out with friends, enjoying cold drinks by the beach on a warm evening, or taking cool new pics for your Instagram.
The shops and services here cater more to the affluent, "artsy and trendy" crowd. If you like any of the following:
Vinyl records
Craft beer
Lying on comfortable pillows on the beach
Hand-crafted burgers
Coffee
…you will probably love Seenspace. If not, you may prefer to stick with the more conventional malls.
As a bonus, on some evenings a market is set up on the street where Seenspace is located. It's entirely unrelated to the mall, but well worth checking out while you're there.
Where is it?
This one is a bit harder to find than the other malls, since it is hidden behind other buildings.
No songthaew routes go near Seenspace. If you want to use one, you'll need to take the green line, hop off at Soi 31, 33 or 35, and walk the rest of the way.
As always, tuk-tuk drivers know where it is, since the place is very popular with the locals.
Opening hours & other info
Open from 10 am to 10 pm, every day.
See their official website, Facebook page and Instagram for more details.
FN Outlet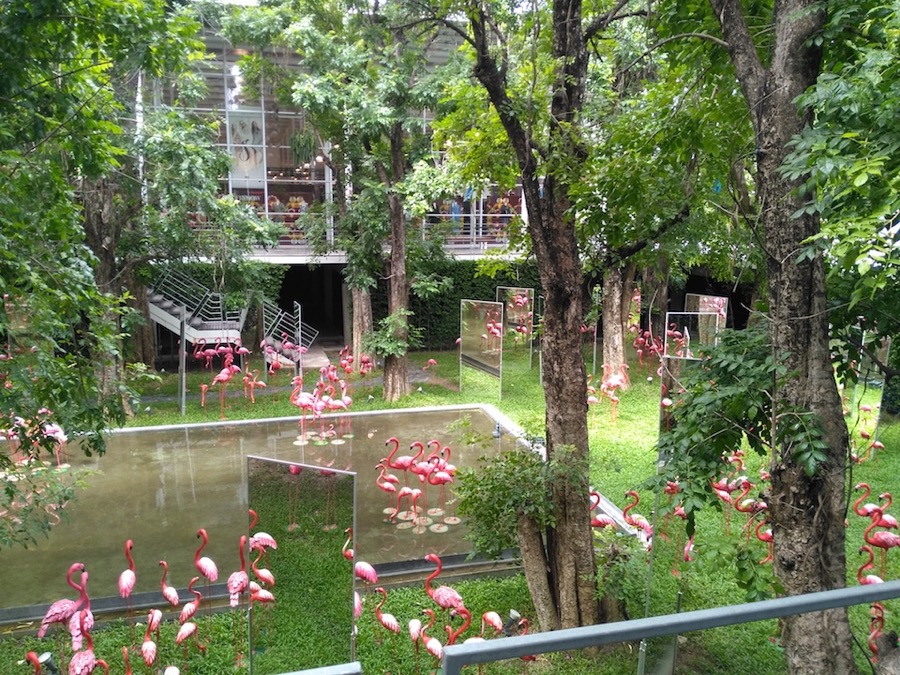 Not really a mall like the others in this list, FN Outlet is a chain of discount fashion stores, with its largest branch in Hua Hin. Handful of restaurants and smaller shops can be found in the premises too.
The design of this place is quite unusual, as can be seen in the picture above. In the center, there's a rectangular opening at the ground level. This opening is filled with plastic flamingos, mirrors and some real plants and trees. Several bridges cross this opening, conveniently taking visitors from one shop to the other.
So what can you actually buy here? Quite a many things, actually - clothes for men & women, handbags, backpacks, furniture, decorative items, sports equipment and even some toys. Being a factory outlet, the prices are often cheaper here than elsewhere. Most of the brands on sale may not be so familiar for Westerners - FlyNow, Inco, Prim… - but are well-known in Thailand, and at least decent quality as far as I can tell.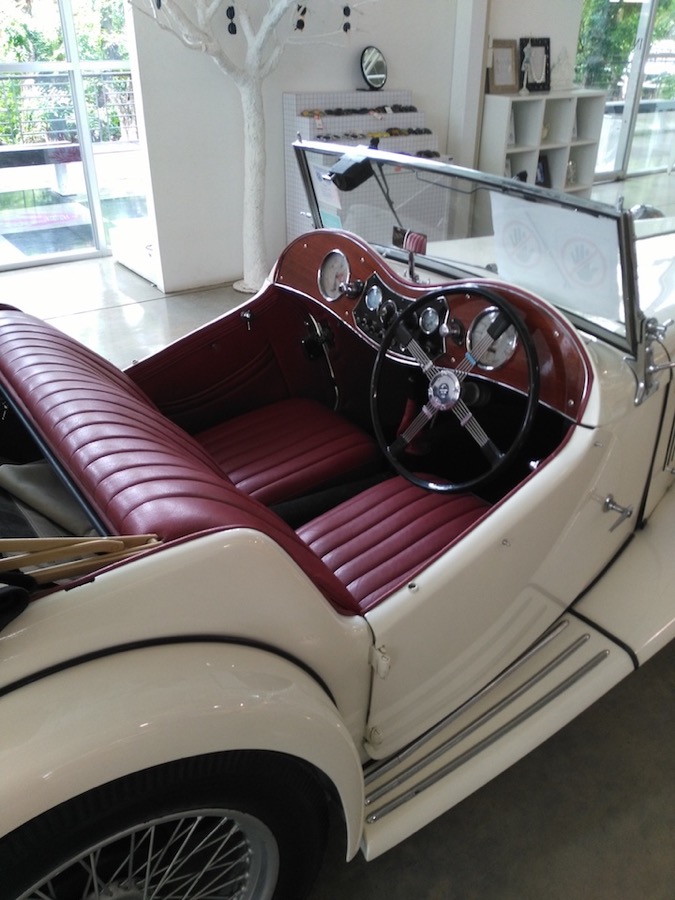 Two restaurants operate in the premises - Suzette serves coffee, waffles and pastas, and The Tea House serves… well, tea and everything you would eat with tea.
If you're looking to buy some local fashion with reasonable prices, or you need some change from the other malls, FN Outlet is well worth a visit.
Where is it?
FN Outlet is not actually in Hua Hin - it's located on the Cha-am side. The songthaews operating in Hua Hin won't take you all the way here, and the ride might be a bit too uncomfortable in a tuk-tuk. Thus, getting here is easiest by driving yourself.
Opening hours & other info
FN Outlet is open daily from 9 am to 8 pm.
They, too, have an official website, Facebook page and Instagram.
Other malls
The malls above are not the only ones in Hua Hin.
Town Square is quite difficult not to notice. Located near the big intersection in central Hua Hin, this place was abandoned for a while, but has been reopened as a combined mall/hotel in 2017.
Hua Hin Shopping Mall, right next to the Town Square mall, may be a bit difficult to notice. Look for the brightly colored sign to find your way in. Inside, you'll find a few chain restaurants, a supermarket and some miscellaneous smaller shops.
Going a bit further south, between Market Village and Blúport, you'll find The G Resort & Mall. This mall features fashion outlets such as Pasaya, a supermarket and also functions as a hotel. Rooftop bar & restaurant can also be found here.
I rarely if ever visit these places, thus only the short descriptions. If you decide to visit, let us know in the comments how it was!
Hotels for shopaholics
If you wish to make shopping and mall visits as convenient as possible, consider these hotels for your stay:
Intercontinental Hual Hin, a five-star hotel, is connected to Blúport via an elevated passenger walkway - cannot get much more convenient than that! As you can expect with a five-star hotel, the price per night can be quite steep - Click here for best deals!
If Intercontinental falls a bit out of your budget, Sailom Hotel is only a stone's throw away and offer much less steep pricing. Check the best deals here!
Closer to Market Village is Kiang Haad Beach, a mid-priced four-star hotel. Since both malls are quite close to each other, getting to Blúport from here should not prove too difficult. Click here to book.
And if Seenspace sounds more like your thing, there's the four-star Imperial Hua Hin right next to it. It's also right at the beach, on a quiet stretch of street, suitable for those looking for a more low-key vacation. Click here to get the best rates and make your booking.
I selected these hotels because of their proximity to the popular malls. Remember to check out the hotel map if you didn't find any of the above to suit your tastes!
---
See also