Coffee. The nectar of gods. Hipster favorite. And so on.
If you're anything like me, you just need to get your caffeine fix a few times a day. And if you're staying in Hua Hin, you're in luck: coffee shops can be found all over the town. As a bonus, most of them are quite affordable - a cappucino or a latte usually costs no more than 60 baht.
In this post, I'll list my favorite coffee shops around town. There's more to coffee than just Starbucks.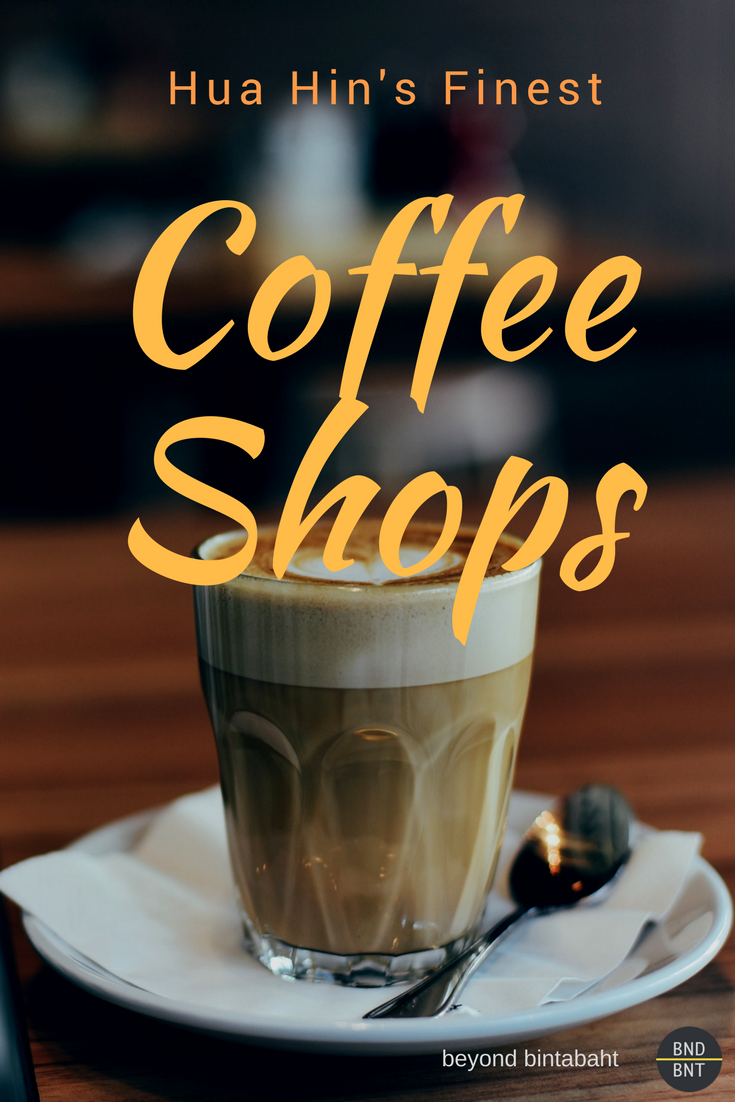 Velo Café
The ground floor of Hua Hin Place guesthouse includes a wonderful little coffee shop. If you guessed that Velo must have something to do with bicycles, you're absolutely right. The café is part of (or affiliated with, I'm not actually sure) with Velo Thailand, a company offering bicycle tours around Bangkok and Hua Hin. I'm way too lazy myself to take on a bike tour in 35°C heat, but if that's your kind of thing, you may want to ask the staff for more info.
The shop is quite small, and pleasantly decorated with dark gray stone and wood. Despite its size, finding a seat is not much of a problem - you have a choice between the spacious bar counter, the few smaller tables on the side, or the outside tables (my favorite). A small reading area is in the quiet corner, with plentiful cycling-themed books and magazines available.
The coffee served here is of great quality, and served as hot, iced or frappe. I'm not one of those pretentious coffee connoisseurs, so unfortunately I cannot give you a proper description of its taste, except that it tastes good - you just have to try and judge yourself.
Like most coffee shops, Velo also has cookies, brownies, small sandwiches and other baked goods on the menu to go with your coffee.
I can definitely recommend Velo Café for all your caffeine needs. You can find it in Naebkehardt Road, close to Soi 53. Look for the Hua Hin Place sign, it's a bit easier to notice than Velo's sign.
They're open every day, except Thurdays, from 7:30 am to 5 pm. Check out their official Facebook page for more details.
---
Remix Dessert Café
This little, dark gray-colored coffee shop is a part of a small hotel, Remix Photo House in Naebkehardt Road, near Soi 51.
Behind the dark facade, you'll find a rather typical coffee shop. Interior is decorated in line with the exterior, with dark tones all around. Theme for this professional-looking interior design seems to be "vintage photography" - matches well with the Photo House. Very hipster.
Seating inside is soft and comfortable, and two of the walls are all glass, offering a pleasant view to the not-so-busy street outside. One small table is also placed outside for those who like to enjoy their coffee in the fresh air.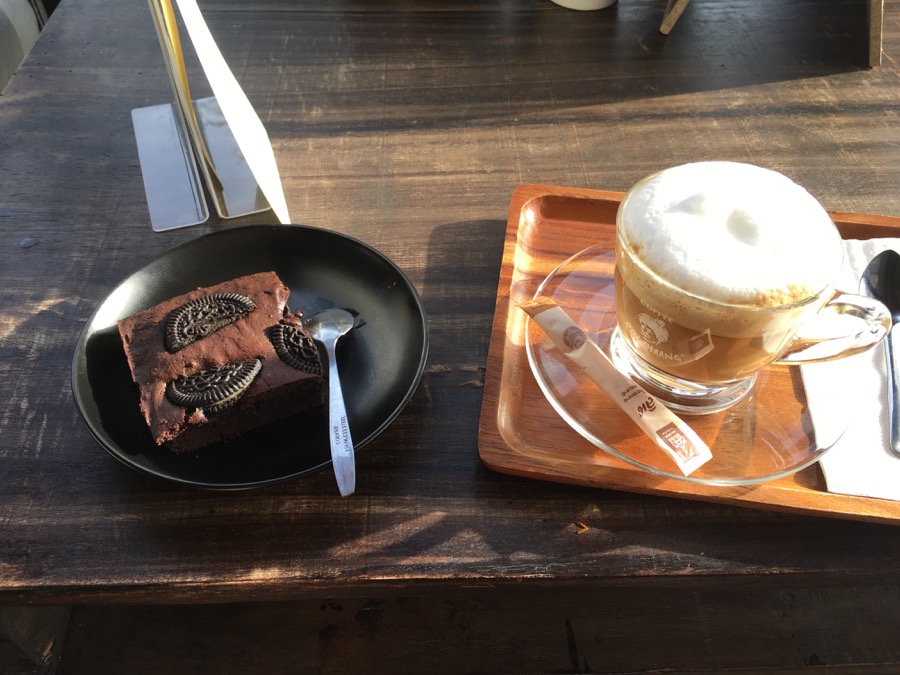 Along with coffee (available in hot, cold and frappé forms), Remix offers some bakery goods, such as brownies and cookies. The coffee here is decent, although I would prefer my latte with a bit stronger coffee flavor. For the bakery stuff, I've only tried the Oreo brownie, which was quite pleasantly not too sweet, if a bit dry. I assume they are not baked fresh daily.
Overall, not a bad place! Location is good, prices are on the low side (60 baht for a hot cappuccino), and the interiors are clean, trendy and even cozy.
Remix Dessert Café is located right in the corner of Soi 51 and Naebkehardt Road. Open daily from 8 am to 8 pm. They have a Facebook page, which is a bit thin on content and mostly in Thai.
---
Eighteen Below Ice Cream
We're starting to move into the "not-just-a-coffee shop" territory now. As the name implies, Eighteen Below Ice Cream is an ice cream parlor/dessert restaurant, which also serves coffee.

The coffee is what you would expect - tastes good, is available as hot, iced or frappe, and extinguishes your caffeine cravings.

You shouldn't really come all the way here just for the coffee, though - this is an ice cream shop after all. And the ice cream won't disappoint you if you're craving for something sugary. It's availabe in many different flavors, with toppings of your choice, and served with waffles, crepes, cones or plain. Unfortunately, it's a bit on the expensive side.

Eighteen Below is a small place, and really nicely decorated. The glass walls bring in lots of light, also making it possible to watch the few people passing by in this quiet part of the street. The tables are not too small, and there's just enough seating, placed just far enough apart, to prevent it becoming too crowded. Outdoors smoking area is available in the back.

I visited this place a few times when I stayed in Maria Room for Rent, which is right next to it. If the location is not too inconvenient for you, I can definitely recommend Eighteen Below for whenever you need some ice cream sweet-tooth nourishment. With coffee.

Eighteen Below Ice Cream is located along Naebkehardt Road, like so many other cafés in this list. It's a bit further away from the busier areas of central Hua Hin, but can be reached with the red songthaew or a tuk-tuk, for example.

Open daily (except Tuesdays) from 11 am to 5 pm. They, too, have a Facebook page.
---
The Baguette
A favorite among locals and expats, The Baguette (or "baget" as many locals call it) is not just a coffee shop - it's a bakery, restaurant and a café.
Inside, this bakery/café is quite large, and has plenty of seating available. The decoration is not quite up to the standards of smaller, more hipstery, coffee shops. But that shouldn't really matter, should it?
What Baguette lacks in hipster points, it more than makes up for in food and drink. Plenty of delicious cakes, pastries, croissants, sandwiches and other doughy wonders are baked fresh daily. If that's not enough, soups and other hearty dishes are also available.
Coffee is served in all the standard ways - iced, hot, frappe, cappuccino, espresso, americano… - and tastes excellent. As usual, I'm not going to describe it like a real, pretentious coffee expert would. The price is not bad, either - 50 or 60 baht is enough for most varieties.
If you wish to enjoy a trendy cup of cappuccino in a cool, sleek and modern environment where you just have to pull out your MacBook and wear thick-brimmed glasses - don't come here. If, on the other hand, you want to enjoy a tasty, freshly-baked sandwich or a croissant and wash it down with a cup of honest coffee, you're going to love The Baguette.
Hua Hin branch of The Baguette (they have another one in Cha-am) is conveniently located the main road (Phetkasem Road) between Soi 39 and Soi 41. You can get here easily with the green songthaew.
Open daily from 8 am to 7 pm - enough for breakfast, lunch and dinner!
---
D Cat Café
Since it was discovered that many people like cats and coffee, so-called cat cafés have popped up in various cities around the world, and Hua Hin is no exception. If you're unfamiliar with the concept, it's basically what you would expect: a coffee shop with cats freely roaming around, for customers to pet and play with.
D Cat Café is mostly targeted for families with children, evident from the bright color scheme of its interiors. Note that unlike in many other cafés, you'll need to leave your shoes outside before entering.
Tables here are low, and instead of chairs, you will need to sit on the floor (cushions are provided for comfort). If you're as inflexible as me, this might feel a bit awkward, but you can take it as an improptu yoga session of sorts. The cats can easily hop onto the low tables, and are more than happy to do so and beg petting and treats from the customers.
D Cat Café serves coffee, sweets and food. I like the coffee, but I'm not too much of a fan of the steaks and other foods they have. But the food and even coffee are at best secondary reasons to visit a place like this - you come here to play with the cute cats, after all.
The cats are friendly, well-behaved and taken good care of by the staff. They have a large play area on the side, part of which is off-limits to customers. Even the cats need a private place to relax every now and then.
If you're more than mildly allergic to, or just don't like cats, you probably won't enjoy this place very much. For everyone else, definitely worth a visit!
D Cat Café is open from 10:30 am to 7 pm (Mon, Wed, Thu) or 8 pm (Fri, Sat, Sun). Closed Tuesdays. It's located on Naebkehardt Road, like many other coffee shops on this list. You can find it near Soi 53, close to a small side soi.
---
i do café
Tucked away in Bo Fai district of northern Hua Hin, i do café is a small, beautifully decorated, cozy coffee shop. It can be found in Soi 6, a narrow street found right next to the PTT gas station and easily recognized by its decorative gate.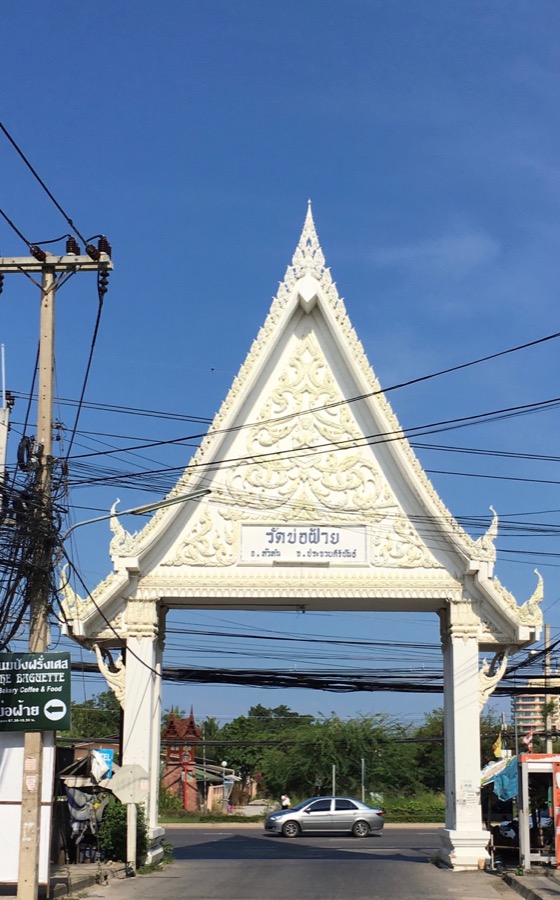 The street is developing into another restaurant/bar street, alongside the more central Soi 51, and deserves a post of its own. However, we'll concentrate on this delightful little coffee shop for now.
i do café is built inside a shophouse like many other South-East Asian businesses. This results in a rather narrow interior and a large terrace area outside. The insides are decorated mostly with wood and various small items. Maybe not the most original interior design, but makes for a cozy atmosphere.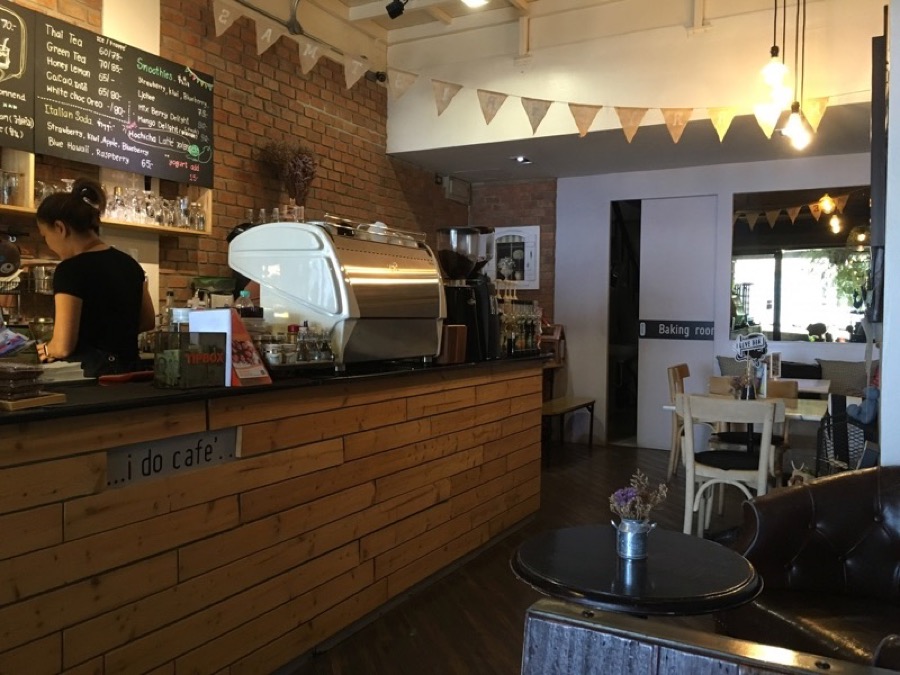 Looks are one thing, but you're probably here for coffee. i do café serves coffee in the usual variations: cappuccinos, lattes and americanos are all available, along with mochas and espressos. All are available either hot or iced, like is the case with all coffee shops in Thailand. Besides coffee, they also serve tasty home-made sodas and various small cakes and cookies. Prices range from 50 to 75 baht for coffee (iced variants being more expensive) and about the same for the edibles.
My choice was the cappuccino and a slice of lemon cake. Once again, I cannot describe the complex, fine coffee flavors like a moustache-waxing hipster, but I can say that it tasted good. The same goes for the cake - I suspect they use actual lemon juice for flavoring instead of the artificial stuff, which is excellent. As a nice touch, the cake was served on a cast-iron skillet on top of a wooden board. The coffee comes in a regular cup, with a plentiful jar of cinnamon-sugar mix on the side, a wooden spoon and a glass of ice water.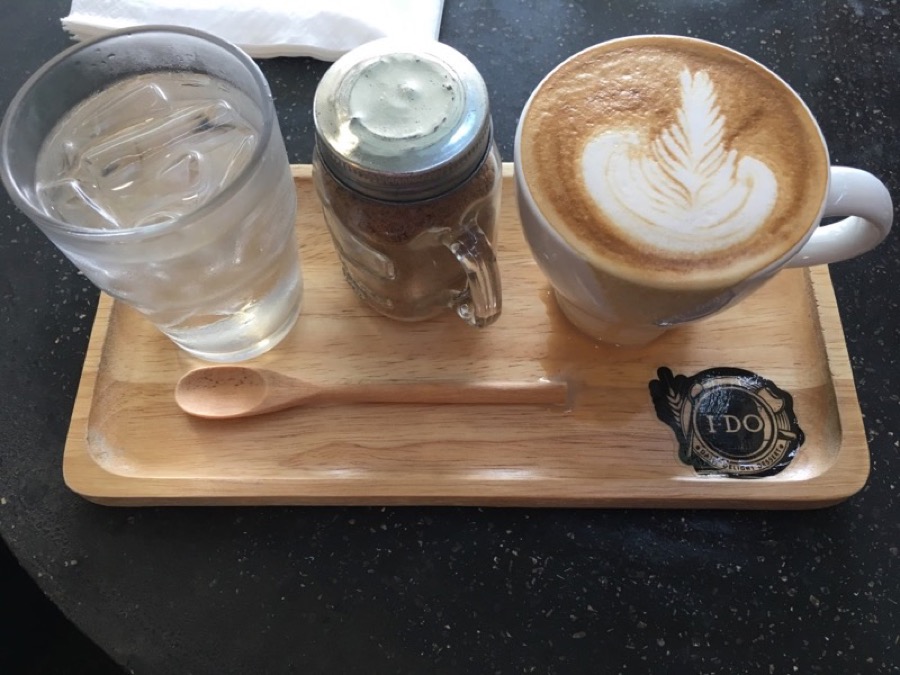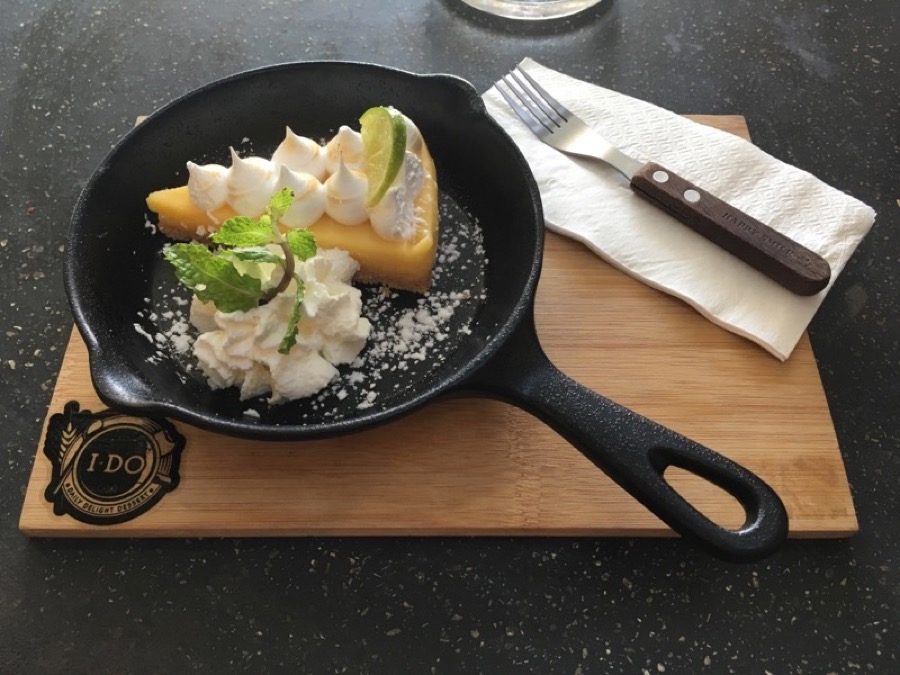 The coffee is good, the cakes are good, the atmosphere is cozy - i do café is definitely recommended, if you ever find yourself in Bo Fai.
i do café is located in Soi 6, near the street's gate on Phetkasem Road. Open from 9 am to 6 pm every day.
---
Pony Café
My favorite coffee shop in town is not just a coffee shop. It's a full-blown restaurant, with an equestrian theme! Set your expectations straight, though: no actual ponies are to be found here.
Pony Café looks small from the outside, and is somewhat easy to miss if you're just passing by. Inside, you'll find a surprisingly spacious, comfortable dining area with lots of vintage-style wrought iron and pony paintings. The area is split between an air-conditioned area indoors, and the more popular covered patio area.
The coffees available are the usual ones: cappuccino, latte, espresso, americano… All are available in hot, iced and frappe forms. I've never been disappointed in the coffee served here - I cannot say that it's the most amazing coffee you'll ever have, but it's still great-tasting.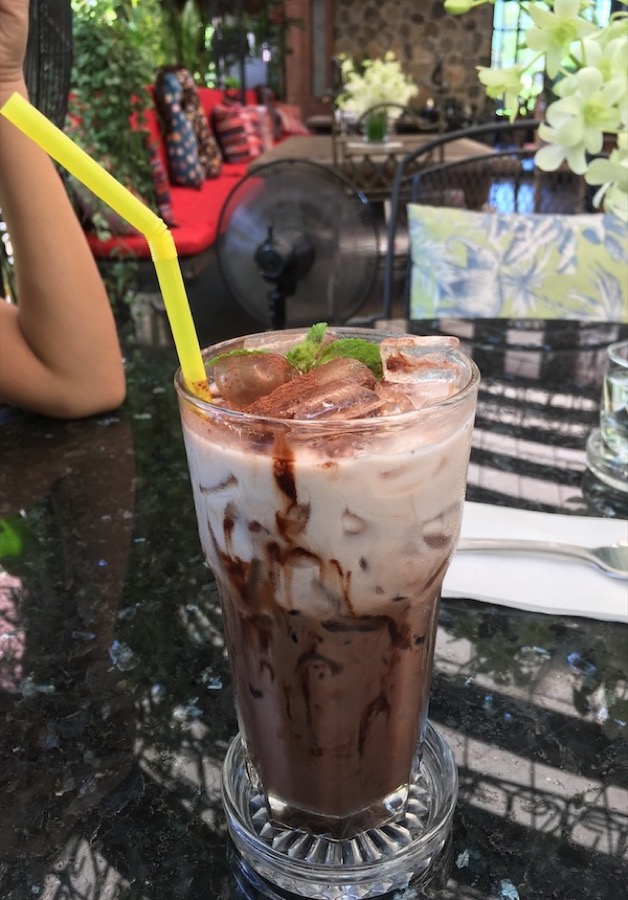 A specialty served here are the hand-made sodas, coming in many flavors: apple, blueberry and lemon to name a few. These sodas are less sweet than the regular ones you can buy at any 7-11, so they're much better for quenching your thirst. I suppose regular, off-the-shelf Pepsis and EST sodas are also available, but I've never checked that - why would you drink any of those, when you can have a lovingly hand-crafted one instead?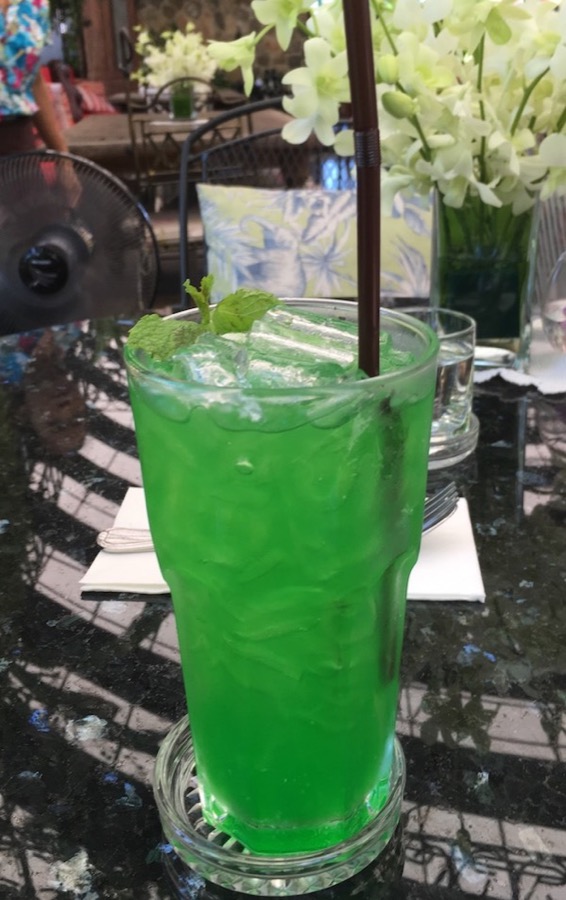 Tea in various forms is also available. I'm not going to comment on that, because I'm not much of a tea drinker. Let us know what you think in comments, tea connoisseurs.
Pony Café serves both Western and Thai food, with some fusion dishes thrown into the mix. The pastas are excellent, and cooked just perfectly al dente - my favorite is the spicy seafood spaghetti with anchovies. Ice cream and other sweet stuff is available for dessert.
Prices at Pony Café are reasonable: expect to pay around 400 - 500 baht for a drink, main dish, dessert and coffee.
The café is located quite far from the city center, in the Bo Fai district in northern Hua Hin. When driving along the main road towards north, you'll see it in the side of the road just before Hua Hin Airport. There's plenty of parking space outside, especially during daytime - easy to make a stop for some refreshement.
Pony Café is open daily from 9 am to 9:30 pm. Check out their Facebook page for more info.
---
…and the others
There are countless other small coffee shops sprinkled around Hua Hin. Many of them can be found along Phetkasem Road, and others are hidden in the smaller sois. Keep exploring, and you'll sure to find some gems too.
The big, famous coffee shop chains also have their firm foothold in Hua Hin.
Starbucks has three shops in Hua Hin: one is a two-floor café right in central Hua Hin, just next to the Clock Tower. Another two are found in the shopping malls Market Village and Blúport.
Café Amazon, the ubiquitous Thai coffee shop chain, has several branches in Hua Hin. In addition to the usual gas station cafés, they're also found in Market Village and Blúport shopping malls.
Holly's Coffee, True Coffee, Coffee World and many others can all be found in Blúport. True Coffee also has a shop in town center, close to Starbucks.
If you know of a really awesome coffee shop I didn't mention in this post, please let us know in the comments!
---
See also