Now what would be a better way to spend a hot, sunny afternoon than taking your family and/or friends to a local water park? Probably a few (not everyone likes water), but today we're going to take a look at Hua Hin's two players in this scene: Black Mountain Water Park and Vana Nava Water Jungle.
Black Mountain Water Park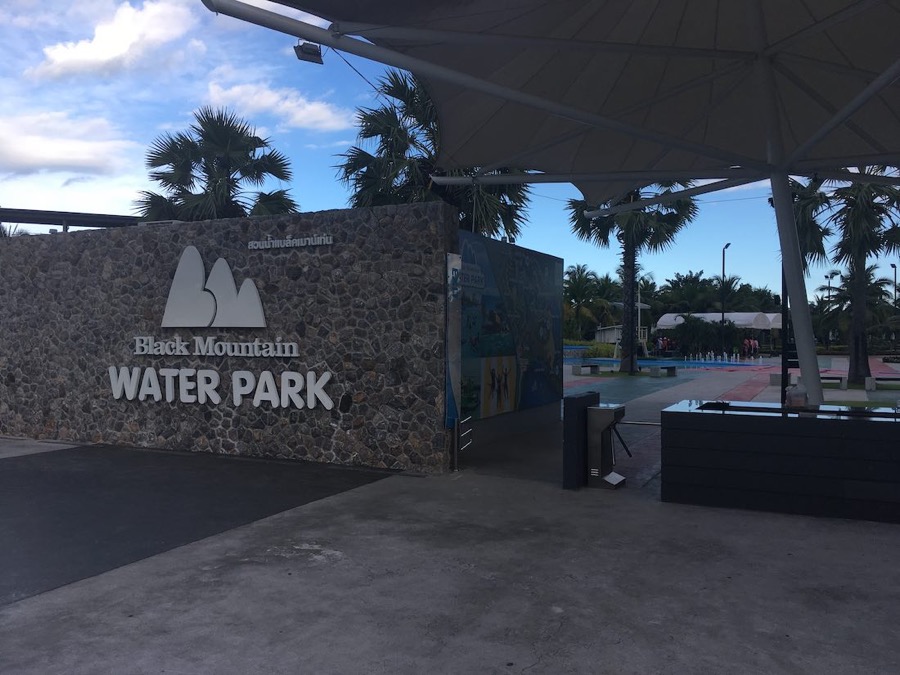 We'll first take a look at Black Mountain, a water park located about 10 km west from central Hua Hin. The park is actually a part of a bigger "leisure complex" of sorts, also containing a 27-hole golf course, accommodation, a spa, tennis courts and whatnot.
The location is somewhat remote, and it's unlikely that you'll ever end up here by accident. It's easiest to get here by a car or a motorcycle. If you'd rather not drive yourself, there's a shuttle bus to Black Mountain departing from Market Village.
Admission fee to the park is 600 baht for adults, and 300 baht for children. On weekends, Black Mountain has a special promotion starting from 6 pm where admission fee is half price for three hours. For a 500 baht deposit, which will be refunded to you upon returning the key, you'll get a small locker to store your stuff during your visit.
What's inside?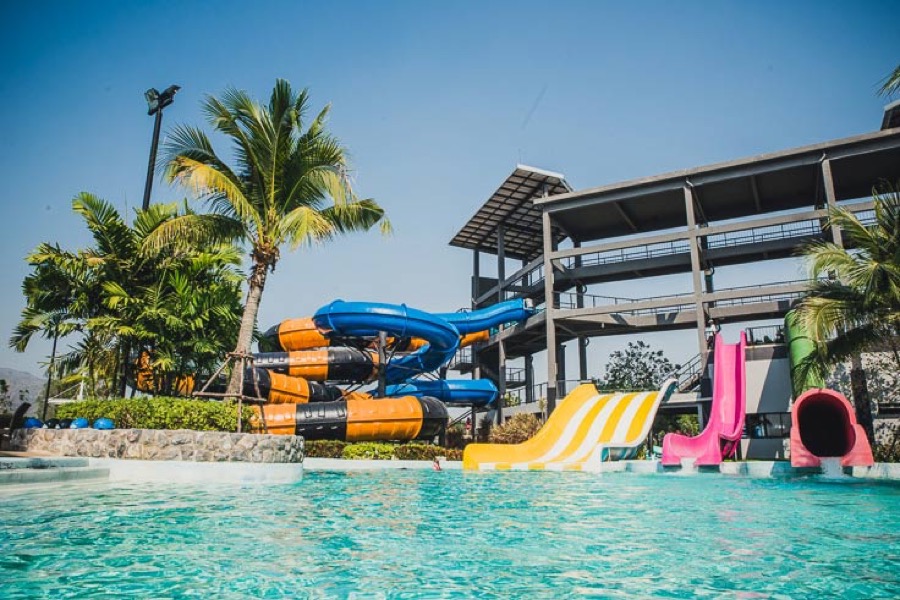 Inside the park, you'll find
9 different slides
A wave pool with enjoyably strong waves
A relaxing lazy river
Infinity pool
A pool bar
All in all, fairly standard water park stuff.
The slides
The main attraction, of course, are the slides. All of these are conveniently placed in the same park corner, and are easily accessed from the same three-storey tower. The biggest and fastest slides require you to wear a helmet, which are available free of charge on the bottom floor of the slide tower. Unfortunately, the helmets are somewhat small in size, and I was unable to find one that would fit me properly. You may want to keep this in mind in case you are a big-headed person like me.
All of the usual types are represented; there are two short but high-speed slides (the purple one is said to go up to 50 km/h), two smaller versions of the previous, three long enclosed pipes you ride with an inner tube, and a slow and gentle wide slide for the whole family.
For safety, Black Mountain has plenty of staff taking care of all the slide operations at all times. Some of the staff seemed to have only a basic grasp of English, but could still communicate all the important safety rules without problem.
The other stuff
When visiting a water park, I always find the Wave Pool to be a fun way to start the day and get your feet wet (literally). At Black Mountain, the pool is quite large and features enjoyably strong, up to 2 meter high waves. A popular attraction that gets packed quickly on a regular day - fortunately, there are always plenty of swimming boards available. Be careful, though, since the waves can get surprisingly strong. I learned this when my board kicked back and hit me painfully in the nose.
For those looking for a bit more laid-back style attractions, the Lazy River and Infinity Pool offer just that. The river goes around the central part of the park and makes a stop at the pool bar. The bar accepts payments only by a chargeable card, which you can purchase near the park entrance.
Infinity pool is located at the edge of the park, overlooking the Wakeboard Park (which is also part of Black Mountain complex, and has separate entrance and tickets). The pool is just what it sounds like - just a normal pool for a bit of swimming and relaxing, with an overflowing edge on one side.
Final verdict
I give Black Mountain a 3.5 stars out of 5.
| Pros | Cons |
| --- | --- |
| +Plenty of fun slides, all easily accessible and with clear instructions | Quite far from the town - you'll have to travel through narrow country roads for quite a while to get here |
| +Clean and well maintained all around | -Some parts of the park feel a bit empty - you may get the "is this all?" feeling |
| +Other activities nearby - you could wrap your day up with a tennis match if you're into that. Or go wakeboarding | |
| +Prices are very reasonable! | |
As mentioned above, Black Mountain operates a resort complex, including a hotel. The hotel might be a good choice if you're planning to spend the better part of your vacation golfing, playing tennis or visiting the water park - otherwise, you may want to look for some other options closer to town.
Their website is found at blackmountainhuahin.com. I suggest contacting them via their Facebook page if you have any questions (even though the page says "golf club", they handle the water park stuff too).
And finally, if you wish to stay in their comfy resort hotel, check the best rates through hotellook.com.
Vana Nava Water Jungle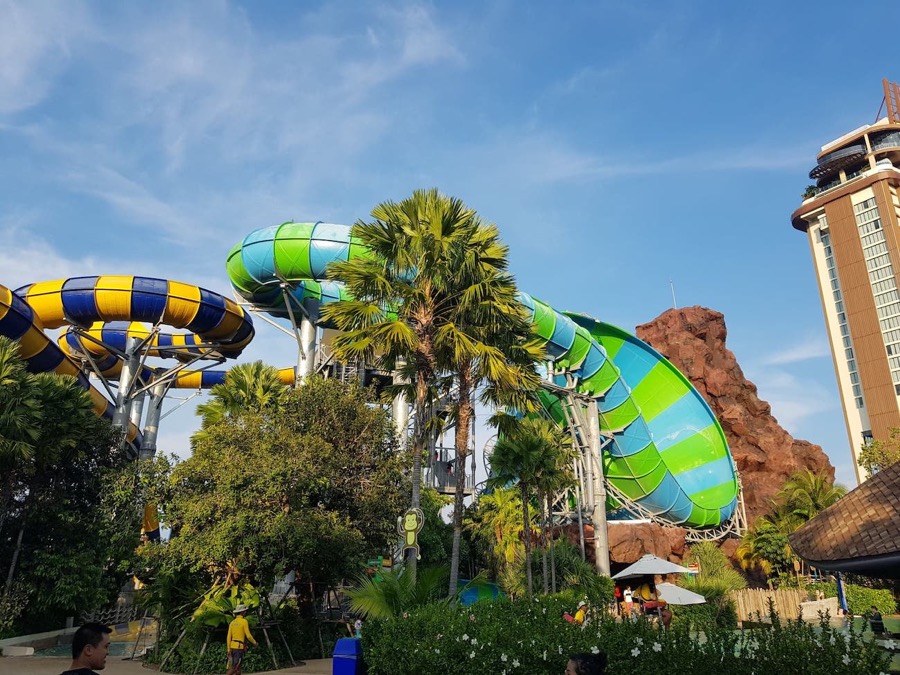 Vana Nava is not hard to find - it's located in the Khao Takiab area in southern Hua Hin, connected to the towering Holiday Inn hotel. Thus, the park is much easier to get to than Black Mountain - for example, you can take the blue or red songthaew to get here.
However, admission fees are quite a bit higher than in the other park: the cheapest option for adults is 1200 baht day pass. Children and seniors enjoy a lower rate of 800 baht.
What's inside?
Soon as you enter, the park feels notably "higher-budget production" than Black Mountain. The park proudly boasts some of the wildest water park rides in Thailand, including the 28 meter high Abyss and 179 meter long Boomerango. Both soak the hopefully-not-faint-hearted riders at speeds reaching 45 km/hour.
Other rides include:
6 big slides in addition to Abyss and Boomerango
6 family-friendly, tamer slides and attractions
Kid's playground
Wave surf
The slides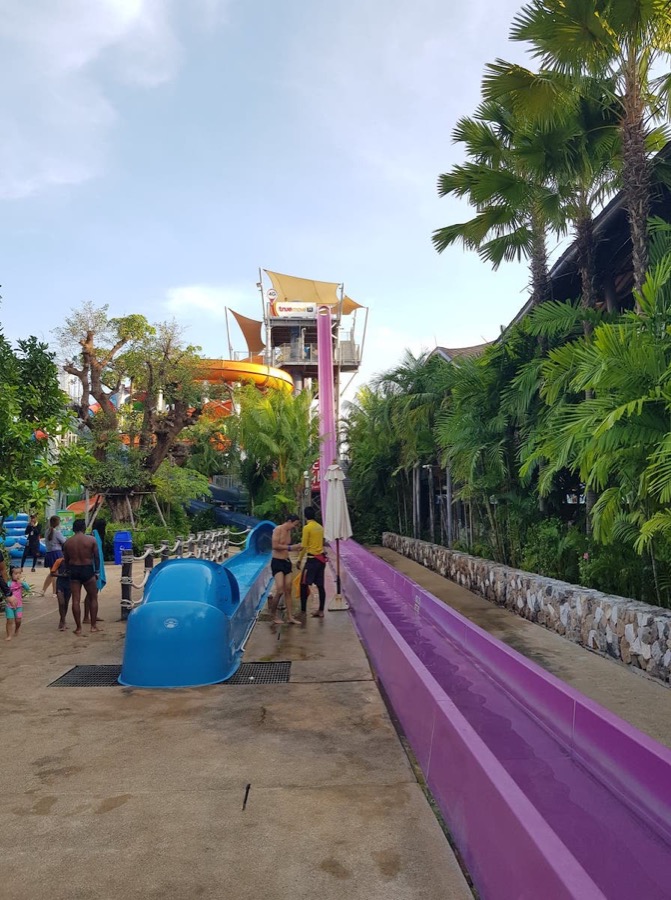 As with Black Mountain and all other water parks in the world, the slides are the main attraction here too. The wildest rides are not limited to the Abyss and Boomerango mentioned above - the smaller slides here also include some of the fastest in Thailand. Take Aqualoop for example: you'll get placed inside the bluish see-through tube that takes you through an almost-vertical loop at a speed reaching 60 km/h!
Side note: Make sure that you're heavy enough to ride, though - I know one case where a 45 kg girl lost momentum and got stuck inside the loop. She had to be removed by the park staff, much to her chagrin and amusement of her friends.
Other high-speed slides include Freefall, which is a simple, purple plastic slide taking you for an almost vertical free fall (as its name implies), reaching speeds up to 50 km/h. The ride is over in a few seconds, but it's worth it. Mega Blaster takes you through black and yellow slide going up and down in almost the same speed. Every slide is worth at least one try!
Unlike Black Mountain, the slides here are so designed as to not require the visitors to wear helmets. This makes riding them so much more convenient. The biggest slides do require a minimum amount of people (or more accurately, a minimum weight) to board the raft at once, though.
Safety for the slides is taken care of by professional staff, all speaking English fairly well, and the slides are kept in great condition - all in all, this is a very well run park.
The other stuff
Vana Nava also includes more relaxing stuff - a pool bar, lazy river going around the park, and infinity pool for instance. The pool bar serves drinks and snacks, which can be conveniently paid for with the bracelet you receive when buying the ticket.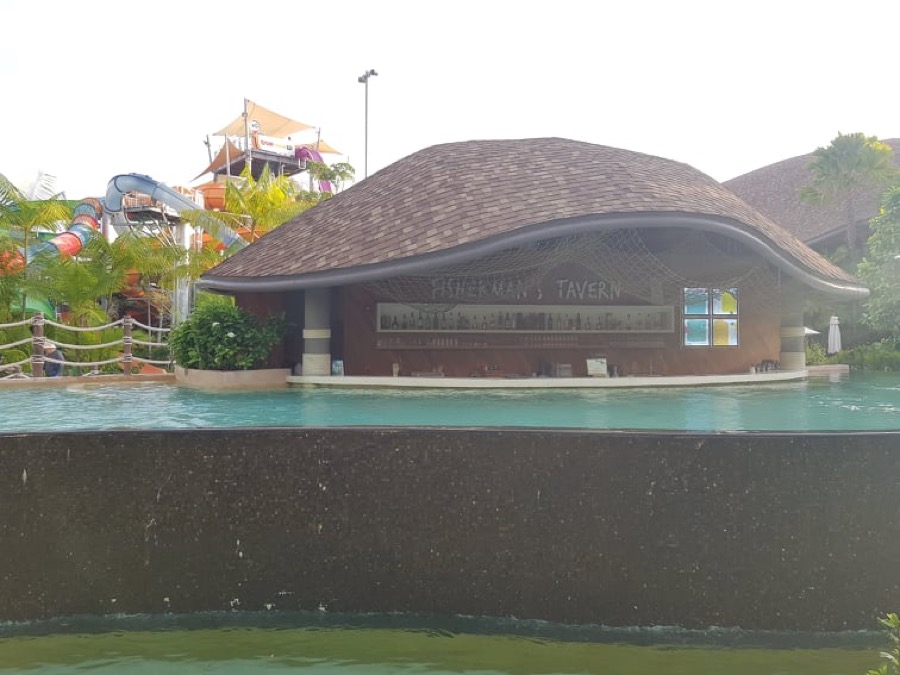 A wave pool is also included - here they call it Coconut Beach, and it's notably bigger and better than the one in Black Mountain. The waves feel smoother but still pack just enough punch, being kid-friendly but also enjoyable for adults.
The wave surf ride is sponsored by Chang, the other half of Thailand's beer industry. You'll need to sign a form stating you understand the risks of injury and waive (heh) the park from responsibility in case you get hurt by your own actions. A bit unnerving.
Some non-water attractions are also included, such as a rope climbing course and a climbing wall. I don't go to water parks for this sort of stuff, but I'm sure they're a welcome change for some after going through enough slides and soaking yourself. There's also an unique watery obstacle course, called Aquacourse, composed of ropes, obstacles, water guns and such.
For those looking for a more relaxing time, or a change to let their heart rate settle after the big rides, lazy river provides just what you're looking for. Take the inflatable rubber raft or just swim, it's enjoyable both ways. Also provides easy access to the pool bar for some refreshing drinks. A restaurant is also found in the park, along with a Cafe Amazon branch. The food served here is not very cheap and not really a culinary wonder either. Still enough to get your stomach full after the exhilirating rides.
The Final Verdict
I give Vana Nava Water Jungle a 4.5 stars out of 5.
| Pros | Cons |
| --- | --- |
| +Great location, close to the city | -Expensive - twice the price of Black Mountain! |
| +Great rides, including the biggest in Thailand | -Restaurant not so great - better to eat beforehand |
| +Clean, well maintained, well designed | |
| +Professional, English-speaking staff | |
As mentioned, Vana Nava is adjacent to the Holiday Inn hotel. Hotel guests enjoy free, unlimited access to the water park - this offer is also valid for guests of Intercontinental hotel a few kilometers up north.
Both hotels are great choices to stay in, if you're not looking for anything particularly unique from your accommodation experience.
Check the best rates for Holiday Inn via Hotellook or Booking.com. And while you're at it, also for Intercontinental, via Hotellook or Booking.com.
So, which one is better?
If you read this far, you probably noticed I gave Vana Nava a full star more than Black Mountain. Nonetheless, I'm not declaring one as inherently superior to the other - both parks are well worth visiting, and if you (or your kids!) really enjoy water slides and grand days out, you'll might as well visit both anyway.
That said, Black Mountain doesn't really offer anything that Vana Nava doesn't have, and if you're only looking for a fun day out and aren't a water park enthusiast, just visit Vana Nava - the location alone saves you from much hassle.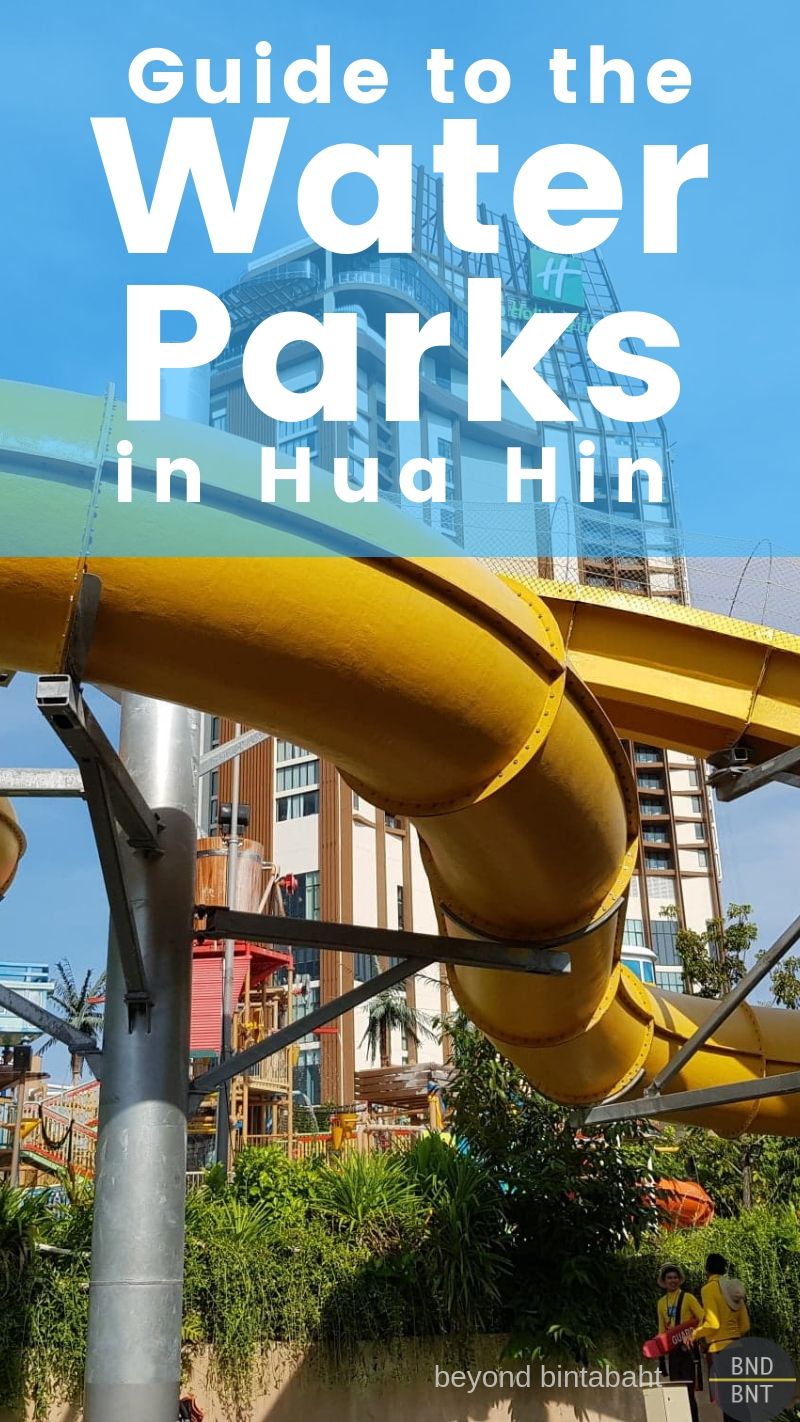 ---