Previously, I've written about the guesthouses in Hua Hin for budget-conscious travelers. This time, we're going to take a look at the more luxurious - but still affordable - option: hotels. As with most of my "Top X" posts, I'll list my hotel picks below in no particular order.
Note: this article contains affiliate links.
Hilton Hua Hin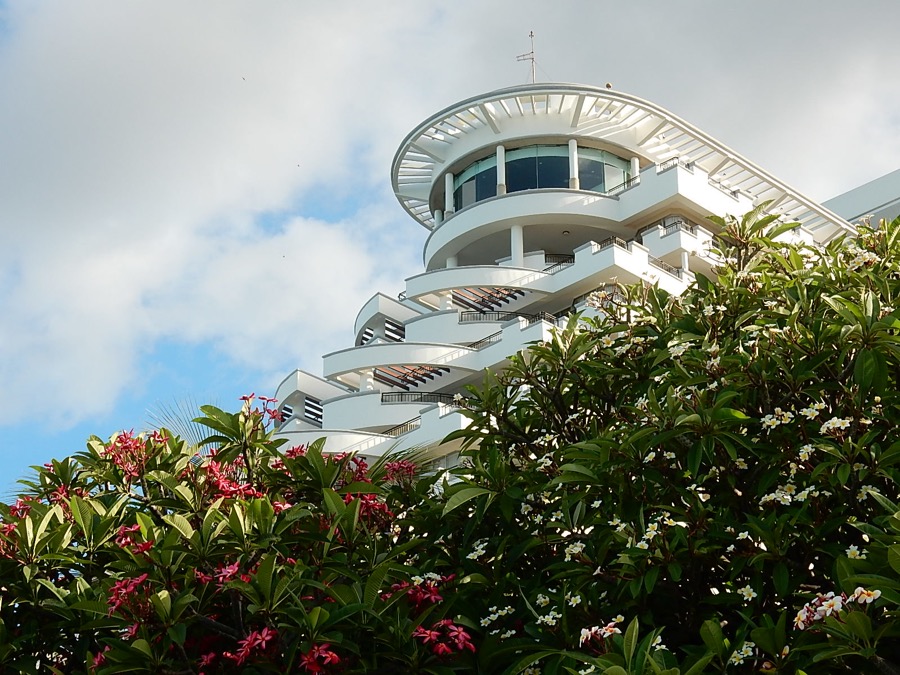 We'll start off with the hotel everyone who ever visits Hua Hin will become familiar with, whether or not they actually check in or not - Hilton Hua Hin Resort and Spa.
This central landmark of Hua Hin, completely renovated in 2018, boasts 296 rooms, tennis court, pool tables, lagoon-style swimming pool, several restaurants and bars, a gym, and pretty much everything you can expect from a five-star hotel run by an international chain that certainly knows what they are doing.
The rooms come in various shapes - smallest and cheapest ones consist of 42 square meters of floor space, with comfortable bed and a seating area. Largest suites are 200 square meters, including two bedrooms, a private balcony, whirlpool bath and other luxuries - with a nightly rate to match!
Like most large hotel chains, Hilton sets some standards for its staff and Hua Hin branch is no exception - the staff is professional, speak English and generally know what they're doing.
Overall, if you're new to Hua Hin, and can afford to spend above the shoestring budget for your stay, you cannot really go wrong with Hilton. On the other hand, you won't find anything impressively unique here either; after all, it's a chain hotel.
Check rates & book via Hotellook
Check rates & book via Booking.com
Hilton Hua Hin
| Pros | Cons |
| --- | --- |
| +Location x 3 | -Price |
| +Freshly renovated | -Unimaginative chain hotel livin' |
| +Family friendly | |
| +Many restaurants and bars | |
---
Intercontinental
The five-star Intercontinental opened in 2016, along with the Blúport shopping mall just across the street. The two buildings are connected with a stylish, teak-colored pedestrian overpass.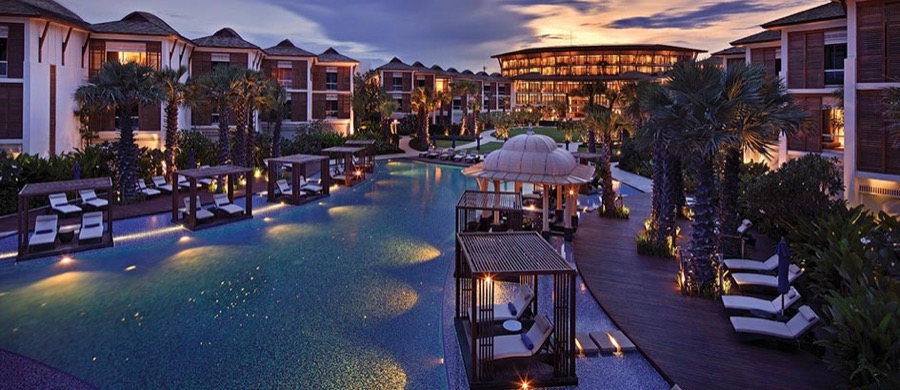 Like the overpass, the architecture of the hotel complex itself features lots of teak too - the entire building looks somewhat like a traditional Thai house, in a much larger size. The 159 rooms are split into two wings - beach side and Blúport side. The former is hidden behind the facade, facing the beach as its name implies. The latter is connected to the aforementioned mall through the aforementioned overpass.
All rooms are decorated in a rather typical hotel fashion, with some added teak tones. Some ground-level rooms have direct access to the outside pool, which always makes for a nice touch of extra luxury.
Like Hilton, everything at Intercontinental is at what you would expect from a five-star resort hotel from a well-known international brand: professional, friendly staff, great service, restaurants, bars etc. Location of the hotel is not as central as Hilton, so be prepared to rent a car or use the songthaews during your stay. Or ask the hotel to book a taxi or driver for you.
The hotel features 10 bars and restaurants, including the popular Azure Bar, where you can buy drinks from the famed mixologist Joseph Boroski and his highly skilled staff. Make sure to try their signature, A Kick in the Frangipani.
Where Intercontinental shines over Hilton is that it doesn't quite have the same kind of "cookie-cutter" chain hotel feel. This is largely due to its rather unique architecture and resort style. Don't expect anything too unique, though - you'll still be staying in a chain hotel after all.
Families with children and other lovers of thrilling water slides take note! All Intercontinental guests enjoy free access to Vana Nava Water Jungle, which is located just a few kilometers away from the hotel. The park is well worth a visit or two - just make sure to buy some water-resistant sunscreen before you go!
Check rates & book via Hotellook
Check rates & book via Booking.com
Intercontinental
| Pros | Cons |
| --- | --- |
| +Location | -…although you could use a car |
| +Interesting architecture | -Bit pricey |
| +Luxurious feel | |
| +Complimentary access to Vana Nava | |
---
My Vimarn
Now that we've covered the big players, it's time to move on to more unique, boutique offerings in Hua Hin. We'll start with My Vimarn, a delightfully pastel-colored boutique hotel located in the Khao Takiab area, not too far from the famous "monkey mountain". The name "Vimarn" means "heaven" in Thai language, which is shown by the many angel-themed decorations inside the hotel.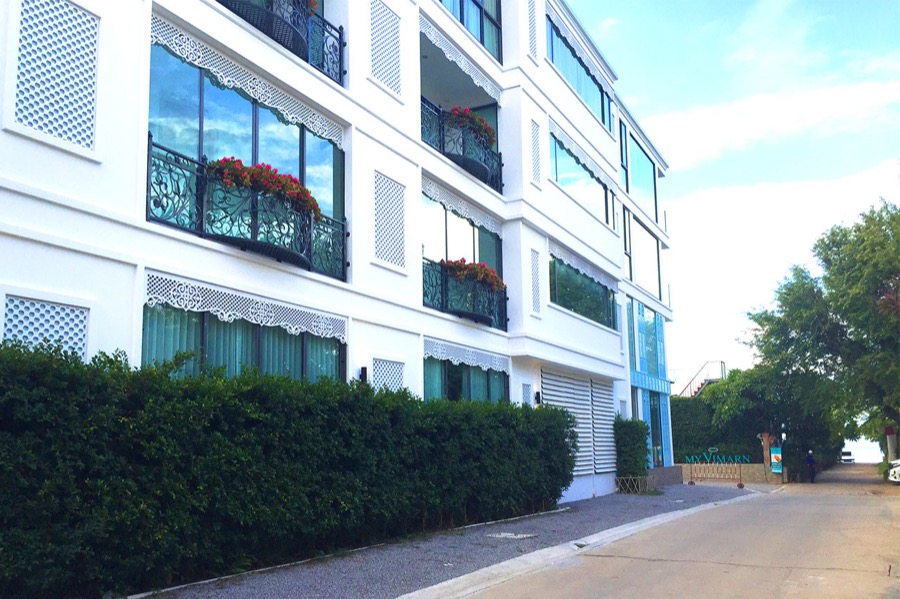 The hotel is rather small, but features spacious, clean rooms decorated with light colors. Some rooms feature direct access to the centrally located pool, which is perfect for a refreshing morning dip. The pool is also covered by a glass roof, so you don't need to mind the sometimes torrential rains of Thailand. Rooms not located in the ground floor feature a balcony - morning coffee always tastes best in the fresh air. Other equipment is standard hotel fare - water kettle, complimentary instant coffee, air conditioning, TV, etc. The 117 square meter suite also includes a large refrigerator and an oven, in case you feel like trying your skills at Thai cooking.
My Vimarn features a private section of the beach reserved for hotel guests - much more quiet than the public beaches of Hua Hin. Other amenities include a restaurant serving Thai and Western food, a gym and massage service - all in all, quite typical hotel stuff.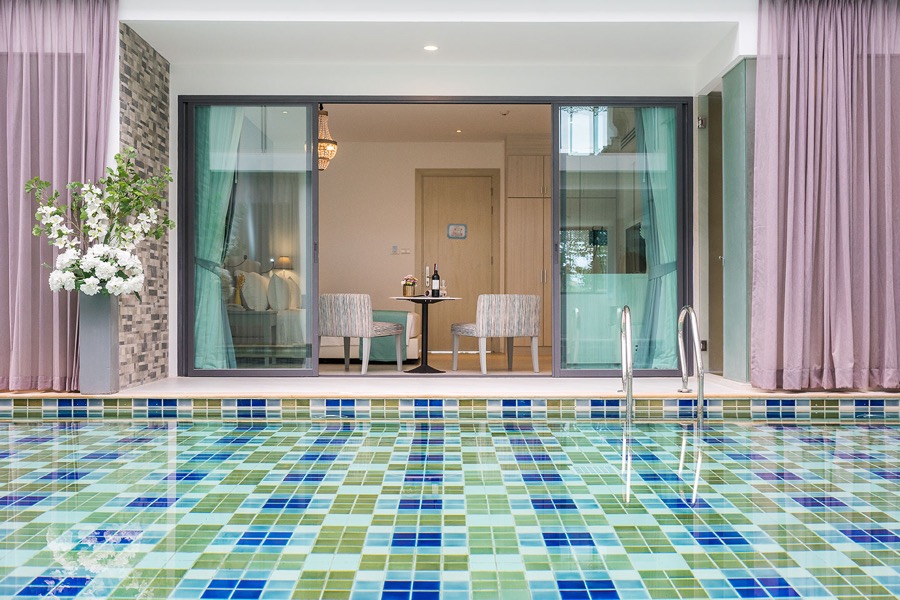 The hotel's location is definitely not central, and it's a good idea to rent a car or motorcycle for getting around town. However, the Cicada and Tamarind night markets are within a walking distance, as are the many restaurants and bars in Khao Takiab area.
As you would expect from a boutique hotel, the feel of staying here is notably different from the big chains. Hotel staff is friendly and professional, although their English skills could use some sharpening. Despite this, you probably won't have any insurmountable problems being understood, and you'll surely feel welcome - it's like staying in a rich, eccentric relative's beachfront mansion, although you'll get charged actual money after your stay instead of just promises to keep in touch more actively.
Check rates & book via Hotellook
Check rates & book via Booking.com
My Vimarn
| Pros | Cons |
| --- | --- |
| +Welcoming boutique feel | -Location a bit remote from central |
| +Friendly staff | -Small swimming pool |
| +Pleasant decor | |
| +Reasonable price | |
---
The Yana Villas
Continuing south towards Khao Takiab, we find an unusual looking dark monolith with triangular, temple roof-like entrance hole. This monolith is the facade of The Yana Villas, a luxury resort boutique hotel. Inside, we find a beautiful narrow walkway, bordered by high wooden fences bringing to mind a bamboo forest.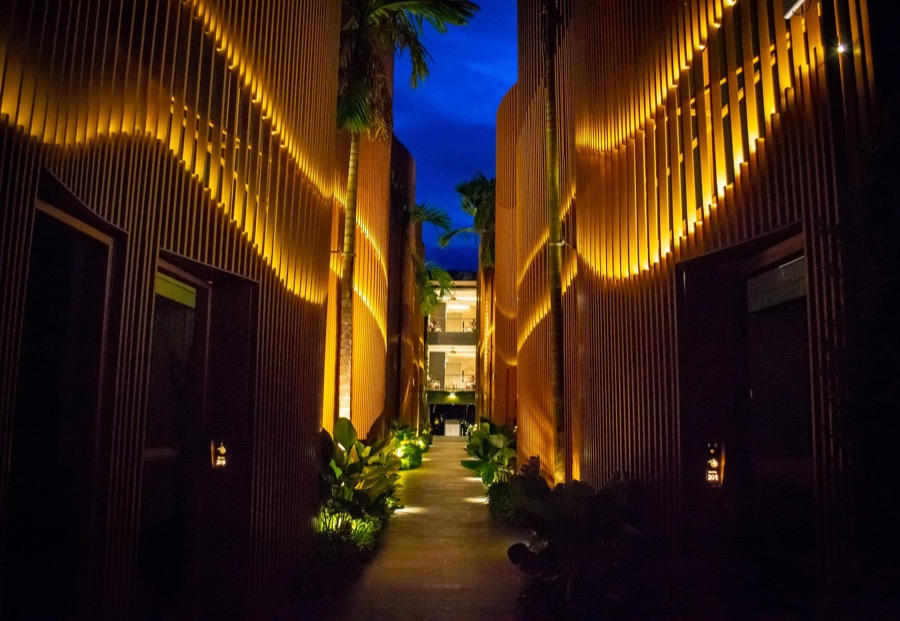 As its name implies, Yana offers private villas in addition to standard rooms (which they call suites). Both rooms and villas are spacious and decorated in a modern style, heavily featuring warm earth tones. The villas feature all luxuries you could wish for: private pools, complimentary wine, floating breakfast, amazing sea view.
The large, 300 square meter swimming pool is always near, no matter which room you get. Like many hotels in this part of town, Yana Villas also offer a private slice of the beach for its guests. Other facilities include a gym, a spa and massage, two restaurants and a bar.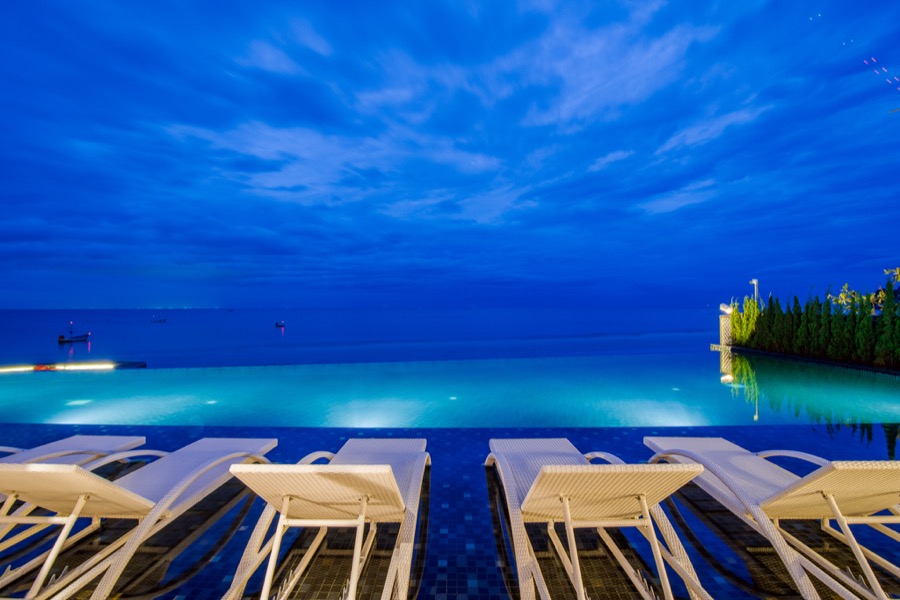 As is the case with other hotels in Khao Takiab area, it is a bit far from the town center. Otherwise the location is great - everything in the area is within walking distance. If you intend to drive a car, you'd be advised to call the hotel in advance to book a parking space too - parking lots are in a bit of a short supply here. Or, you could just forget that and take the green songthaew whenever you feel like hitting the town. Keep in mind it's operating hours, though.
The hotel staff is very professional and English-speaking, as one would expect from a hotel at this level. They are also very knowledgeable of all the activities and attractions of Hua Hin, and are happy to advise you on where to go and what to see.
The Yana Villas is an excellent choice if you're looking for some luxury, in the form of a tropical getaway in a modern, friendly environment.
Check rates & book via Hotellook
Check rates & book via Booking.com
The Yana Villas
| Pros | Cons |
| --- | --- |
| +Unique architecture, modern decor | -Bit far from town center |
| +Friendly staff | -Pricey |
| +Near Khao Takiab mountain | |
| +Luxurious | |
---
Art de Sea
This small hotel sits near the small Queen's Park and the hipster mall Seenspace, a few blocks north of Hua Hin center. The area around the hotel seems a bit rundown, but the hotel itself is clean and modern.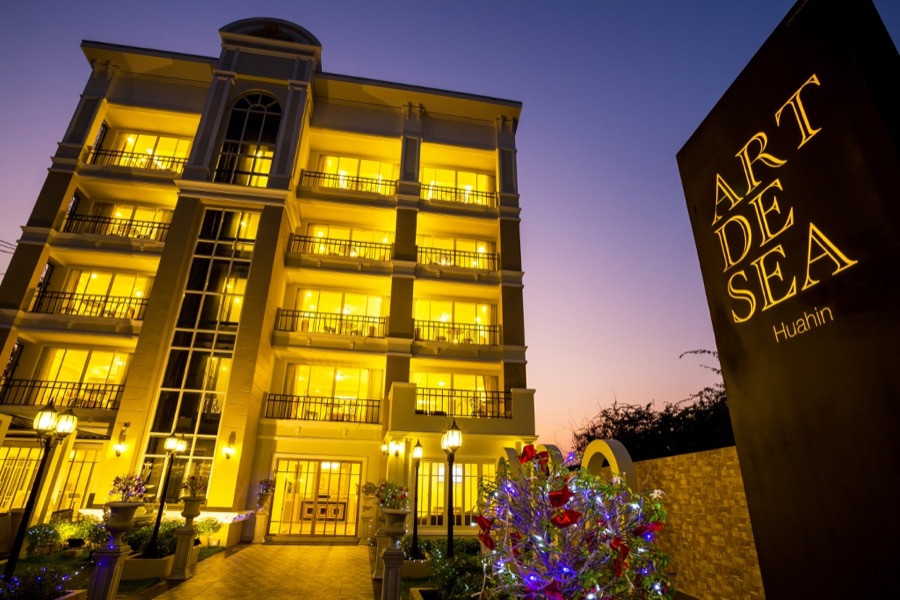 The hotel only has 12 rooms, spread across 4 floors. Rooms in the highest floor feature a fantastic view to the sea. The decor inside the rooms is modern, although somewhat unoriginal - not really memorable, but certainly not overwhelming either.
Being a small hotel, there's not many people on the staff here - I'm not sure how many exactly, but it's clearly less than 10 people. The staff's English skills are not quite up to par with the higher-class hotels, but you'll have no problems getting yourself understood either. This tiny lack of communication efficiency is more than made up by their friendliness and helpful attitude.
One restaurant is located in the ground floor, serving Asian-style breakfast is served every morning. The food is tasty, but not so plentiful due to the small size of the hotel.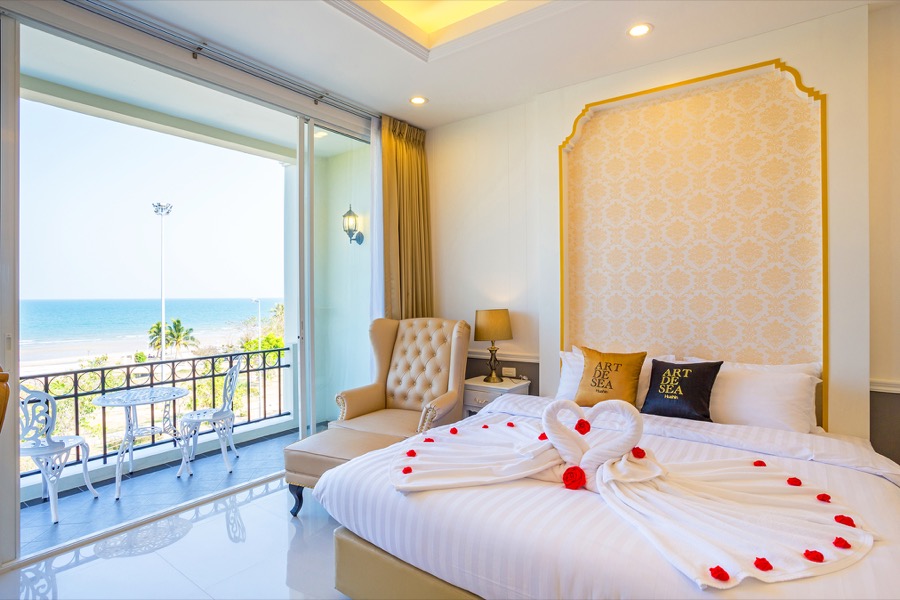 The hotel's location might be a bit inconvenient for some - I highly recommend getting either a motorcycle or a car to get around. This area of town isn't well served by the songthaews. Being tucked away in a little backstreet means that there's not so much interesting stuff immediately nearby, apart from the already mentioned park and mall. The flipside of this is that the area is peaceful and quiet, except on the days that a small night market opens on the streets a couple of hundred meters from the hotel.
If you don't mind the somewhat hidden location, Art de Sea offers great value for money.
Check rates & book via Hotellook
Check rates & book via Booking.com
Art de Sea
| Pros | Cons |
| --- | --- |
| +Great value for money | -Location somewhat inconvenient |
| +Helpful staff | -Not much to see nearby |
| +Cozy, private small hotel | |
---
Lertnimit Boutique Hotel
This little boutique hotel is situated in an excellent location: tucked away in a quiet side street of the popular "food street" Soi 51.
The location is pretty much perfect: all the Soi 51 restaurants and nightlife are within a few minutes of walk away, as is the new minivan station. You'll probably need a motorcycle for a convenient access to town center though. Being situated in a side street means quietness despite the location. If you're driving a car, take note that not much parking space is available.
The hotel is decorated with mostly earth tones, with striking red color on the windows, with some added horse-themed statues thrown around. The facilities are rather new (the hotel opened in early 2016), clean and well laid out.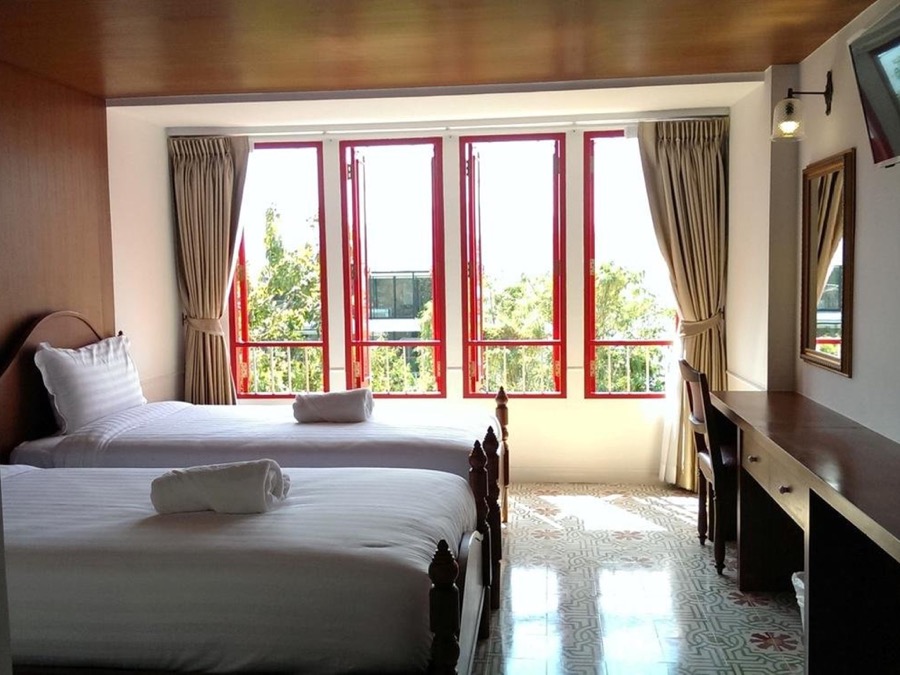 Rooms are medium-sized, comfortably accommodating two adults and one or two small children each. All feature air-conditioning, private bathrooms, WiFi and either city view or sea view. Nothing special, but all you need for a comfortable stay.
The hotel features a great rooftop terrace restaurant, where you can enjoy a continental breakfast with awesome view over the city and the sea. Due to the small size of the hotel, the breakfast buffet may sometimes run out of certain foods, so be early!
The staff's English skills are a little limited, as is the case with many smaller hotels in Thailand. They do their best to make you feel welcome despite this.
Overall, Lertnimit Boutique Hotel offers great value for money, in a great and convenient location.
Check rates & book via Hotellook
Check rates & book via Booking.com
Lertnimit Boutique Hotel
| Pros | Cons |
| --- | --- |
| +Great value for money | -Staff's English skills |
| +Excellent location | -Difficult car parking |
| +Cozy, private small hotel | -The dark colors may be off-putting for some |
| +Nice rooftop restaurant | |
---
Roses Hua Hin
This one's something quite different from the options above - not a good fit for the casual tourist. Roses Hua Hin is located in the Bo Fai district, in northern Hua Hin, few kilometers from the airport.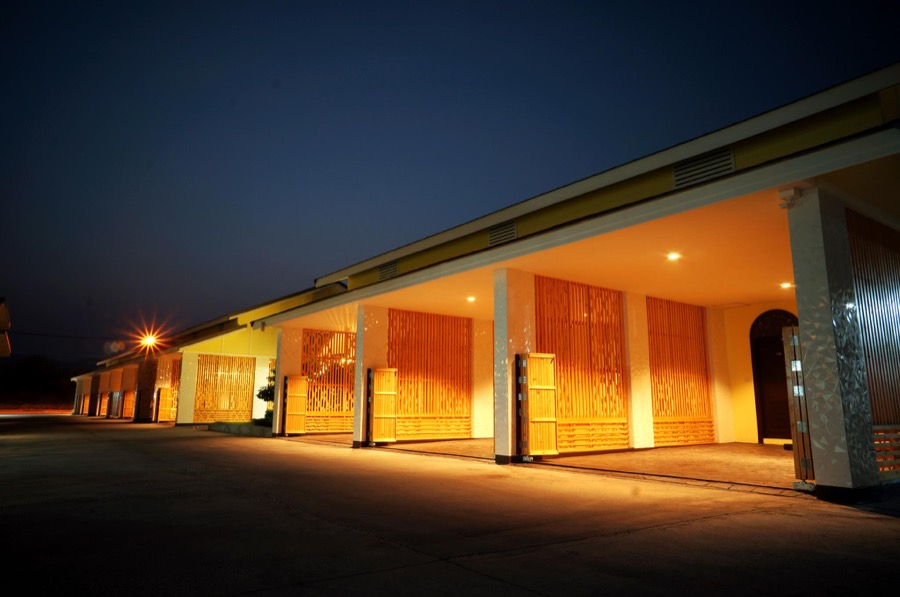 The place looks more like a terraced house complex, rather than a hotel. Accommodations offered are split into two types - a standard room and a villa. The former is a room in the terraced house, while the latter is a small, private house. Both room types feature air conditioning, WiFi, fridge and kettle, plus a bathroom. Some rooms come with a jacuzzi too.
While the architecture of the hotel is nice and modern, the buildings suffer from a slight lack of maintenance here and there - falling wallpapers, wear and tear, and so on. The staff is super helpful though, and will do their best to help you if you run into any issues.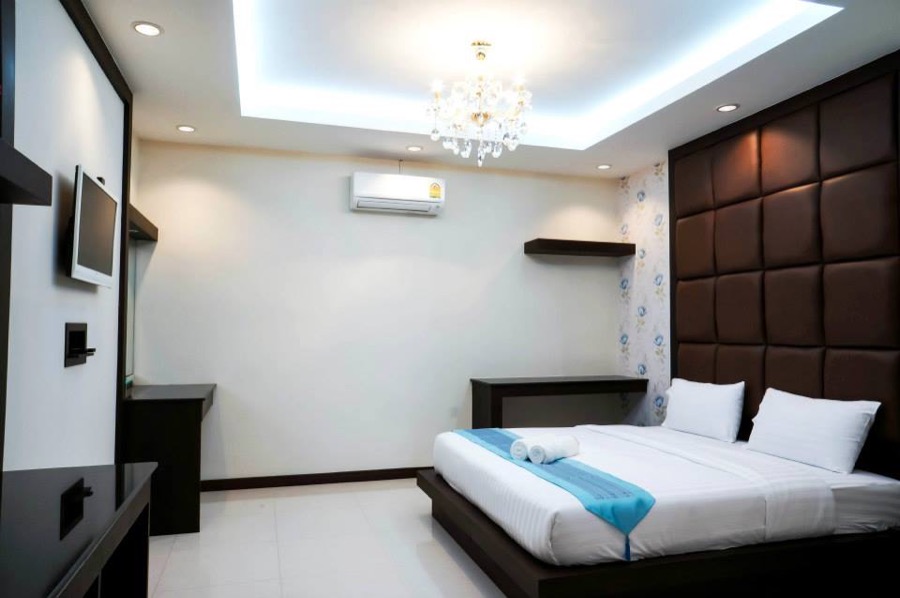 Speaking of staff, their English skills are decent and attitude friendly. Just as you would expect on any hotel that made it on this list.
The hotel's design makes parking here the easiest of all hotels on this list: you can park your car or motorcycle right in front of your room! In addition, since the location is along the Canal Road, you don't have to navigate the narrow, labyrinth-like sois like in many other places of Hua Hin.
A restaurant is on the premises too. Nice touch is that you don't need to get all the way there for breakfast - it is delivered directly to your room.
A major, major drawback is the location - being situated in Bo Fai, the hotel is quite far from most of the touristy spots and attractions. A car or motorcycle is strongly recommended if you decide to stay here. You could use the orange songthaew too, but you'll have to walk around 600 meters to Soi 6 to reach it. If you're looking for an easy, walkable access to the beach, shopping or any things like that - Roses is probably not for you.
On the other hand, if you like to stay a bit off the beaten path, you'll find many restaurants and bars nearby along the Canal Road and soi 6, popular with the locals and seasoned expats. The location is also very peaceful.
Rates of Roses Hua Hin are very reasonable, and the hotel offers good value for money for the traveler who likes to explore the less touristy parts of town, and doesn't mind driving himself.
Check rates & book via Hotellook
Check rates & book via Booking.com
Roses Hua Hin
| Pros | Cons |
| --- | --- |
| +Location (with caveats) | -Location (yeah it's both pro and con) |
| +Good value for money | -Staff's English skills could use sharpening |
| +Feels like living in your own house and less like hotel | |
| +Helpful staff | |
| +Super convenient parking | |
---
Conclusion
These are just a few picks from the hundreds of hotels, guesthouses, resorts and villas available in Hua Hin. If none of these quite match your fancies or needs, be sure to check out my hotels map for more options. Or check out my top 3 cheap guesthouses for a more budget-friendly accommodation.
Or if you have your own favorite place in Hua Hin, feel free to leave a comment below!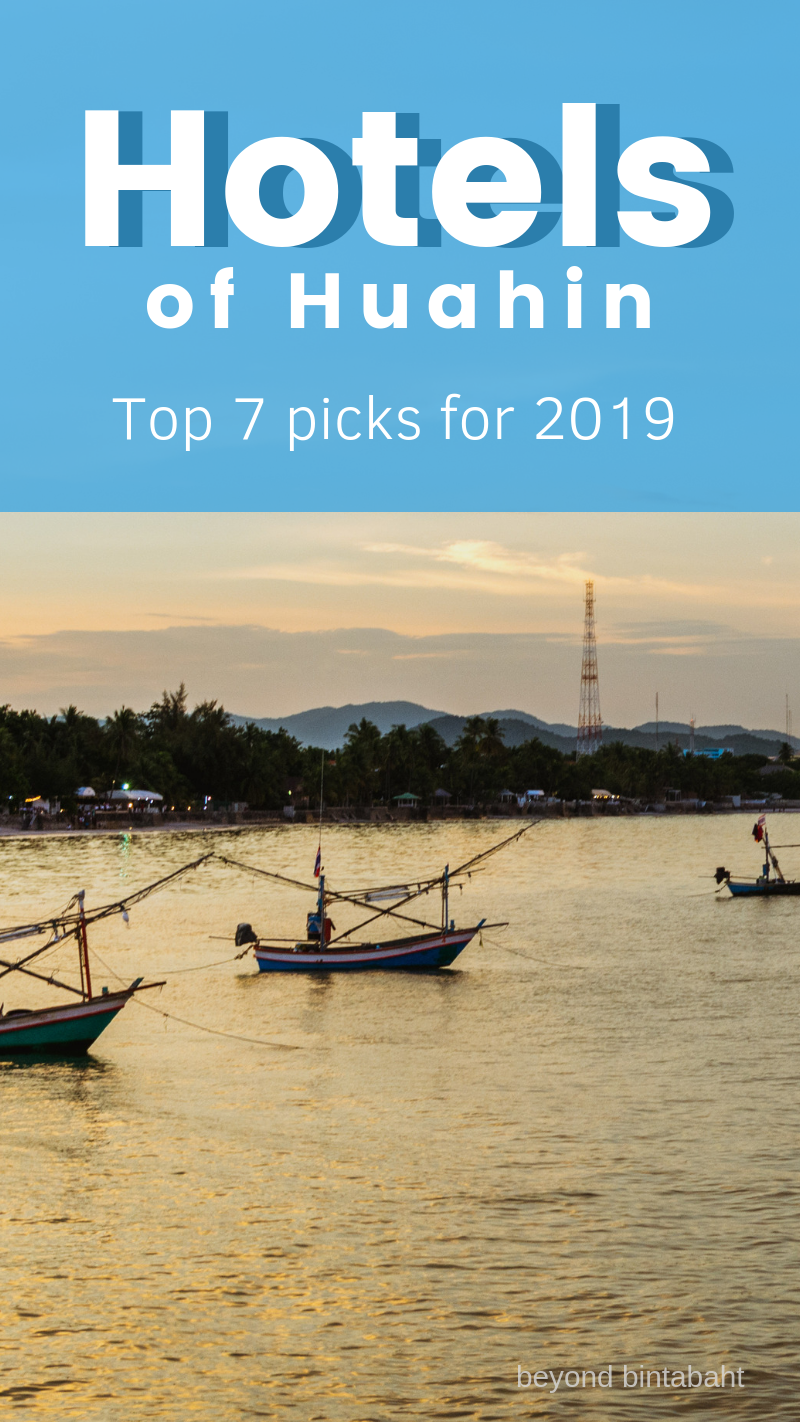 ---