Tucked far away from Hua Hin's center, lies Wat Huay Mongkol, a large temple complex dedicated to a monk named Luang Phu Thuad. It is one of the most popular attractions to the Thai people, but less so for Western tourists. This post will tell you how to get to this serene place, what you can expect to find there, and the story of Luang Phu Thuad.
So, let's begin…
The story of Luang Phu Thuad
Gather around, everyone, it's storytime!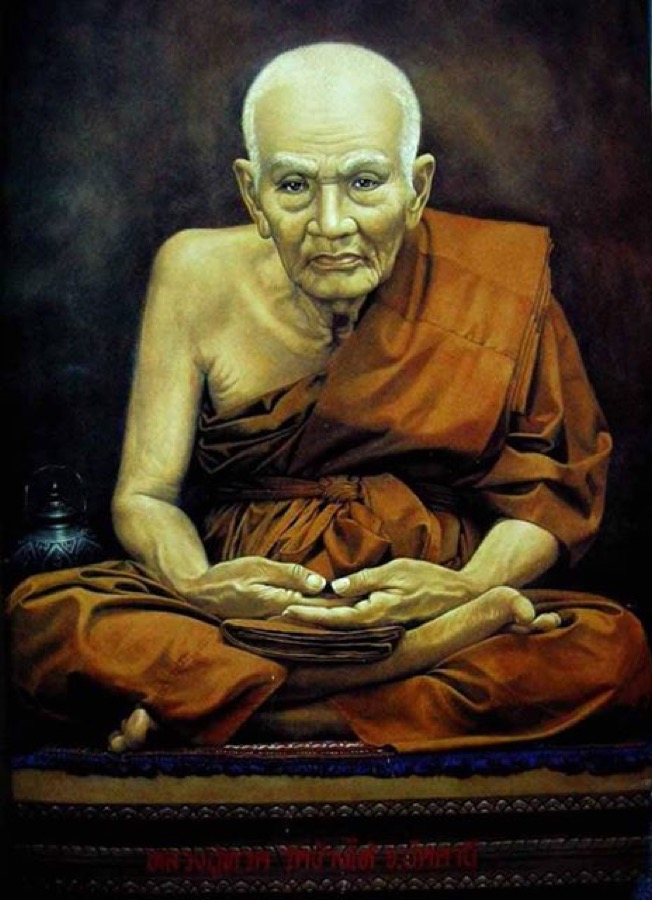 Once upon a time, in the faraway Kingdom of Ayutthaya, lived a young boy named Phu. His parents were poor, but virtuous, hard-working people. They were employed as farmers by the Phan family.
One day, when little Phu was only six months old, his mother had left him sleeping in a small hammock near the field she was working on. Later, to her horror, she noticed a huge snake curled around her little baby, and called everyone to help him.
The snake turned out to be not an ordinary snake, but a god in a form of a snake. After Phu's mother offered it some flowers, it soon spit out a beautiful pearl and slithered away, leaving little Phu unharmed. For the rest of his life, Phu would carry this pearl with him, everywhere he went.
Fast forward a few years, Phu began his Buddhist studies at the age of 7, and turned out to be a talented young boy. He went to stay with his uncle, who was the abbot of Wat Dee Luang temple. Soon he had mastered all that the monks at his local temple could teach him, and started visiting temples further and further away to continue learning.
At the age of 15, he was ordained as a monk at the Wat Pakok temple, and got his more famous name Luang Phu Thuad. After spending five years at this temple, he decided to move to Ayutthaya to pursue even further studies on Buddhist scriptures. Thus, at the age of 20, he boarded a ship bound to the capital.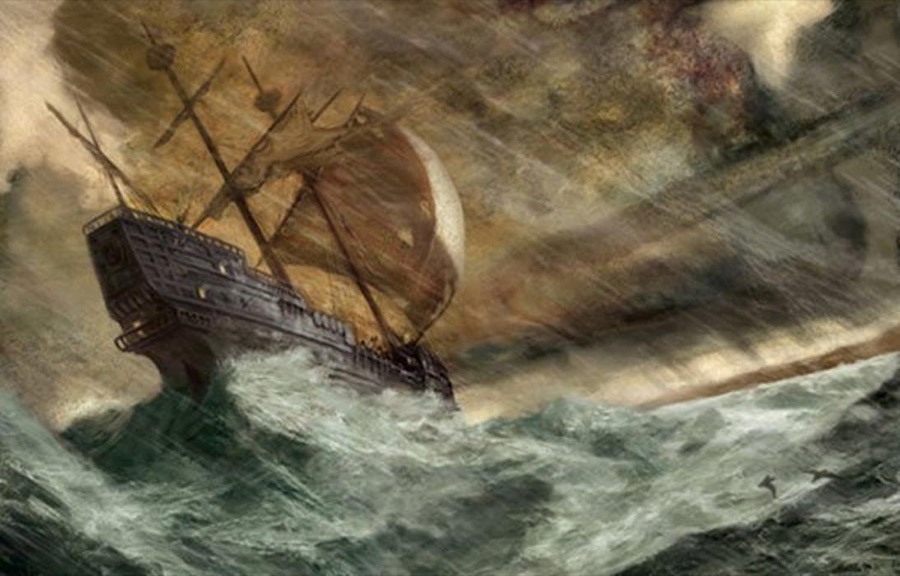 Travel was not an easy task back in those days, and this journey was not without difficulties. Somewhere along the way, the ship got stuck in a terrible storm. The captain suspected that the young monk was somehow responsible for this misfortune, and threatened to throw him overboard. After Luang Phu Thuad performed two miracles - first calming the storm, then turning the sea water around the ship into fresh water - the captain, in amazement, apologized and forgot all thoughts about overboarding him.
When Thuad arrived to Ayutthaya sometime later, he moved to the Wat Kae temple outside the city, where he continued his studies of Buddhist scriptures.
At that time, there was some rivalry between Sri Lankan Buddhists and Siamese Buddhists. The king of Sri Lanka had also grown envious of the rising power of Ayutthaya kingdom, and sent ambassadors, monks and an offer to the king of Ayutthaya.
The offer was generous: seven large boats, all made of gold. There was a catch, though - to get the gold, a particularly difficult Buddhist puzzle had to be solved by the monks of Ayutthaya kingdom in seven days.
But if they failed, Ayutthaya would become a vassal of Sri Lanka, thus surrendering its independence. The king accepted the challenge and gathered all the brightest and most learned monks in the kingdom to take a crack at the puzzle.
When after six days the monks hadn't still found a solution, the king became increasingly nervous. Luang Phu Thuad, while collecting alms in the city, overheard people talking about this dire situation, and promptly went to the palace to offer his help. The king, already getting desperate, accepted the offer from this then-unknown young monk.
To everyone's surprise, Thuad solved the puzzle effortlessly. Ayutthaya retained its independence and received literal boat-loads of gold from the defeated and humiliated Sri Lankans, and Luang Phu Thuad became the king's trusted advisor for years to come.
In his old age, after years of service, Thuad asked the king permission to return south to his home. The king accepted his loyal advisor's request, and Thuad soon returned to his home temple, Wat Phra Kho near the modern-day city of Hat Yai in southern Thailand.
---
Well, that's how the story goes. It's an old, traditional Buddhist legend, passed orally through many generations, so some of you might doubt its historical accuracy. We know for sure that Luang Phu Thuad lived sometime in the late 16th century, spent his life as a devout Buddhist monk, and became a legend.
To this day, amulets are made bearing his image, believed by many to protect the bearer from misfortune, such as traffic accidents.
Oh, remember the pearl spit by the snake earlier in the story? It's held in the Wat Phra Kho temple, where it is kept on display. The temple is in the city of Songkhla in South Thailand - not the best place to visit.
How to get to Wat Huay Mongkol?
The temple is situated quite far from Hua Hin proper, making the trip there somewhat difficult:
The easiest way to get here, and the one I use, is to rent a car and driving yourself. You could drive here using a motorcycle too, but make sure that you pick a day when it's not raining, protect yourself from the sun, and have a motorcycle that is comfortable enough for long-distance driving.
A cheap option is to hop on the blue songthaew, that operates from the railway station daily between 8am and 4pm. Due to the early end of service, make sure you don't spend too much time at the temple to miss the last songthaew!
Taxis and tuk-tuks can also take you there. All drivers know where Wat Huay Mongkol is, so that shouldn't cause too much trouble. Tuk-tuks can be found in plenty all around the town center, and taxis can be arranged by your hotel, or booked from the various taxi companies scattered around the town center.
Preparing for the trip
To ensure a smooth and enjoyable visit to the temple, there are a few things you need to prepare.
First of all, make sure you (and especially your children) are well-protected from the sun. There's not much shade at the Wat. Bring sunscreen, and wear suitable clothing.
Speaking of suitable clothing, remember that you are visiting a holy site. This means you have to wear something that
Covers your shoulders. Men, leave your Singha or Chang tank tops at the hotel and wear at least a t-shirt instead. Women, cover your spaghetti tops with a blouse, or just wear a t-shirt.
Covers your knees. Shorts are okay, but make sure they are long enough.
If the unthinkable happens and you find yourself at the temple's parking lot in a tank top, shorts and sandals, you don't need to return to your hotel to redress. Suitable pants and dresses are available for rent to visitors.
Related to the first point, check the weather report. There's not much shade from the sun at the temple, and certainly not much protection from the rain either!
A Tour Around the Temple
I've been calling Wat Huay Mongkol a "temple" throughout this post. While this is true, it's not what most people would expect a temple to look like - instead, it seems much more like a park.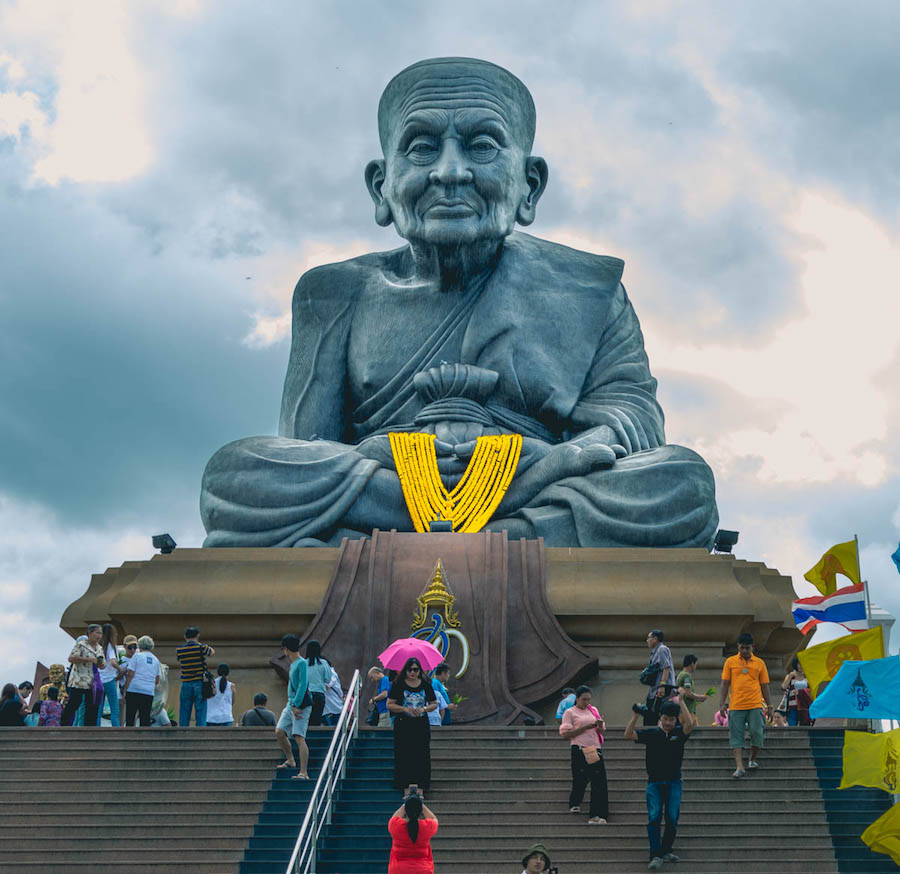 In the center of it all, on top of a large mound, stands (or actually sits) the statue of Luang Phu Thuad. Impressively massive, the statue is 12 meters tall, 10 meters wide and weighs god knows how many tons. Nothing less would have sufficed for this larger-than-life, legendary figure.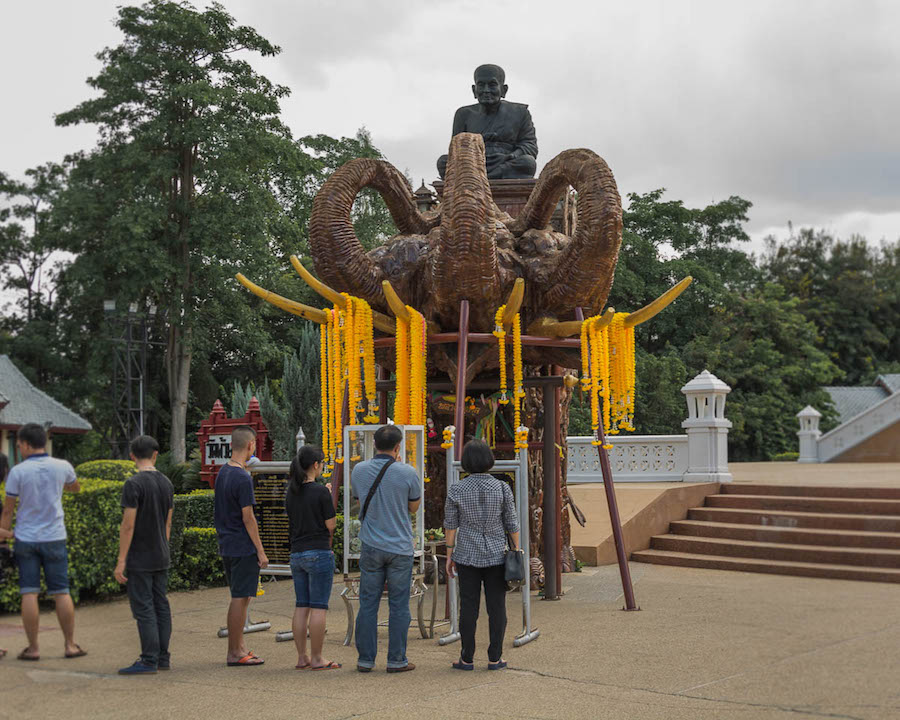 On each corner of the mound stands a smaller, wooden statue of a three-headed elephant. In Thai, these are known as erawan (เอราวัณ), and have their origin in ancient Hindu traditions. Many locals like to walk under the statues, touching the elephant's bellies - this is believed to bring good luck.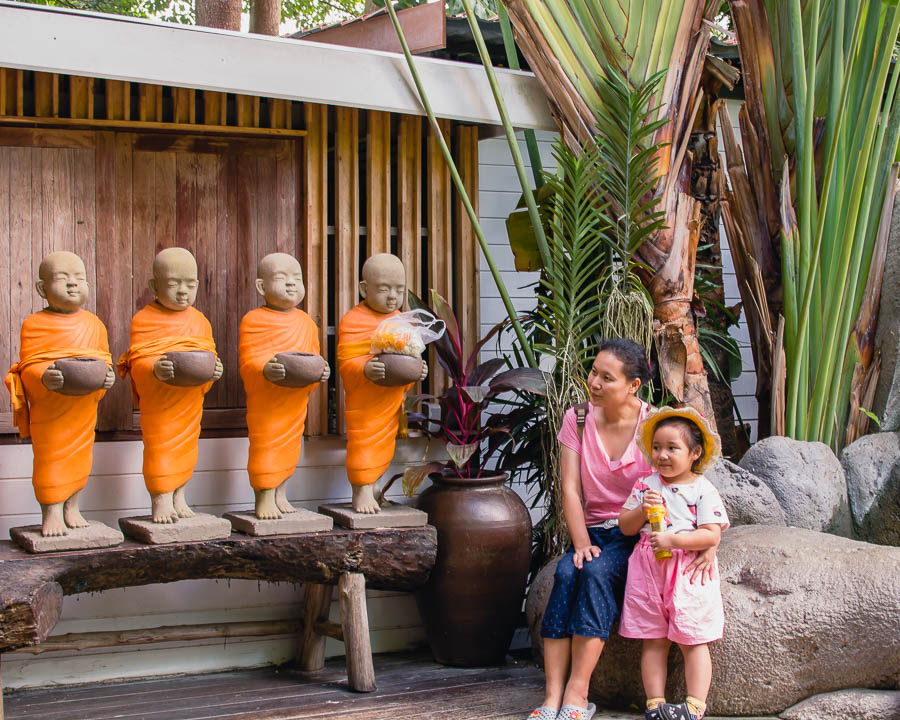 Around the statue, there's many pavilions and walkways to explore, decorated with various little details. Here, four little monk boys, each holding a cup for collecting alms. Sometimes, people place small gifts in these cups.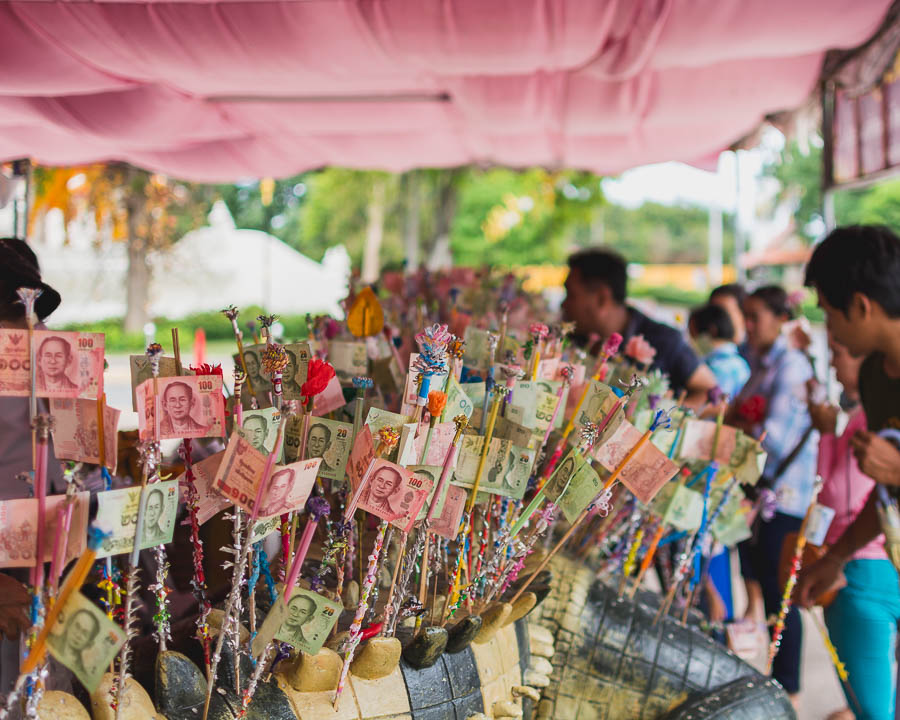 The temple, like many other temples in Thailand, largely relies on donations. It is customary for many visitors to donate a small amount. This time, the donations were made by sticking them on a large crocodile statue.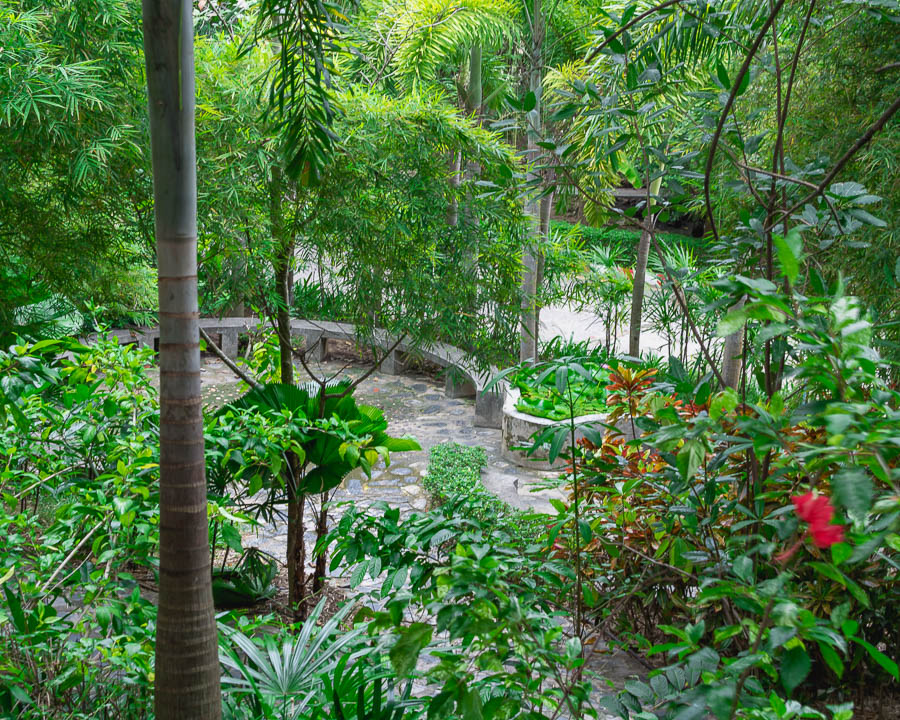 Being much like a park, it's no surprise to find lush, green garden here too. There's also a lake, but unfortunately, I've got no picture of that - you'll just have to take my word.
In a Nutshell
Wat Huay Mongkol contains an impressive statue, with a large park area around, perfect for spending a nice afternoon.
It is a peaceful, quiet and even serene place - if you don't visit during the peak times, that is! If possible, visit here on a weekday. During weekends, it may get crowded due to many Bangkokians making their mini-pilgrimage here.
Remember that you are visiting a holy site. Wear appropriate clothing and don't do anything disrespectful, like pointing at anything with your feet.
Wat Huay Mongkol is open daily from 5 am to 10 pm. Entrance is free of charge.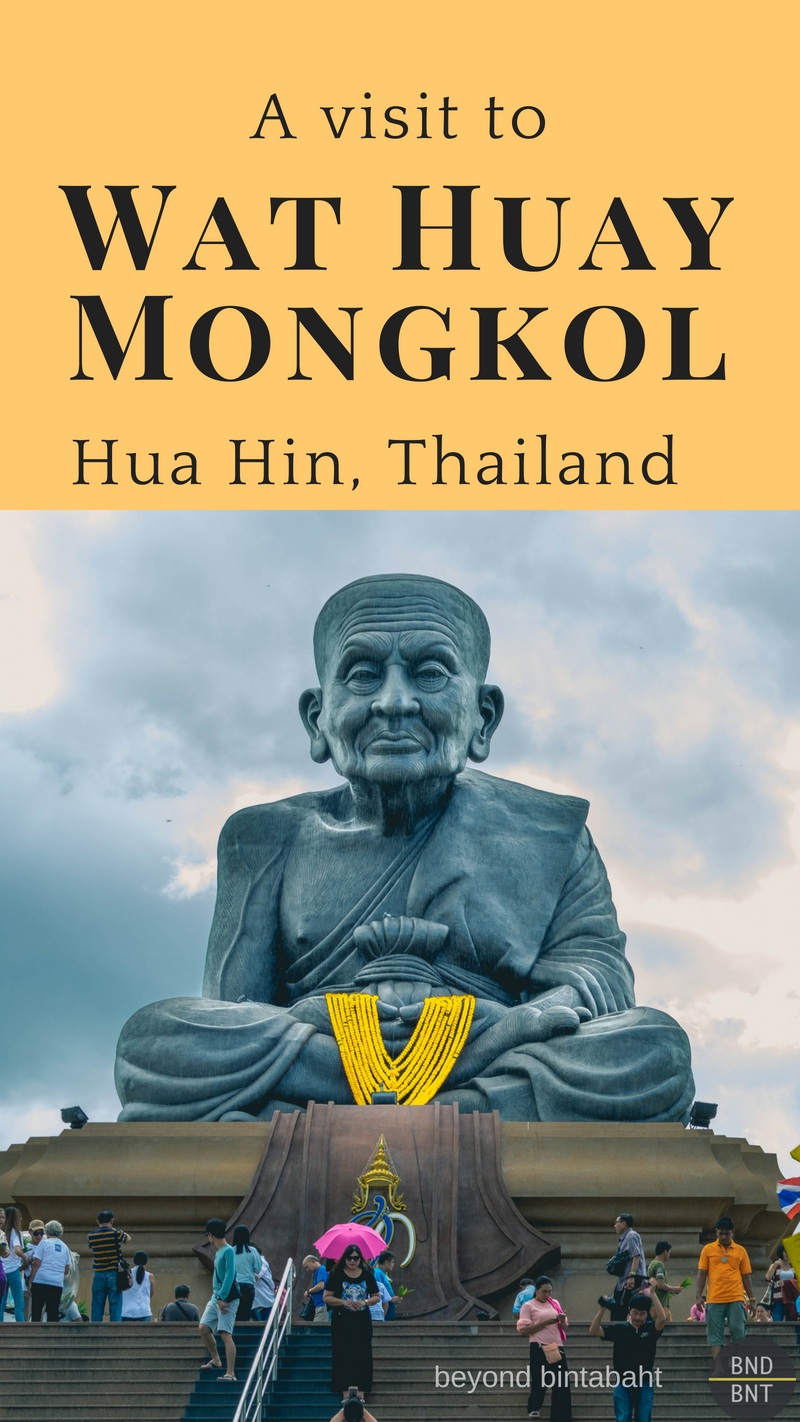 ---