While Hua Hin is not a wild party town like Pattaya or Phuket, there's still plenty of options for a night of loud music, strobe lights and vodka shots. This post will give you an overview of the town's nightlife areas and some of my favorite venues.
Take note that bar/nightclub business is fickle and I cannot guarantee 100% that all of the venues listed here are still open by the time you read this - I do my best to keep this as up-to-date as possible, but sometimes a long-closed bar may be left here. I'd appreciate if you leave a comment below in case you notice any outdated info here. Cheers!
The main nightlife district is located in the touristy Bintabaht area. Littered with dozens of small bars, few nightclubs and some restaurants, this area draws in a healthy crowd of both tourists and locals.
Another nightlife hotspot can be found in the northern part of town, along the main road. The few large clubs, pubs and restaurants here are hard to miss. The establishments here are targeted for Thais.
Aside from these, few individual nightspots are located around the town.
Bintabaht area
Located in the heart of Hua Hin, this area around Soi Bintabaht offers the most choice in venues. You'll find an Irish pub, nightclubs, some Italian and French restaurants, and many small beer bars and massage parlors here.
It should not come as a surprise that many of the establishments here, especially the smaller, seedier looking places, are built around prostitution. These places can be easily recognized by the large number of young(ish) women hanging around, trying to lure all men they see inside for drinks. If you are a single man, be prepared to get approached and groped by many of the working girls (or "girls"), especially if you don't sport the large beer belly and shiny male-pattern baldness as many farang tourists here do.
"Normal" nightlife venues include el Murphy's Irish pub and Blue Monkey nightclub to name a few. Especially the latte is popular among the local students and young professionals in addition to tourists. Keep this in mind if you're looking to meet local girls (or boys) in non-transactional basis.
Bintabaht area is small and easily navigable on foot. I recommend to leave your car or motorcycle parked outside the area, to avoid difficult drive-through of the narrow and crowded streets. Or consider staying in one of the guesthouses within walking distance, or check out the hotels map - there's plenty of choice in this area!
The most fun way to check out the place is to simply walk around a pop inside any place that seems interesting. But anyway, here are my two (plus one!) favorite venues of Bintabaht:
el Murphy's Irish Pub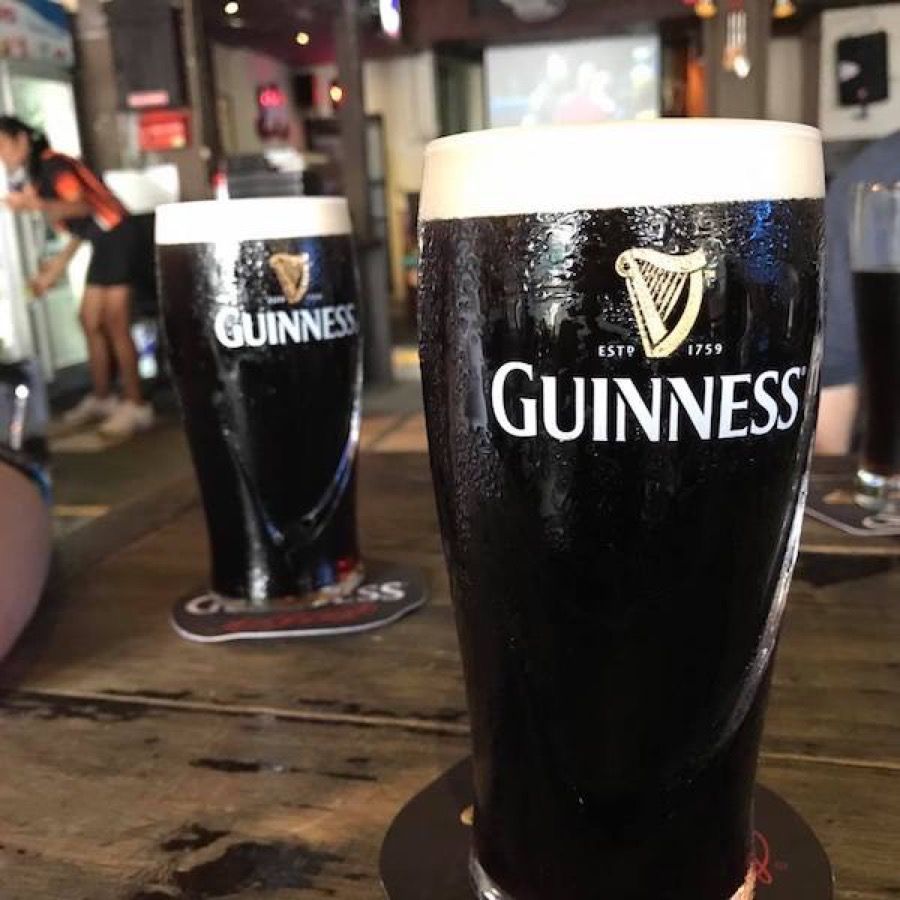 Hua Hin's premier Irish pub is located near Hilton Hotel, on the corner of Selakam Road. It offers exactly what you would expect from an Irish pub - cold Guinness, pool table, live football on TV, and some pub grub to order, all wrapped in a dark, wooden decor.
Also, they often have a live band playing classic songs.
Address: 25 Soi Selakam. Open: Daily from 7 am to 1:30 am.
Check out their Facebook page.
Blue Monkey
Well-established night club in Poon Suk Road, a stone's throw away from el Murphy's. This largely blue-lit, two-floor nightclub features a lounge area and a pool table on the second floor, and a sizable dance floor on the ground floor.
The place is popular with both foreign tourists and locals, especially the local students, much like other nighspots in the Bintabaht area. The modern decor in a refurbished tradition Thai house gives this place a nice atmosphere, and the attentive staff is quick to deliver your drinks and snacks. Drinks served here include absinthe and many other liquors that are hard to find in other bars.
Just like other Thai bars and nightclubs, they like to play music with amps turned to 11 - fortunately, this is only true for the ground floor catering to dancers - second floor is the place to be for more relaxed chitchat with friends, or to play a game of pool. Music selection at Blue Monkey is mostly hip-hop and house music.
Blue Monkey is open 24⁄7, but doesn't really get going before 10 pm. I recommend getting here around 11-12 pm if you're looking for a true party atmosphere.
Address: 11 Poon Suk Road. Open: Always.
Side note: BintaBurger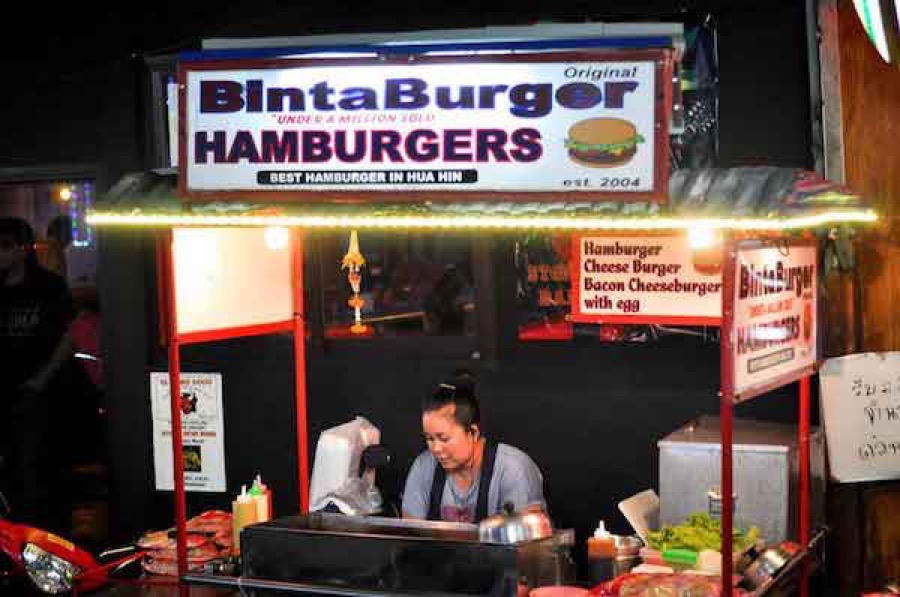 Not a bar, pub, or nightclub, but I have to mention it anyway. This lovely little cart has been serving delicious burgers to hungry party-goers for more than a decade now. Look no further for the perfect, greasy late-night meal. As its name implies, it can be found on Soi Bintabaht - you can't miss it.
Soi 80
This narrow soi consists mostly of small beer bars, massage parlors and a few restaurants. In addition, several guesthouses can be found here. Like the seedier parts of Bintabaht, this area caters largely to foreign sex tourists, although it's not so uncommon to find normal Thais here on a night out too.
In all honesty, I'm not really familiar with this place so I cannot give any bar or restaurant recommendations. But the area is easily reachable and easy to navigate on foot, so you should have no problem in exploring yourself. All the venues cater to foreign tourists, so they're easily approachable.
Other nightlife in central Hua Hin
To reach these nightspots, you'll have to venture a bit further. Not too far, though - these are easily reachable by motorcycle or tuk-tuk, and even by foot if you're willing to get a bit of exercise.
Click Bar, Soi 51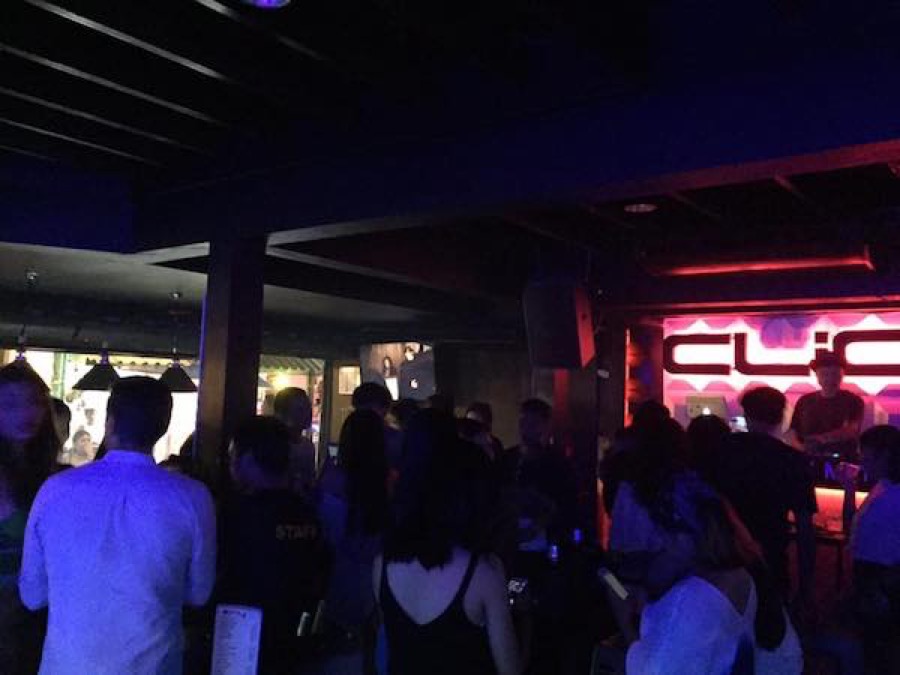 Formerly located in the Bintabaht area, this popular nightclub was closed in late 2017. It has since been reopened in a new location in Soi 51, near the minibus terminal. Throughout its history, it has been favorite of tourists and especially local students. Expect the place to get packed whenever the students of Suan Dusit University celebrate their completion of midterm exams, final exams or holiday period (male readers may be interested in the fact that the uni's student body is about 90% female). Their slogan is Where the music matters. Music is, of course, a matter of taste, but here you'll hear mostly the latest dance/EDM/etc hit songs, and whatever is popular at the moment. And it's loud, like in all other clubs of Thailand. With their convenient location, attentive staff and good DJ, this place definitely gets my recommendation. Check out their official Facebook page here. Address: Soi 51, near Asira Hotel. Open: Tuesdays to Sundays from 7 pm to 2 am, closed on Mondays.
Forget it, Click is gone (again).
Bo Fai district nightlife
Now we are starting to get outside the comfort zone of most farang tourists. Bo Fai district is located in northern Hua Hin, close to the airport. This is where most of the nightlife targeted for Thais is found.
To get here, you'll probably need to drive yourself. Songthaews are not an option at night, and if you opt for a tuk-tuk, it's going to be difficult to get one to pick you up after closing time. This should go without saying, but it's best to assign a designated driver in your group - getting caught drunk-driving very likely leads to serious consequences!
Alternatively, you could save yourself all the transportation hassle and book your place to stay here. For example, the newly-built Hinn Namm Hotel is right next to one of the prime nightspots in town, the Hi 4 Pub. It is also right next to the main road, so if peace and quiet is important to you, you may want to take a look at the hotels map for places closer to the beach.
The venues here are not as close together as they are in Bintabaht, but switching from one place to another is still doable on foot. Just be very careful if you need to cross the road at night, especially if you're wearing dark clothing!
And last but not least - the venues are targeted towards Thais, so English skills of their staff might be a bit lacking. This is usually not that much of a problem, though - just point at the menu for what you want, or just order a Chang or Singha.
Get Idea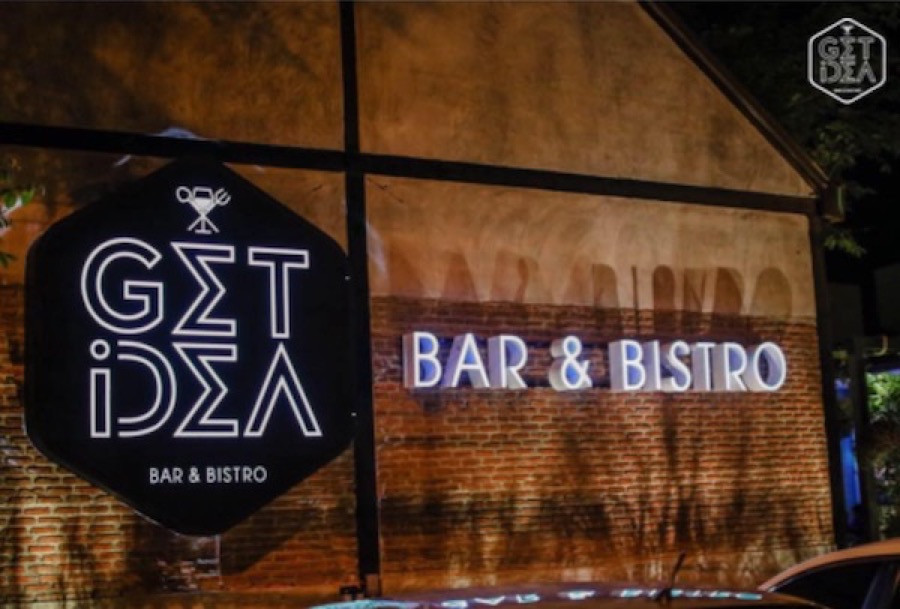 This cool, stylish restaurant/bar is a popular chill-out spot for the young local crowd. The place is largely open-air design, so take note of weather report before heading here. They serve tasty Asian Fusion type food, and have a live band playing popular Thai songs on most nights.
If you are planning to come here during a public holiday, or when they have a popular band playing, it might be a good idea to book a table in advance. You can do that by sending them a message through their Facebook page (see below). On most nights, it's not necessary.
Address: Phetkasem Road, near Soi 5⁄1. Open: Daily from 6 pm to 2 am.
More info on their Facebook page.
Hi 4 Pub & Restaurant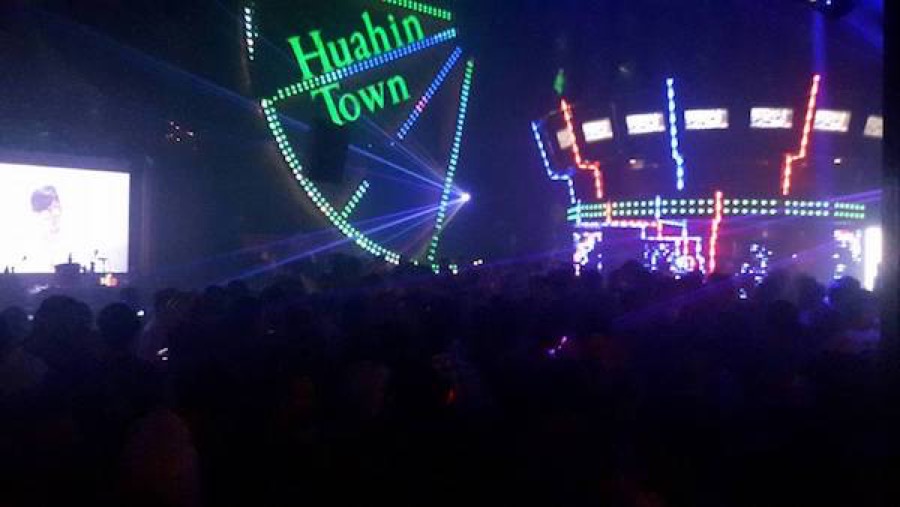 This is probably the most popular Thai nightclub in Hua Hin. They brand themselves as a Pub & Restaurant in the huge sign outside. Food is indeed available, but mostly people come here to drink and dance. The pub part is explained by the fact that many Thais refer to nightclubs as pubs for some reason. The clientele mostly consists of local students and other young people, and Thai tourists from Bangkok.
Entrance is from the side, on Soi 7. To enter, you'll need to show the bouncers your ID (passport works fine here) and let them give you a quick pat-down. They'll do this to everyone to make sure nobody brings knives or such things inside. Don't try to be funny with the bouncers, just keep quiet and follow instructions.
Inside, you'll find a large dancefloor in the middle, with tables sprinkled around. Like in most Thai nightclubs and bars, you'll be expected to get a table and order your drinks from the waitress. Apart from this, it's much like the nightclubs elsewhere - just drink and dance the night away, to the best of your abilities.
Since the club is targeted towards Thais, foreigners here tend to stand out of the crowd. You might get some odd looks, but if you don't do anything stupid, nothing more serious than that.
Address: Phet Kasem Road, on the corner of Soi 7. Open: From 4 pm to 2 am, closed on Mondays.
They, too, have an official Facebook page.
Maquid
A relative newcomer to the Hua Hin nightlife scene, Maquid offers a loud bar environment with live music. The place spans a few shophouses in Soi 2, in the very north of Hua Hin.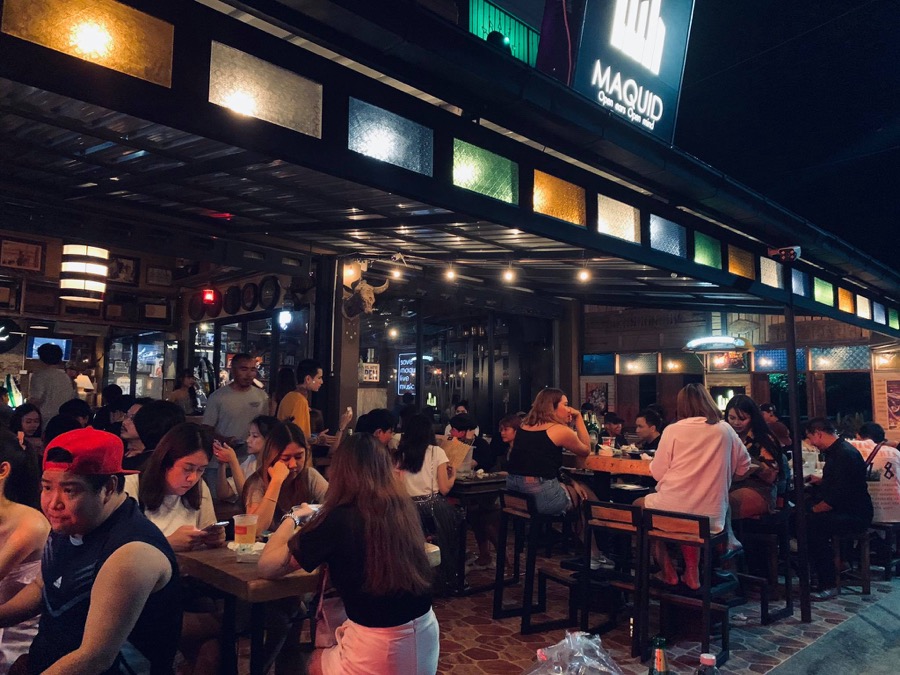 Music styles here vary, but they are always played by local Thai bands. As is the case with most Thai bars, the volume may get to "bleeding ears" level if you take your seats too close. Plenty of tables are available, both inside and outside the bar. Some of the tables are spread across all the way to the other side of the soi, causing hordes of drunk people wobble around blocking traffic in the wee hours. Take note of this if you're driving…
The clientele is almost 100% Thai, although you might find the odd farang here every now and then, when the stars align just perfectly. Don't be concerned though - you won't be left with dry throat, even if the staff's English skills may not be top notch.
Maquid is a table service bar, like most Thai bars. People mostly come here for drinks, but some food is also on the menu. I recommend having your dinner beforehand in some other place, though.
Address: Soi 2. From the main road, go straight until you hear the music and see the drunk partygoers. Open: From 7 pm to midnight daily.
They, too, have an official Facebook page.
Some more nightspots
The above is by no means an exhaustive list - here are some other nightspots around town, in no particular order. The names link to the venue's official Facebook page or website:
When you're in Hua Hin, chances are you're never too far from a place suitable for getting drunk. Don't forget to share your favorite nightspots in the comments below!
---